Love is always in season! Originally conceptualized for Valentine's Day, these little raspberry jam hearts are perfect for any time of year!
Slightly crunchy with just the right amount of sweet, the only special tools you need for these are two heart shaped cookie cutters that fit inside one another. The big heart shaped cookie cutter will be used for the cookies themselves, and the tiny heart shaped cookie cutter will be used to cut out the "windows" that let the raspberry jam shine through.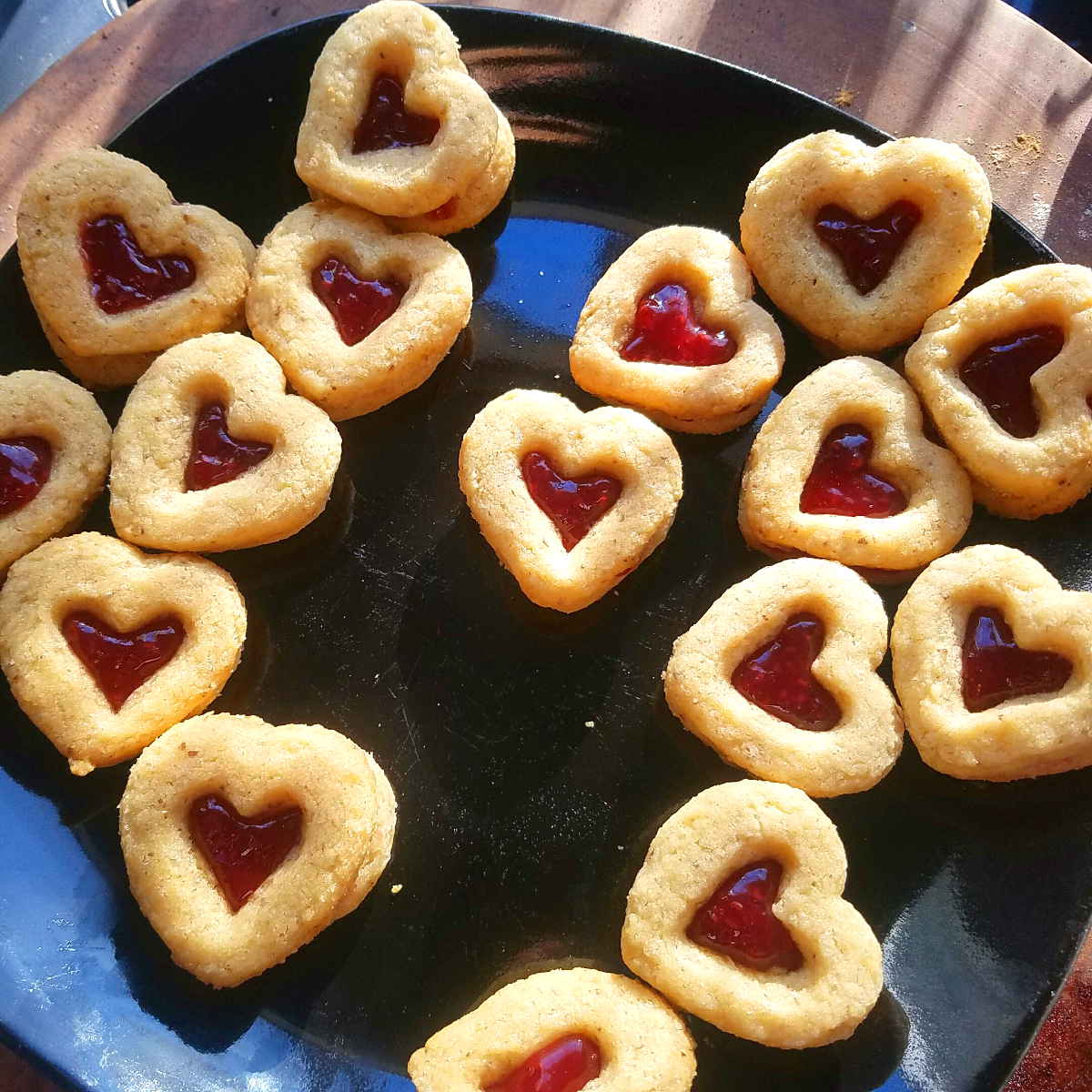 Let's talk about the ingredients for a minute. I chose Trader Joe's gluten-free flour because it's easily obtainable in a large variety of places. You could probably use another gluten-free flour and get similar results, but because each gluten-free flour is a bit different, the results obtained with a DIFFERENT flour might not be quite the same!
When making cookies, I nearly always use Earth Balance vegan margarine. It's great for baking purposes and behaves in cookies pretty much how you'd expect a similar but non-vegan product to perform. The taste is also spot on.
The vegan cream cheese I used helps in the overall texture of the cookie. The one I used is again another Trader Joe's product, and it's one of the lower priced vegan cream cheeses out there (from what I've seen), so you can't go wrong there!
Xanthan gum is a white powder that serves as a binder for your gluten-free cookies.  Do not skip this!!! It's one of those ingredients which is generally advisable to buy online instead of in-store. Why? It's SO much cheaper. Plus, you can buy a wider variety of package sizes, so if you just want a tiny bit, you have that option. When buying online, though, be sure to double check that it's FOOD-GRADE xanthan gum. This check is important, because manufacturers do also put out xanthan gum which ISN'T food grade, for use in cosmetics and the like.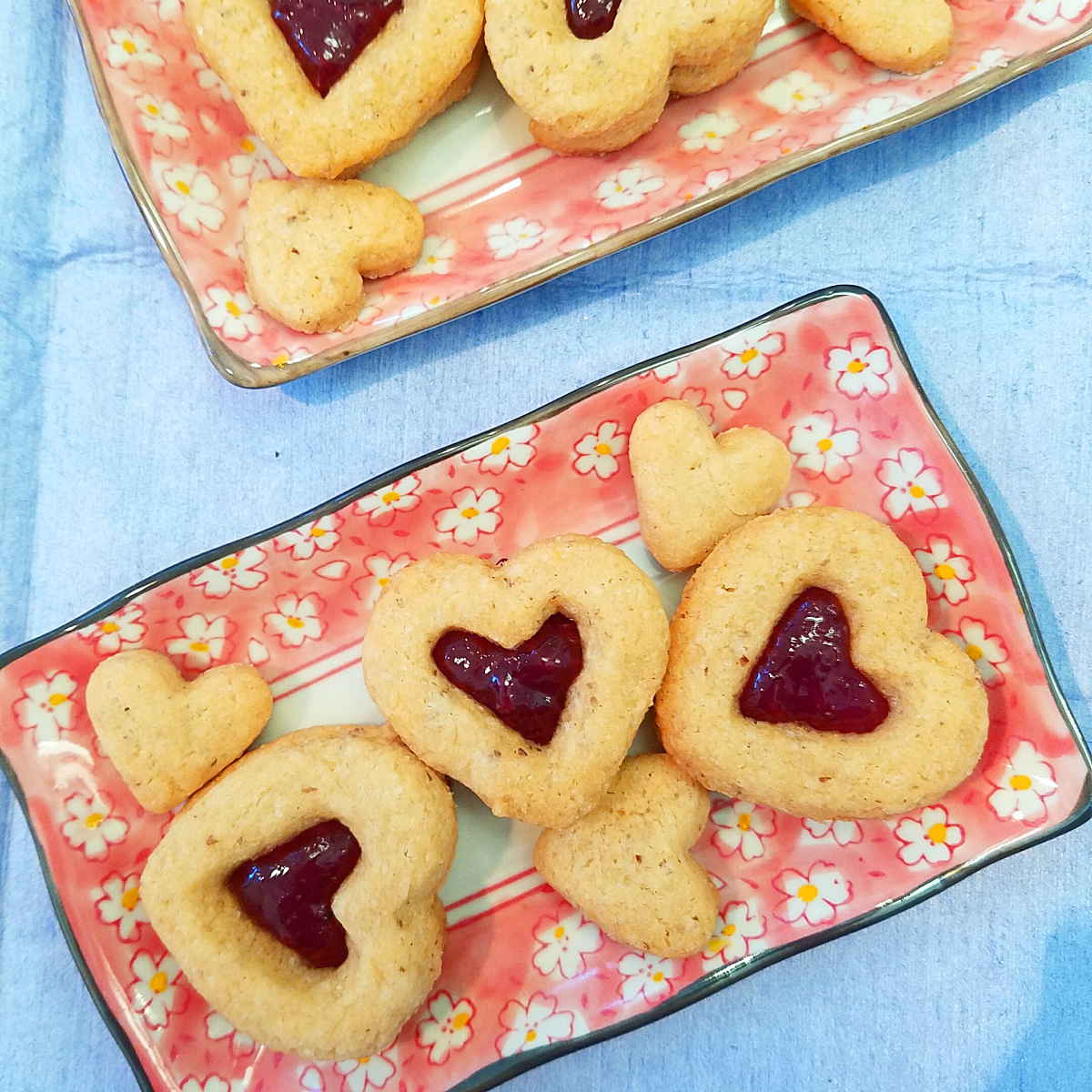 Ingredients
1 1/2 c white sugar
1 c Earth Balance, or other vegan margarine
4 oz vegan cream cheese (I used Trader Joe's brand)
2 TBS coconut oil
2 3/4 c Trader Joe's gluten free flour
1 TBS xanthan gum
1 TBS flax
1/4 c coconut milk
1 tsp baking soda
1 tsp baking powder
1 tsp vanilla extract
1/2 tsp Himalayan pink salt (or regular salt will do)
4 oz raspberry jam (I used Trader Joe's no sugar added organic raspberry jam)
Instructions
Preheat the oven to 375 degrees
Combine ingredients in the order of appearance, starting with the buttery and sugary ingredients, and then folding in the flours and other ingredients, EXCEPT raspberry jam. Raspberry jam is for later!
Roll out cookie dough using a rolling pin (or wine bottle) on a surface dusted with gluten-free flour. Roll to desired thickness. Mine were probably about 1/2 cm thick, maybe a tiny bit thicker.
Use a large heart shaped cookie cutter to cut as many hearts as possible in the dough. Place on a baking sheet lightly greased with coconut oil or vegan margarine.
In HALF of the cookies, (only half!) use the tiny heart shaped cutter to cut out the center. The result when all of this is done will be that half of your cookies are solid, half of them look like little heart shaped donuts, and also present are a bunch of tiny little heart shaped "donut holes".
Place the "donut holes" on a greased cookie sheet as well.
Once each baking sheet is arranged, place it in the freezer for about 10-15 minutes.
Remove the baking sheet full of cookies from the freezer and immediately bake in the preheated oven for about 10 minutes. Cookies are done *right* as you start to see the first signs of brown.
Once cookies are done baking and have cooled, it's time to start assembling. Take a solid cookie, place about 1 tsp raspberry jam in the center, and place a window cookie on top. Do this until all cookies are assembled. The baby heart "donut holes" are leftover; do what you wish with them 😛