Taro…that purple and white root that just started to get popular as a super food! Asian grocery stores have known about taro for ages, and until recently, it was somewhat of a hidden gem. Hidden no more…
Introducing a gluten-free, totally vegan cake featuring taro. It's super moist, and undetectably special diet friendly. Topped with an almond cream cheese icing, (also vegan, recipe at the bottom) this passed the crowd test a few times already before bringing it to you today!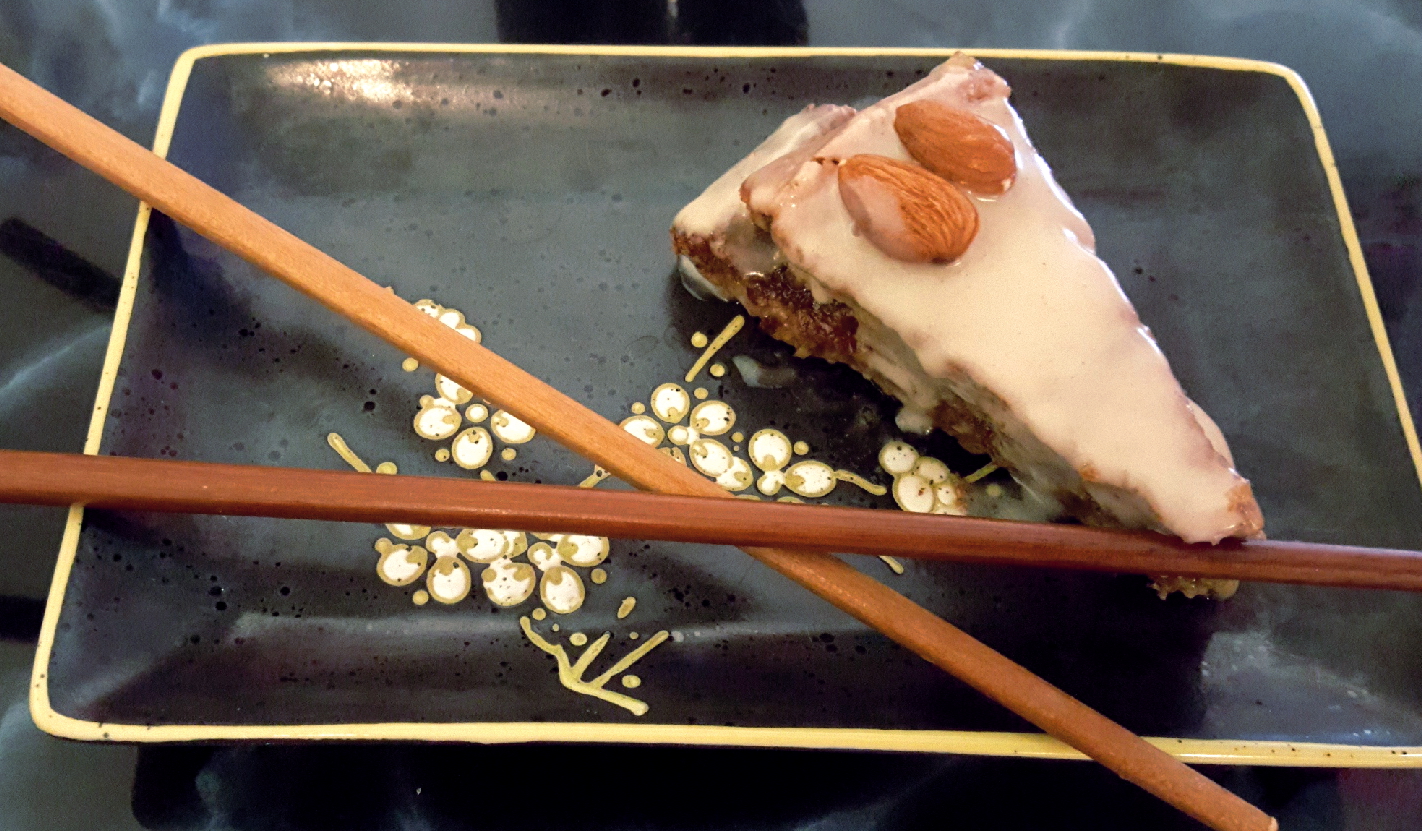 If you're getting bored of the same old cake flavors or just want to try something different, taro cake is your fix.
But where do you actually buy taro? You'll probably have to go to the Asian market to find it, and you'll have to know what it looks like. You'll either find it in whole root form, or if you're lucky, you'll find it already peeled and vacuum packed, in the refrigerator section.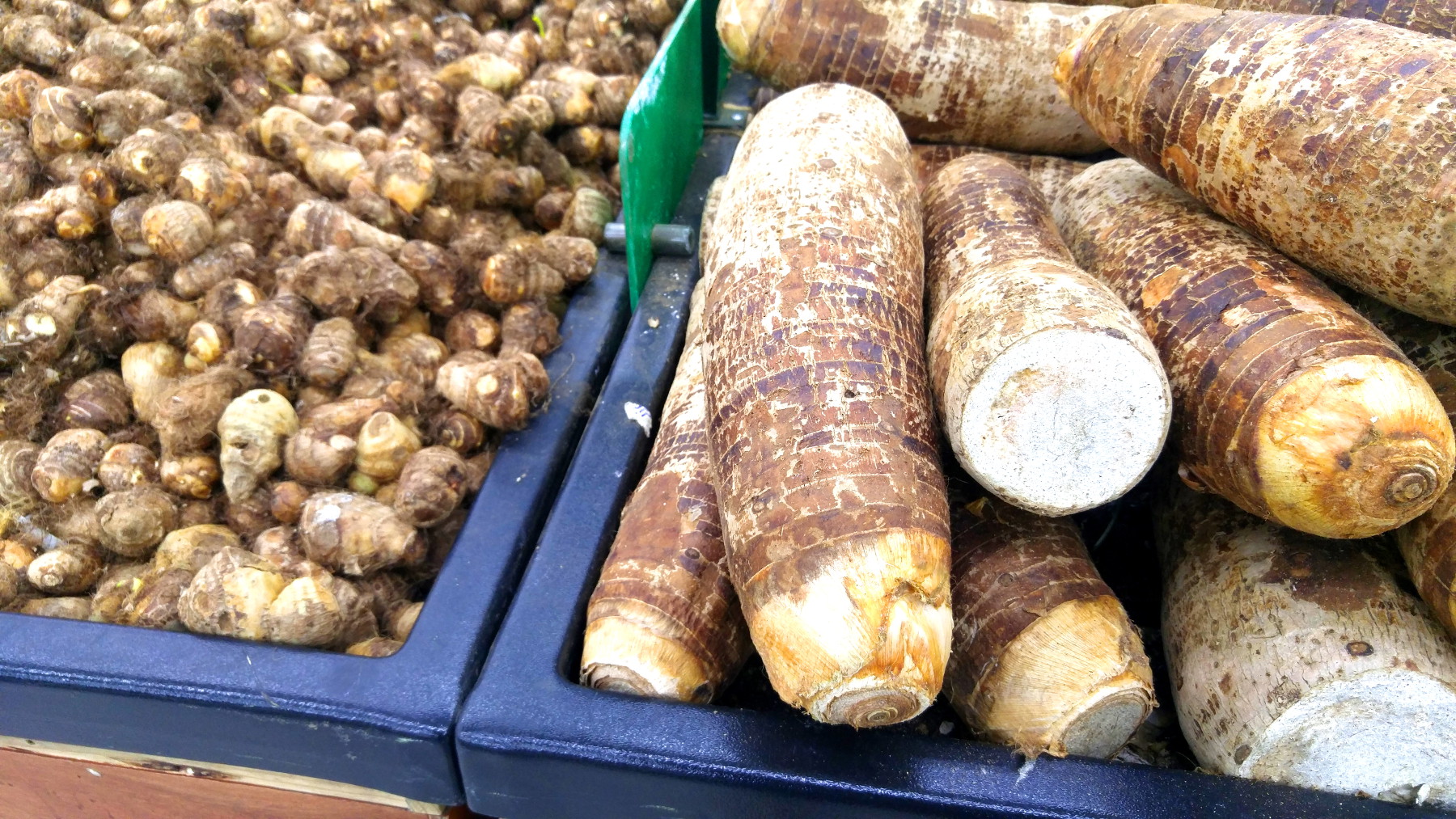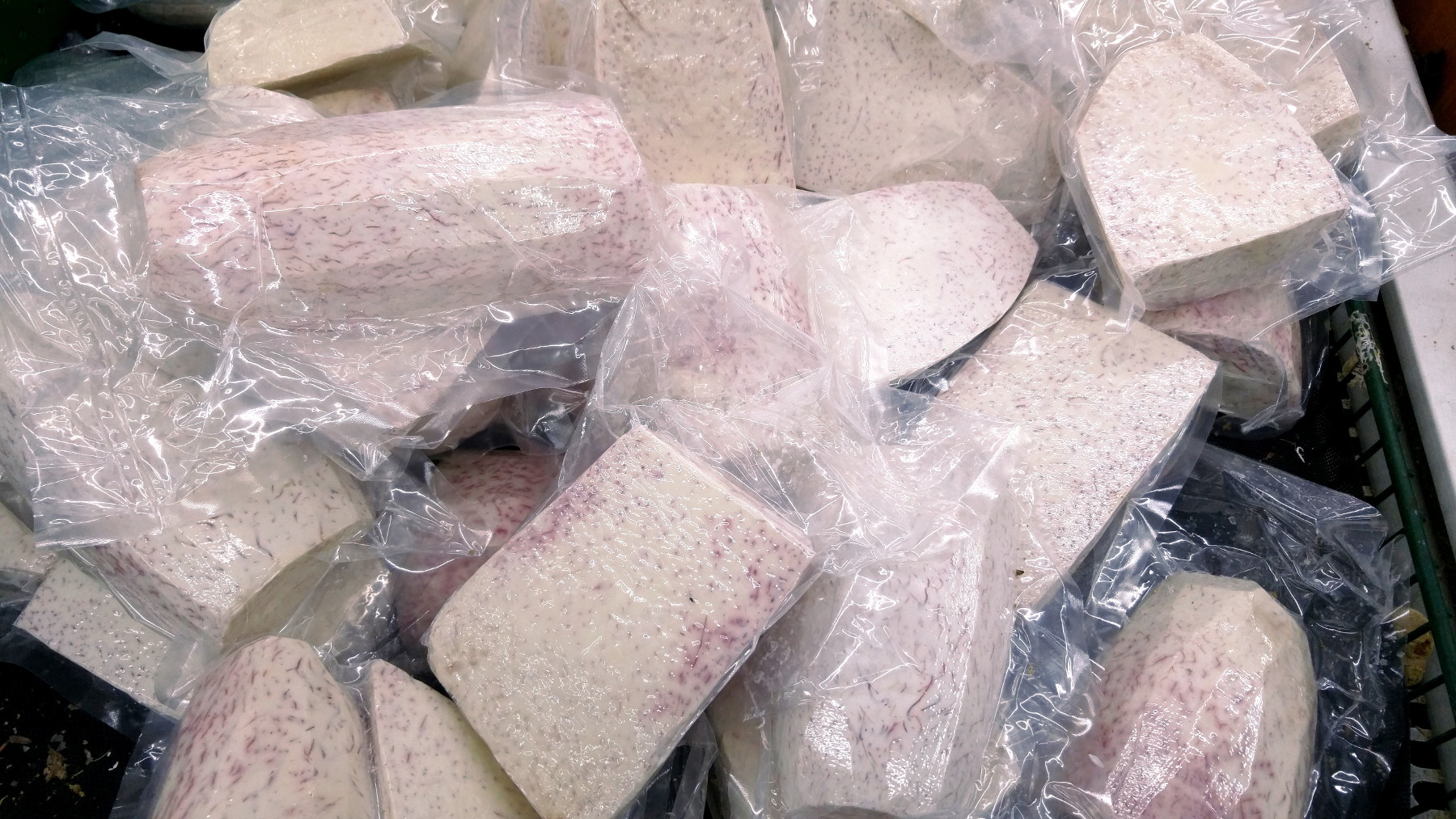 Taro is high in vitamin E, potassium, b vitamins, and manganese. You can prepare any leftover taro like mashed potatoes, only better.
What You Need
3 TBS ground up flax seeds
1 1/4 c unsweetened vanilla almond milk
1/3 c Earth Balance
1/4 c agave nectar
1 TBS almond butter
1/2 lemon's juice
1 1/4 c unsweetened applesauce
2/3 c powdered sugar
3/4 tsp pink salt
1 1/2 tsp baking soda
1 1/2 tsp baking powder
1 TBS vanilla extract
1 c mashed taro
1 1/2 c almond meal
1 1/2 c Trader Joe's gluten free flour
1 TBS psyllium husk powder
What You Do
Combine the flax seeds and almond milk and let them sit for a while until they become gooey.
Add everything else.
Use sprayable coconut oil and more gluten free flour to grease and flour your cake pans. I used 8″ pans.
Pour batter into cake pans.  In each pan, ensure that you pour no more than about 1″ of batter, so that it cooks evenly.  I also recommend using silicon baking pans for the same reason.
Oven 375 degrees, about 45 minutes or until a toothpick stuck in the cake comes out clean.
Allow to cool COMPLETELY before removing from pans out frosting!
You can frost this with any frosting you like, but here's a vegan almond cream cheese frosting I made for it, which pairs perfectly with the cake:
4 oz dairy-free cream cheese (I like the one from Trader Joe's)
2 TBS Earth Balance (or other) margarine
1 TBS almond butter
1/2 tsp almond extract
2 c powdered sugar
Blend all ingredients. Icing will be fairly liquidy (just like the picture). If you're looking for something that holds form a little more, just add more sugar.