When the weather starts getting colder, our food gets…warmer. And yep, it can still be raw. There's an easy way to do it, and you don't need any fancy equipment to do it. All you need is the stove in your house and a double boiler.
Don't have a double boiler? Just use a pan on low & stir constantly, keeping an eye on the temperature.
Fall reminds me of orange–orange leaves falling from the trees, orange pumpkins in October, and orange butternut squash and sweet potatoes around Thanksgiving time.
SO, without further ado, I want to share with you a recipe for butternut squash I've been working on (and ate nearly constantly these last couple of weeks!)
Ingredients:
3 c butternut squash, cubed and with seeds removed
2 1/2 c water
2 stalks green onions
1/4 c carrot pulp (or 1/2 of a large carrot…I just drink a lot of carrot juice & happen to have carrot pulp readily available)
1-2 cloves garlic
1 TBS agave, or your favorite sweetener
2 TBS nut cheese (or just cashews, if you don't feel like making it)
1 TBS cumin
1 tsp garam masala (please don't skip this; it's delicious!)
1/2 tsp curry powder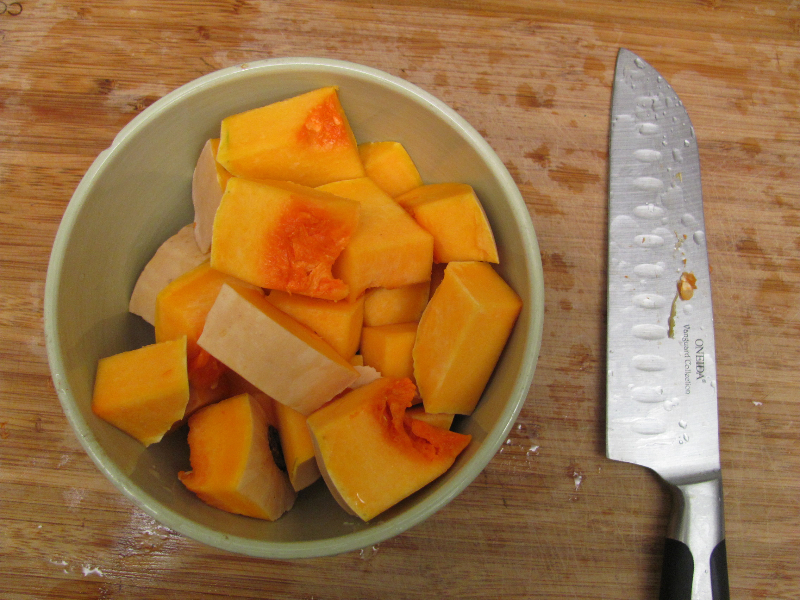 Instructions:
Cut up your butternut squash into cubes, about 1/2″ on each side. You want about 3 cups of this.
Put ALL your ingredients into the blender…yep, all of them. We're making soup!
Blend until VERY smooth. You don't want chunks in this soup.
Put the blended mixture into the double boiler. Fill the bottom with about an inch or so of water.
Stir constantly as you heat the soup. Taste frequently to make sure it doesn't get too warm. If you want to be super accurate, get a candy thermometer or meat thermometer and watch the temperature.
Decorate your soup! I used: green onions cut up, shreds of butternut squash, and tandoori seasoning (which is the red powdery stuff)