These superfood energy balls (think no-bake healthy cookies!) have just a handful of ingredients, are quick and easy to make, and give us an excuse to eat more superfoods!  Oil-free, vegan, gluten-free, nut-free, low-fat, refined sugar free, soy free…I think we got all the "frees" with this one 😀
I like to grab a few of these and take them with me for when I get hungry between meals…or, they've also become my breakfast, just by themselves.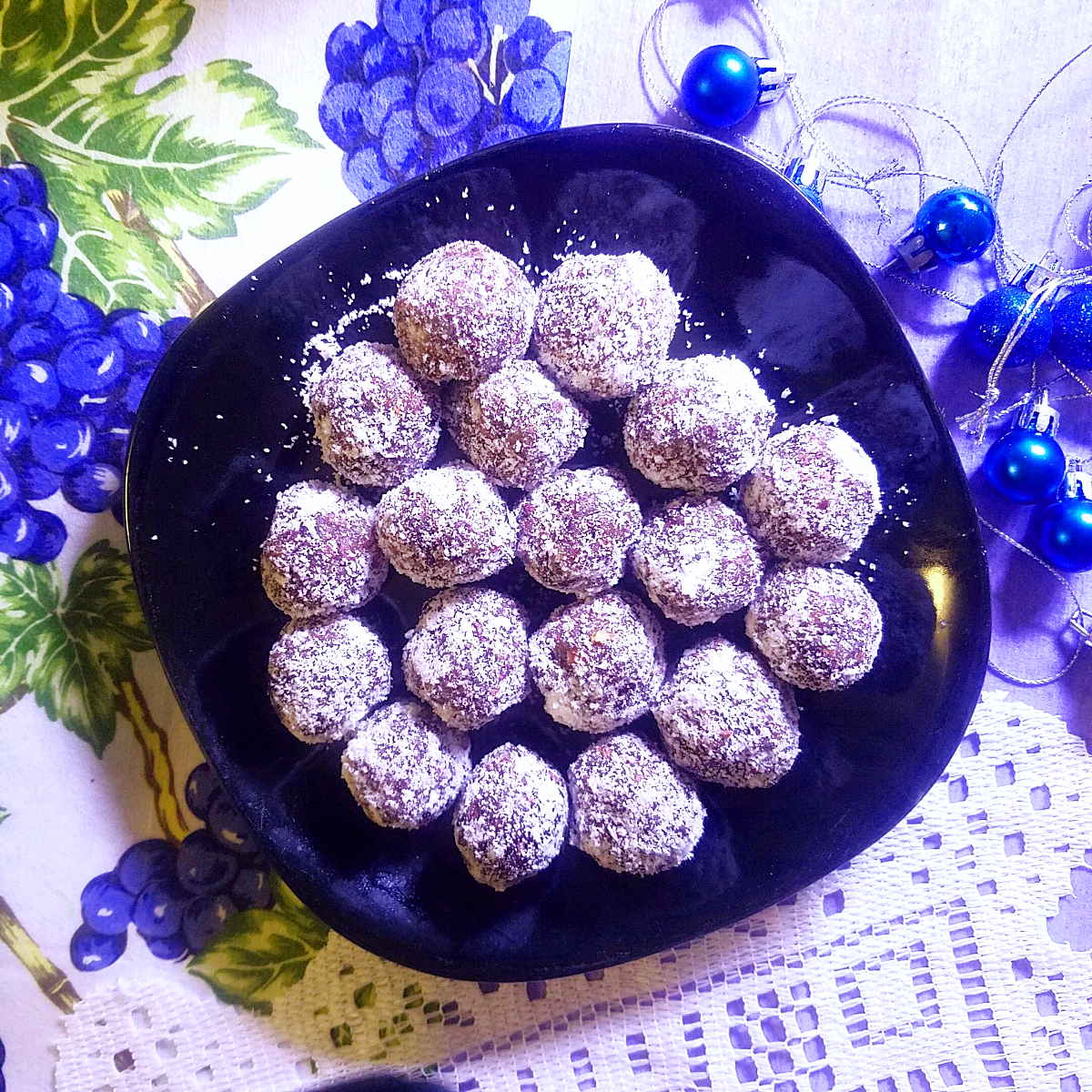 What sorts of superfoods are we talking about exactly?
Cacao
This Amazonian superfood is packed with antioxidants–more so than most berries!  They've also got iron, calcium, and magnesium…all of which are especially important for women (who may not be getting enough, depending on what they eat).  A lot of cacao is farmed by people who are paid very low wages and who live in poverty, though…so if you can find it, opt for fair trade brands.
Cherries
Cherries have antioxidants, too (vitamins A & C) and are also a great source of fiber.  Many studies have even suggested that cherries can help out with arthritis and inflammation (as if them being delicious weren't enough of a reason to eat them!)  Since cherries are a highly sprayed crop when it comes to pesticides, though, try to buy organic when possible.
Ingredients
300g medjool dates (that worked out to about 20 small medjools)
1/4 c dried organic cherries
1/4 c fair trade organic cacao
1 TBS ground flax seeds
2 TBS finely shredded coconut (enough to roll the balls in)
Instructions
Remove pits from all dates (important!) and discard pits.
Place all ingredients, EXCEPT for the coconut, in a large food processor.
Pulse the food processor a few times to get the mixing and chopping started.
Continue running the food processor for about a minute, or until everything blends together thoroughly and becomes the consistency of thick cookie dough.
Roll the mixture into about 16-20 balls.  Mine were a little smaller than ping-pong balls.
Once you've created the balls, roll each one in finely shredded coconut.
Optional – refrigerate for 30 minutes to firm them up.  Otherwise, feel free to enjoy them right away!