Dates are amazing. They're a great whole foods replacement for sugar in many whole food recipes, specifically dessert recipes.
I have (had) a sizable box of dates and often make something similar to this when I do…so I'm finally sharing one of these date ball recipes with you!
These are a great snack to take on the go. Stick a few in a zip tight bag or a glass jar & keep them in your bag. They seem to hold up pretty well at room temperature…they are mostly dates, after all, and dates don't melt.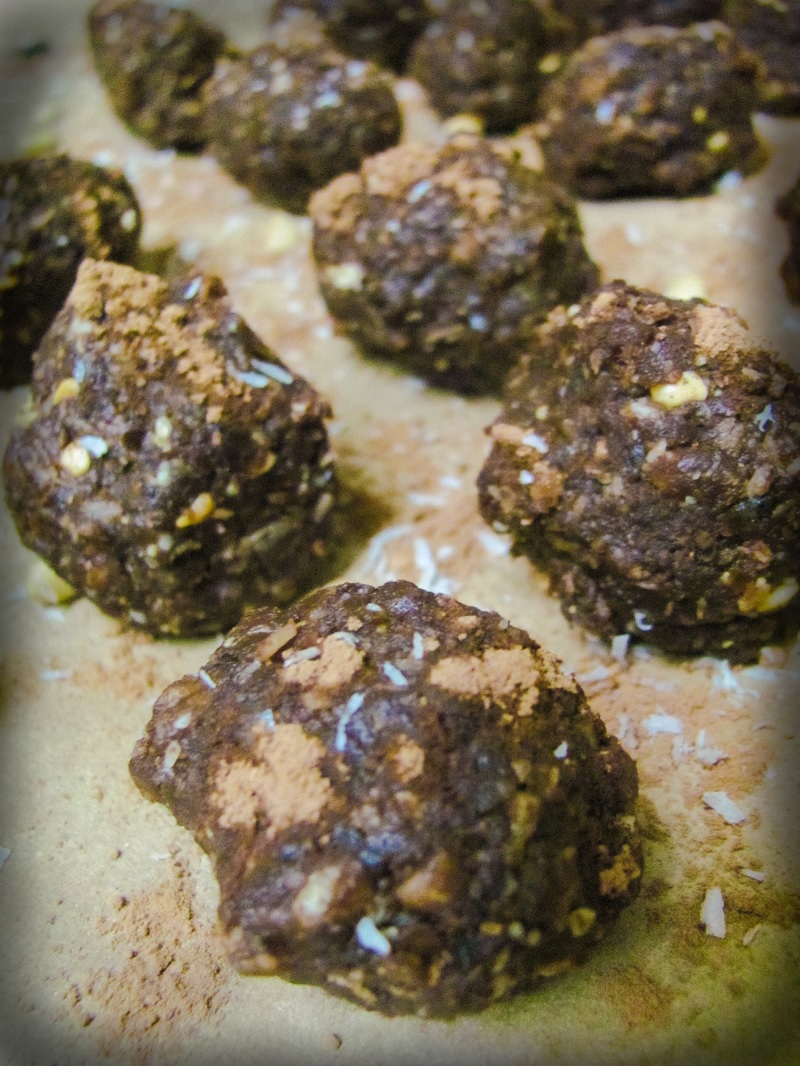 Ingredients
210 g dates, pits removed (I used deglets because they're cheap. Use whatever variety you like.  210 g worked out to be about 1 1/2 c of halved dates)
3/4 c shredded coconut (not sweetened)
1/4 c pine nuts
1 tsp real vanilla extract
1/4 c cacao powder
1 TBS almond butter, tahini, or peanut butter
Instructions
This one is pretty straightforward…
Put all the ingredients into a food processor, and pulse until everything is in tiny pieces. It should look like rough sand/dirt.
Now form balls by grabbing a handful of this "edible dirt", compressing it in your palms, and rolling it into a nicer looking ball shape. Mine were slightly smaller than ping pong balls.
Optional but fun: Roll them in a bit of extra cacao powder, shredded coconut, and anything else you like!
I refrigerate these to store them, but as stated earlier, they will hold up pretty well if you want to take them with you as an on-the-go snack.
You can even add your favorite superfoods (like wheatgrass or chia), extra fruit you have laying around (might want to dehydrate it partway beforehand, though, so the date balls don't get too moist), or another flavor extract besides vanilla if you like to experiment. Or, stick a lollipop stick in there & you've got yourself a little treat that looks like a cake pop. What other ideas can you think of for these?