Vegan white chocolate DOES exist, and it works just the same for baking as the regular stuff!  The vegan world doesn't see a lot of white chocolate desserts–mostly because vegan white chocolate chips are extremely hard to find in stores.
So, am I going to tell you to go to 5 different stores in search of the stuff?  No, not quite.  But you will probably have to order them online.  And, of course, if you're not worried about this recipe being vegan, feel free to use the regular white chocolate chips found in stores.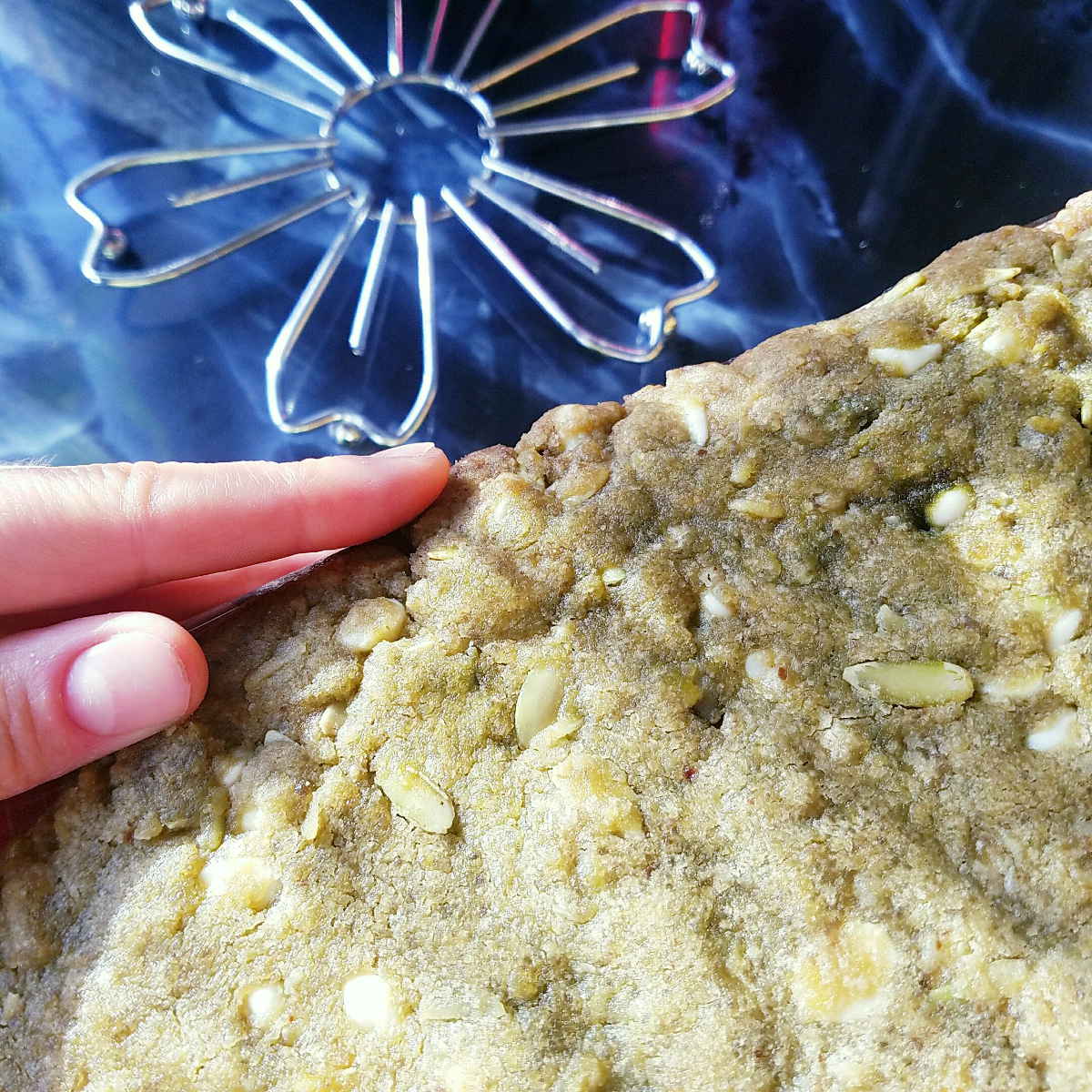 These are a repeat favorite among my friends, of the cookies I've brought them so far!  Not only that, but an entire recipe of these nearly instantly disappeared last time I brought them to a large group of people.  And…see above–this works as a giant cookie, too, if you prefer that.
Ingredients
2 1/4c flour
1 c brown sugar
1/2 c cane sugar
1 TBS flax
1 TBS matcha powder (more if you dare, but remember matcha is slightly bitter)
1 c Earth Balance, softened (or other margarine)
1 tsp vanilla
2 TBS almond milk
1 TBS avocado oil (or another neutral oil if you don't have this)
1 tsp baking soda
1/4 tsp baking powder
1/4 tsp salt
1/2 c cashews
Instructions
Combine all ingredients, except cashews and white chocolate chips, in a bowl.  Mix thoroughly (by hand or with a mixer) until there are no more clumps.
Fold in the cashews and white chocolate chips gently with a large spoon.
Drop 1″ balls of dough, a few inches apart, onto a greased cookie sheet.
Bake at 350 degrees Fahrenheit for about 10 minutes–or less!  These guys are pretty sensitive.  They're done right as you start to see a hint of brown on the tops.
Save
Save
Save