This was a request: "Make something blueberry".  Requests from friends are great because they not only give me an idea what people like but gives me a reason to create something I might not have normally thought of.  This delicious blueberry cheesecake is not only dairy-free/vegan but happens to be gluten-free and raw as well.
Blueberries are one of the most accessible and well-known superfoods, and eating them in raw form in a dessert like this is a great excuse to eat more of them!  Featuring a date and nut crust, the entire dessert is entirely no-bake.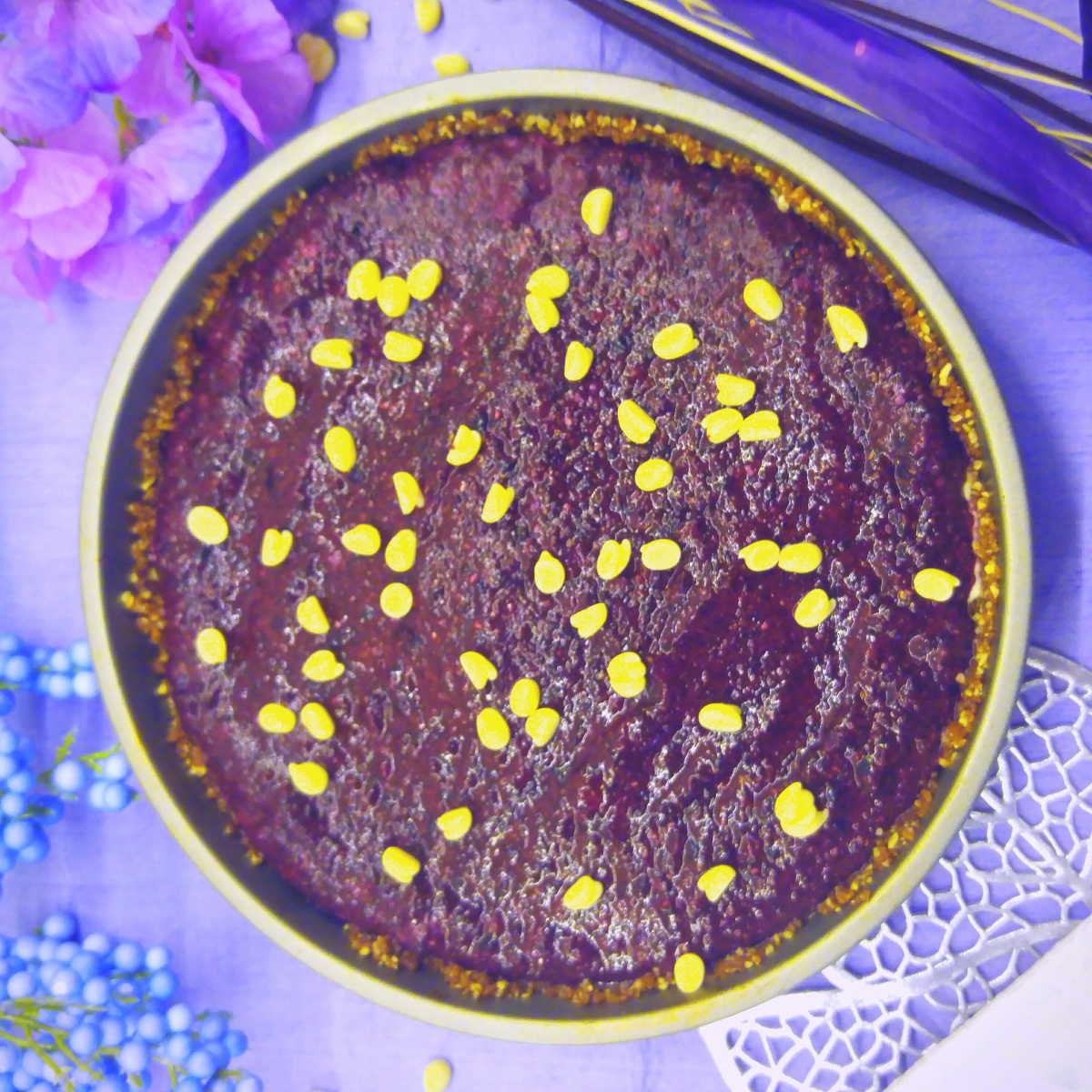 Ingredients
Crust Group
1/2 c pecan halves
1/2 c raw sunflower seeds
1 TBS cacao powder
3/4 c packed dates
Filling Group
1 1/2 c cashew pieces
1 c almond milk
1/2 c virgin coconut oil
2 TBS agave nectar
2 TBS ground up flax seeds
1/2 tsp almond flavoring
1 TBS lemon juice
Top Layer Group
3 c blueberries
2 TBS chia seeds
2 TBS agave
1 TBS water
Instructions
In a food processor, combine all of the ingredients in the crust group.  Pulse until the pieces are very small and start to stick together.
Press the crust group mix into the sides and bottom of a 9″ round pie pan.  The pieces should stick together nicely; pat down firmly to create the crust.  Set aside.
If your coconut oil is rock hard, gently warm it slightly until it is soft or liquidy.
Now, in a blender, combine all of the ingredients in the filling group.  Blend VERY thoroughly – this mixture must be very smooth.  Pour the mixture gently on top of the crust mixture.
While the cheesecake is chilling, prepare the top layer: Combine all of the ingredients in the top layer group in a blender, blend until smooth.
Take a few spoonfuls of the top layer mixture and drop them into the cheesecake.  Gently swirl them into the cheesecake with a knife to incorporate a touch of blueberry into the creamy layer.
Put the cheesecake into the freezer for about 20 minutes, or until firm.
Pour the remaining blueberry top layer on top of the cheesecake, and top as desired!
Some great topping ideas include:

White chocolate chips
More blueberries
Shredded coconut
Cashew pieces
What's your favorite topping for this blueberry cashew cheesecake?  What kind of event would YOU want to bring this to?