I wasn't sure exactly what to call this recipe, since although it's been a perennial favorite for the last three months around here, I don't have a title for it worthy of the powerful taste this dish (quite literally) brings to the table.
It's the result of initially endeavored to create something out chard, so I could take advantage of the wealth of nutrients found in chard: Calcium, iron, vitamins A (including lutein+zeaxanthin, for your eyes), C, E, and K, magnesium, manganese, and potassium, among others.  That, and I needed something to eat while on the early phases of an allergy elimination diet.  I knew I was on to something when I brought my "allergy food" to an event with friends and received a number of compliments on the dish…all while no one was aware of the fact that it was free of gluten, dairy, eggs, refined sugar, nuts, soy, and seeds.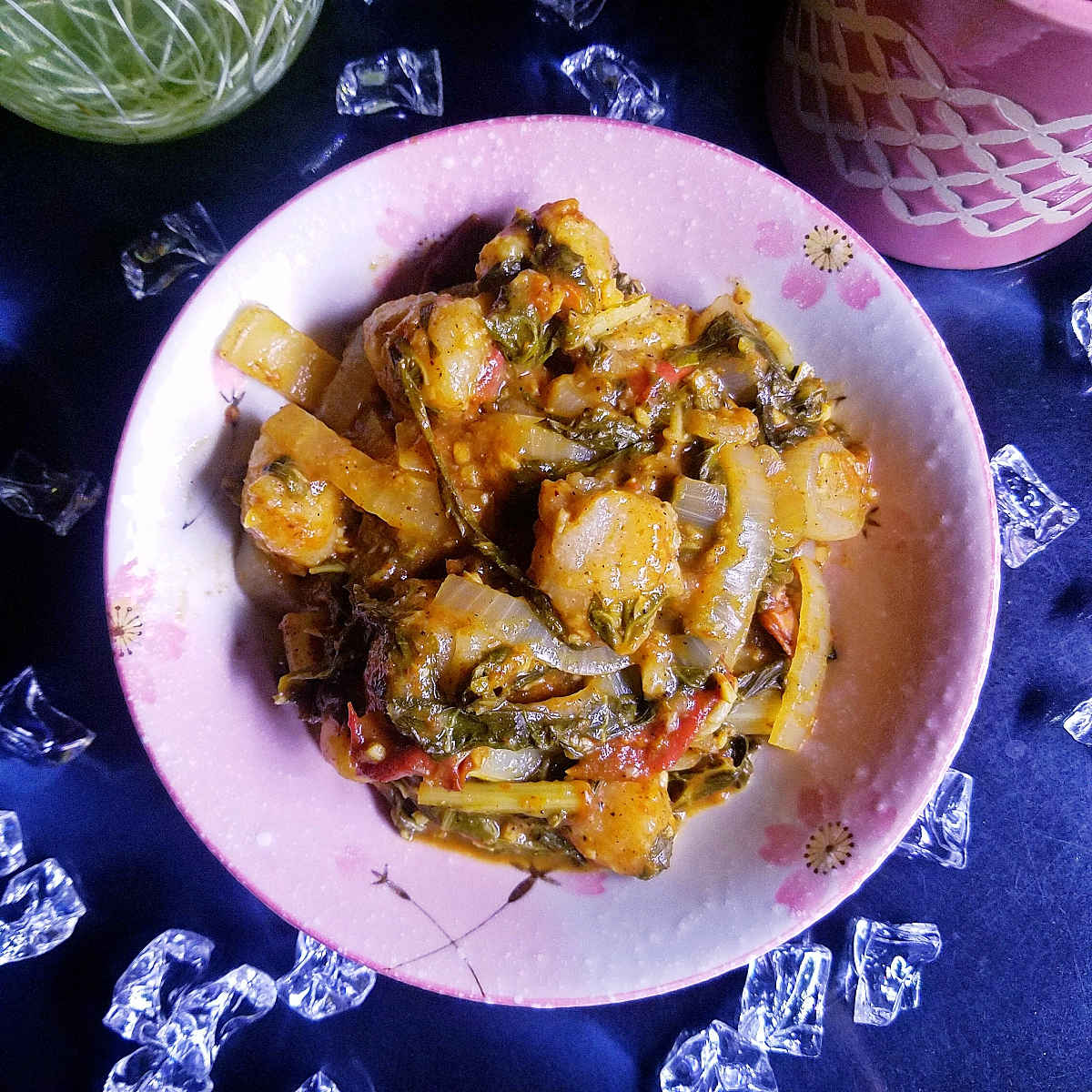 Ingredient quality here, as with so many other dishes, is super key.  To that end, I typically make this dish using fresh ingredients from the farmers' market that runs here in town on the weekends, where I can get local and organic chard, tomatoes, and onions for reasonable prices.  Beyond that, though, there are just a couple of things to mention:
Cauliflower Gnocchi
This dish uses cauliflower gnocchi, which I found this past summer at Trader Joe's.  At the time of writing this, the ingredients list is as follows: Cauliflower, cassava flour, potato starch, extra virgin olive oil, sea salt.  Since then, I've seen a few cauliflower products pop up in other stores here and there, but the only cauliflower gnocchi I've used for this dish is the kind from Trader Joe's.
I've also made variations of this dish using cubed sweet potatoes or 2 c cooked rice (jade rice works best).  If you can't find cauliflower gnocchi, give one of those options a try instead!
Oil-Free Cooking
Most of the dishes I make for myself only (which this dish started as) are oil-free.  I make this dish oil-free in a wok, and it works great.
To start most oil-free stove top dishes, pour 1 c water into a wok over high heat.  Then, add in any minced garlic and/or onions you'll be using.  The water, combined with the curved surface of the wok, should be enough to keep the garlic/onions from sticking to the bottom.  Every minute or so, stir them.  They're sufficiently cooked, (and it's time to continue with the rest of the recipe,) when you can smell them in the air and they start to darken a bit.  Should the water accidentally evaporate too quickly, just add more.
Ingredients
12 oz Trader Joe's frozen cauliflower gnocchi
2 TBS minced fresh garlic
1 1/2 c diced onions
1 1/2 c diced tomatoes
6-9 c fresh chard leaves (no stems), cut into salad-sized pieces
2-4 TBS full-fat coconut milk
2 TBS unsweetened applesauce
1 TBS apple cider vinegar
Juice of 1 lemon
1 TBS curry powder
1/2 tsp Himalayan pink salt (or regular salt)
1/2 c chopped green onions
Instructions
Prepare the cauliflower gnocchi according to the package directions.  When finished, drain out the water and set aside.
In a wok over high heat, add approximately 1c water.
Add the garlic and onions, stirring every minute or so.  Cook until you're able to smell the garlic and onions, and until they have started to darken.
Add remaining ingredients, except green onions and gnocchi.
Continue cooking for 15-20 minutes, or until chard is cooked: soft, and no longer chewy/tough.
Turn off the heat, and gently fold in the green onions and cauliflower gnocchi.