This is a lovely little twist on peanut butter pie: Almond cookie cream pie! It uses a bunch of almonds, in many forms, and the resulting flavor is a unique crowd pleaser, because it's: creamy, no-bake, richly delicious, unique, and totally vegan!
The almond butter I used for this was from Trader Joe's, which has, from what I've seen so far, the best price on almond butter. Take a look: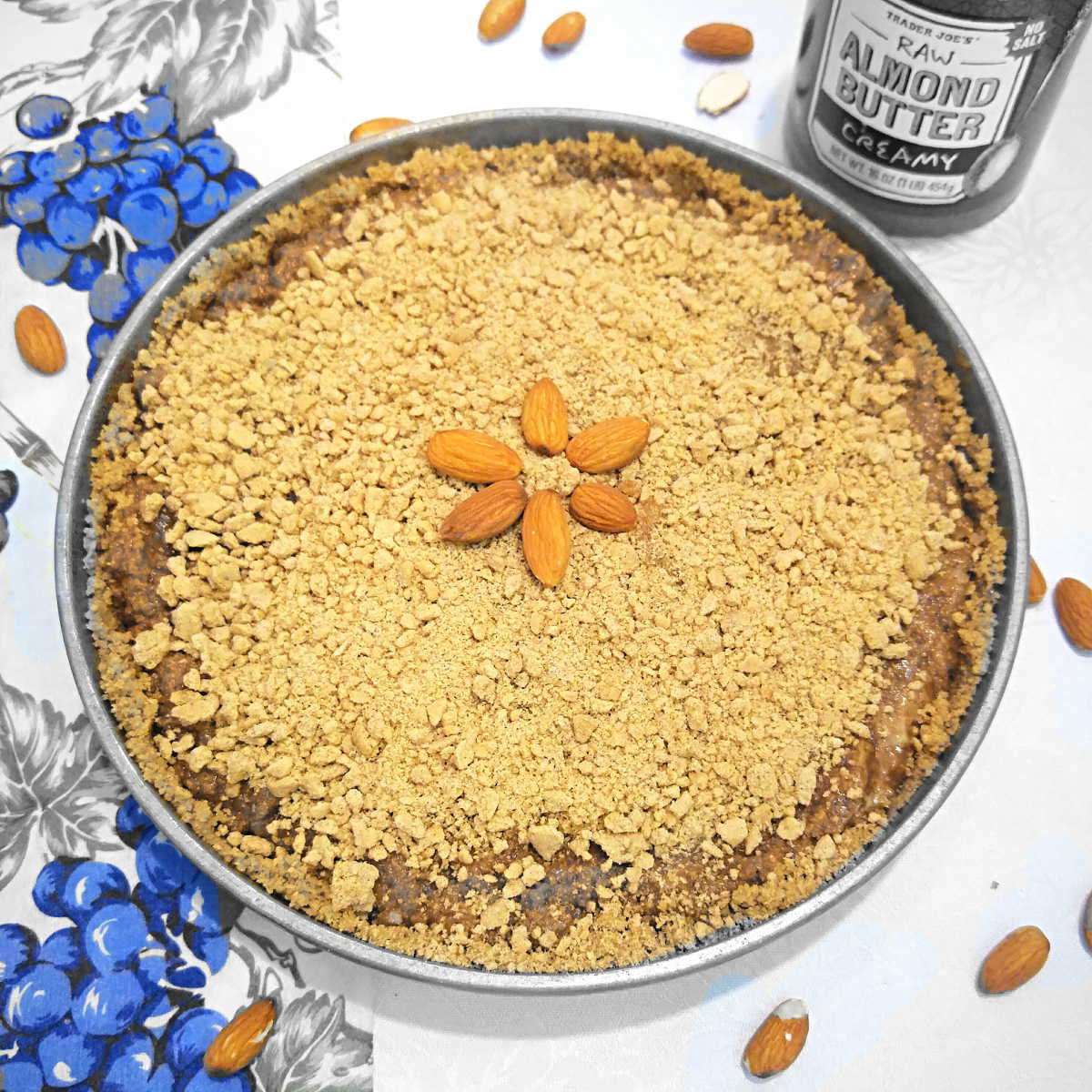 Ingredients
Crust Group
3 c bite sized cookies

I found some vegan letter cookies at Trader Joe's
Any bite-sized neutral/vanilla cookie will do

1/3 c Earth Balance, or other vegan margarine
Filling Group
1 jar almond butter
8 oz tub Trader Joe's vegan cream cheese (or other vegan cream cheese)
1/2 c virgin coconut oil
1 tsp almond extract
1 tsp vanilla
1 c powdered sugar
Toppings Group
1 c bite sized cookies
6 almonds
Instructions
For the crust, combine all of the ingredients in the crust group in a food processor. Pulse until the pieces are very fine and start to stick together.
Press the crust mix into the sides and bottom of a 9″ round pie pan. This will form the crust. Set aside.
If your coconut oil is rock solid, gently warm it until it starts to become soft.
In a large bowl, combine all of the filling group ingredients. Mix thoroughly; use an electric mixer if you have one.
Press the filling mixture into the crust, and pat it down to smooth it.
In the food processor again, crush the cookies from the toppings group. Pour these on top of the pie as a topping.
Arrange almonds on the top to provide a finishing touch!