Growing up, my family always used to make sweet potato casserole at Thanksgiving, and sometimes Christmas, too. When I went vegan many years ago, this was one of the first recipes I aimed to veganize. Now that I'm also somewhat of a health freak as well, I admittedly don't make this nearly as often…but once a year, I do pull this one out around the holidays and serve it to a crowd, who happily devours it so I don't have any leftovers 😀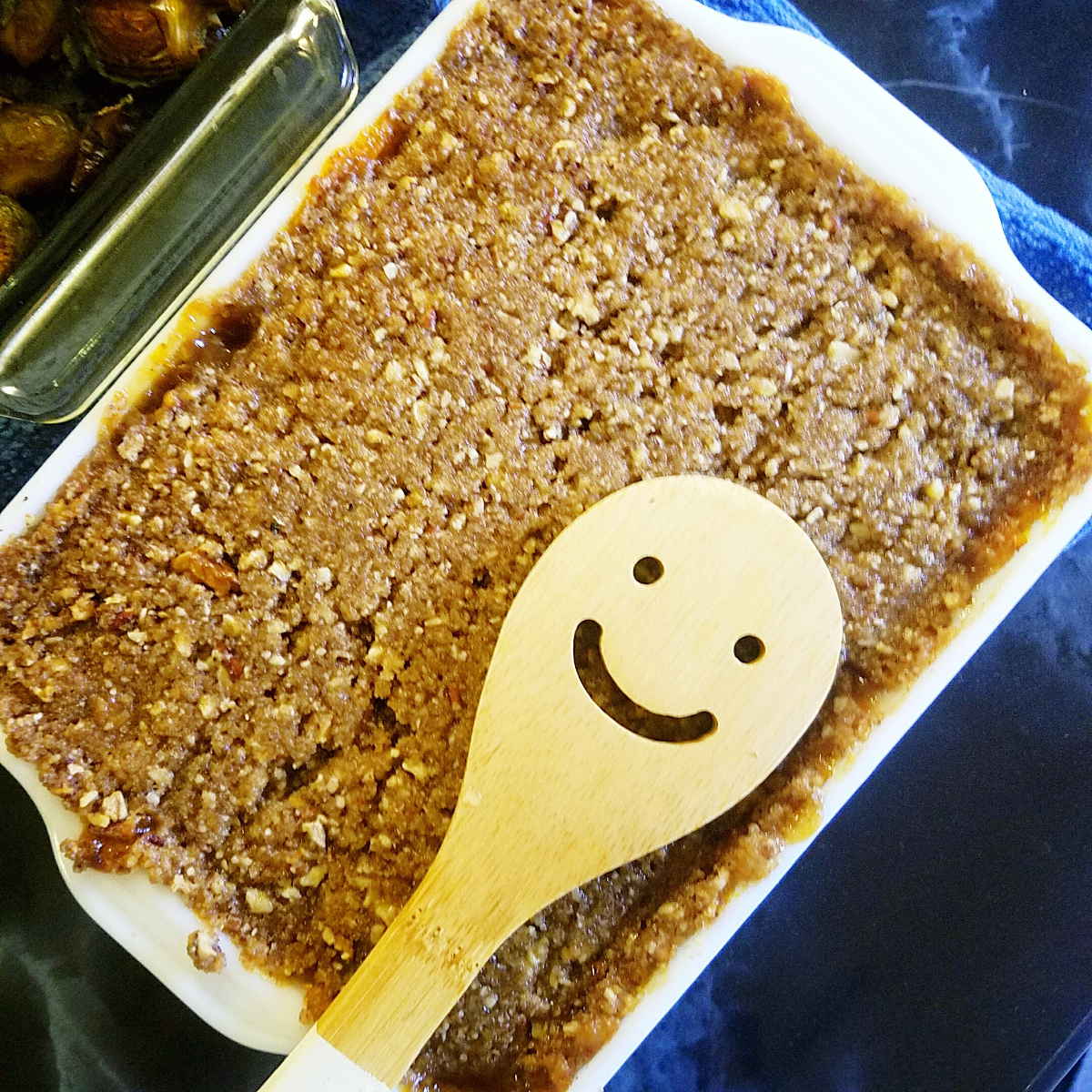 Ingredients
Filling Group
4 medium-sized sweet potatoes (we're aiming for about 4 c mashed)
1/2 c sugar
2 TBS flax seeds
1/2 c coconut milk beverage
1/4 tsp salt
2 TBS coconut oil
1 tsp grain-free vanilla extract
Toppings Group
1 c brown sugar
1/2 c gluten-free flour
1/4 c coconut oil, melted
1/2 c pecans
1/2 c walnuts
1/4 tsp salt
Instructions
Preheat an oven to 350 degrees Fahrenheint (177 degrees Celsius).
In a large pot of water, boil the sweet potatoes until tender.  This will take about 30 minutes.
Drain the water and carefully mash the sweet potatoes with a fork.  You may want to let them cool first before mashing, for safety!
Measure out 4 c of the mashed sweet potatoes to use.  Place these in a large bowl.
Add the rest of the Filling Group ingredients to the 4 c of mashed sweet potatoes.
Spread the potato mixture in a lightly greased 8 x 11″ (20 x 28 cm) casserole dish.  Set aside.
In a food processor, combine all of the Toppings Group ingredients.  Pulse until the mixture resembles large crumbs that stick together.
Carefully spread the crumb mixture on top of the potato mixture, being mindful not to disturb the potatoes too much.
Bake at 350 degrees Fahrenheint (177 degrees Celsius) for 35-45 minutes, or until the crumb topping starts to brown.