This dish is an attempt to bring home the flavor of a rice noodle dish we've found at Thai restaurants a handful of times…with my own twist, of course!  This dish is, like many of the other authentic tasting Asian dishes on here, one that might require either a trip to the nearest Asian grocery store or some online ordering…unless the regular grocery store near you conveniently carries vegan fish sauce and flat rice noodles!  As always, if you're unsure where to buy some of these things, check out our post on where to buy Asian ingredients.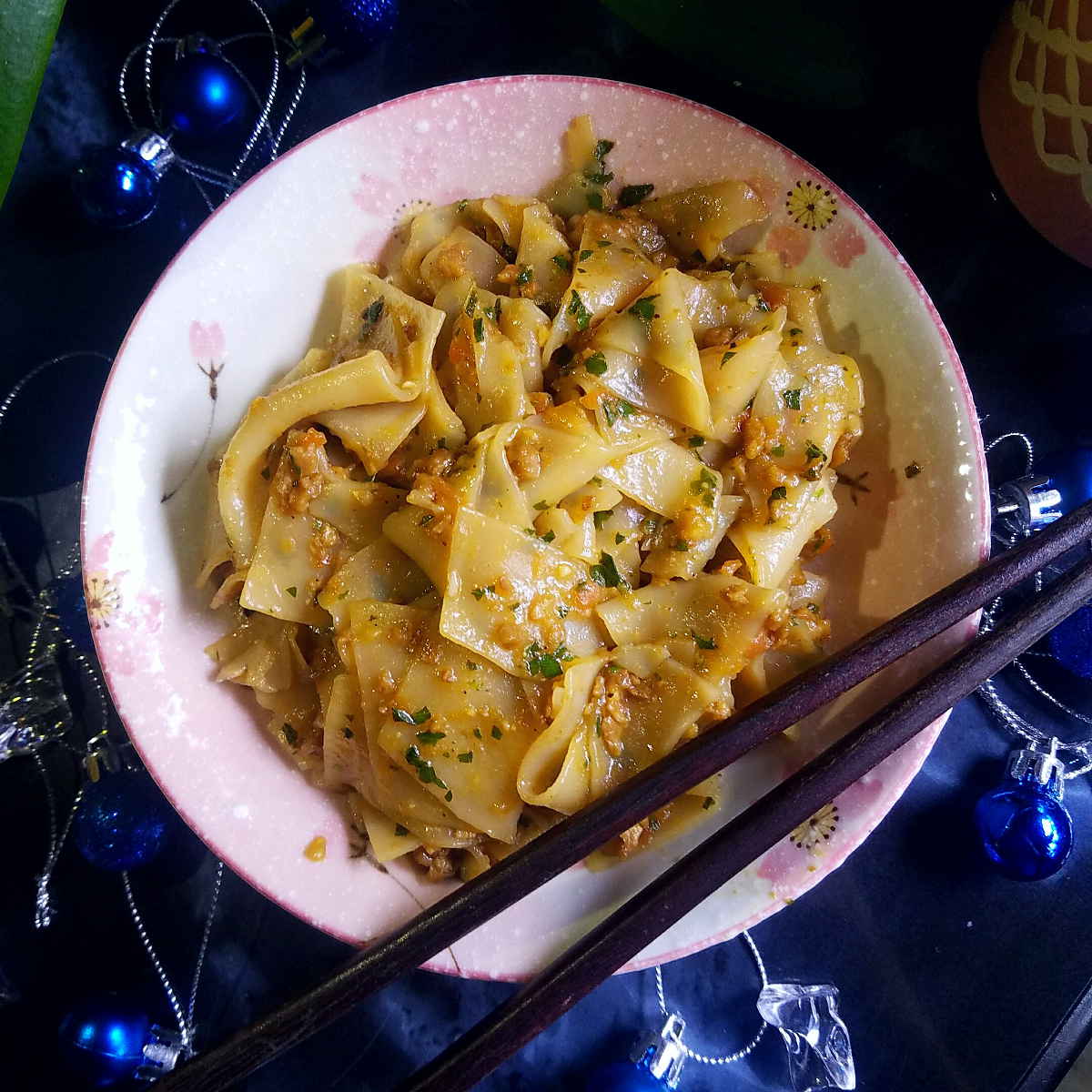 The added twist on the dish?  Using tomatoes to add savory flavors to the dish, so that it can be made with less oil.  The flavor of the tomatoes blends in with everything else, though…this dish contains tomatoes, but it does not necessarily TASTE like tomatoes!  Flavors in this dish that stick out more are the garlic and Thai basil.
Ingredients
4 cloves garlic
1/2 c Thai basil leaves (fresh, not dried)
2 medium tomatoes
7 oz flat rice noodles
1 TBS sesame oil
1 TBS avocado oil (optional)
3 TBS vegan fish sauce
1 TBS cane sugar
1 TBS gluten-free soy sauce
Instructions
In a food processor, combine the garlic, Thai basil, and tomatoes.  Pulse until a chunky sauce consistency is achieved.
Cook the flat rice noodles according to the package.  When done, drain the water away.
In a wok over high heat, begin to stir fry the noodles in the sesame and avocado oil.  (Note: the extra 1 TBS of avocado oil will make it taste more traditional, due to the higher fat content, but omitting it makes the dish less greasy.  Up to you.)
Quickly add in the vegan fish sauce, cane sugar, and gluten-free soy sauce, and stir until the sauces coat the noodles.
Pour the garlic/basil/tomato sauce from earlier over everything.  Stir fry for about 1 minute, enough to warm up the sauce and coat the noodles.  Avoid cooking for too long, as that will dull the flavor of the basil!
Remove from heat, and serve!