My soy-free friends have often complained that having chocolate is a near impossibility, because in just about every type of chocolate, there's some sort of soy, even if just soy lecithin.  Having made chocolate myself and knowing it's totally possible to make without soy, this was sort of a revelation to me.  I previously had no idea that store-bought chocolate is almost always made with soy.  Why is that?  I do not know.  BUT…these shortbreads, and the chocolate marbling that will cover them, are not only soy-free but also gluten-free, nut-free, and vegan.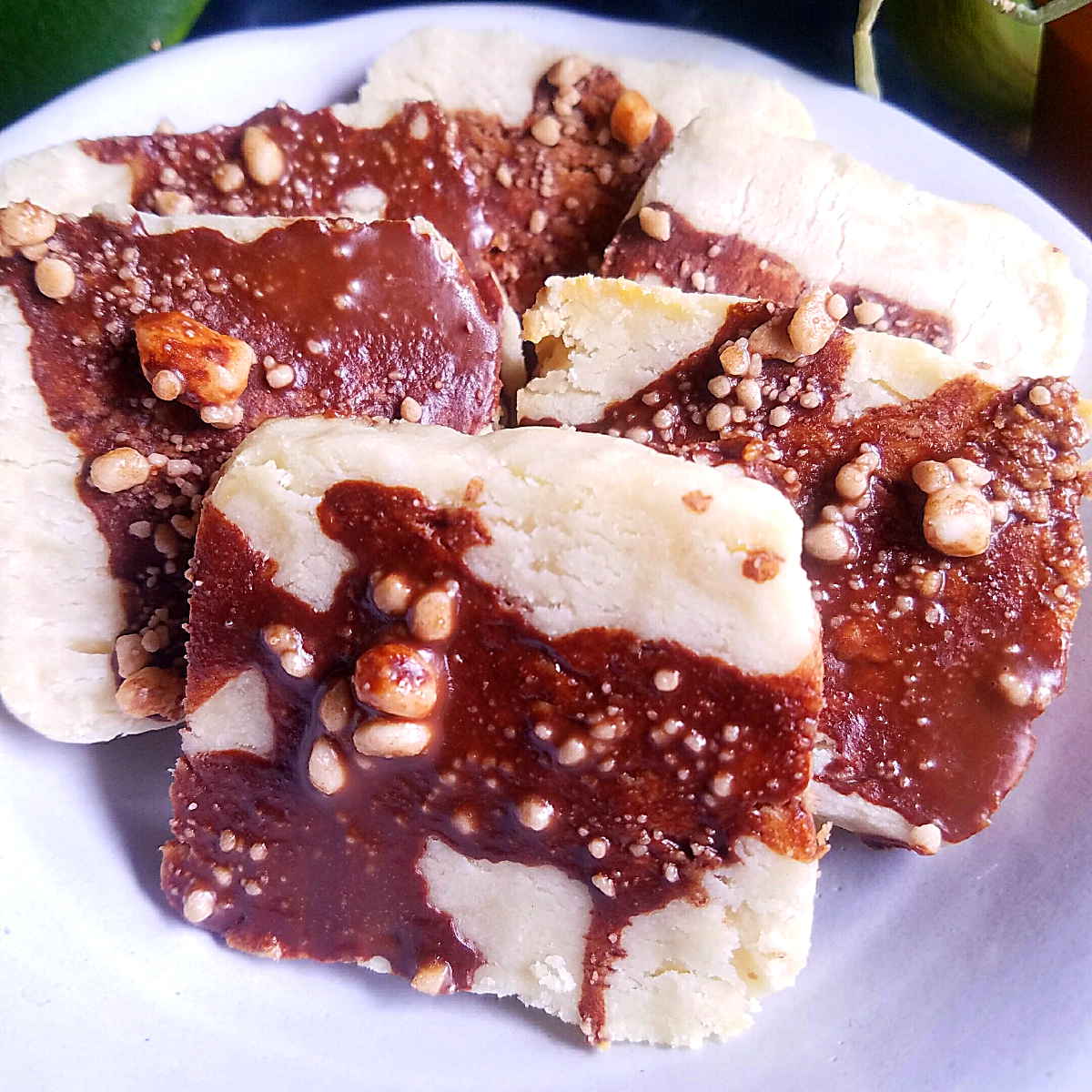 If you like shortbread style cookies, you may notice that these are fairly similar to our soy-free matcha shortbreads, which became the inspiration of this recipe.  Check them out, too!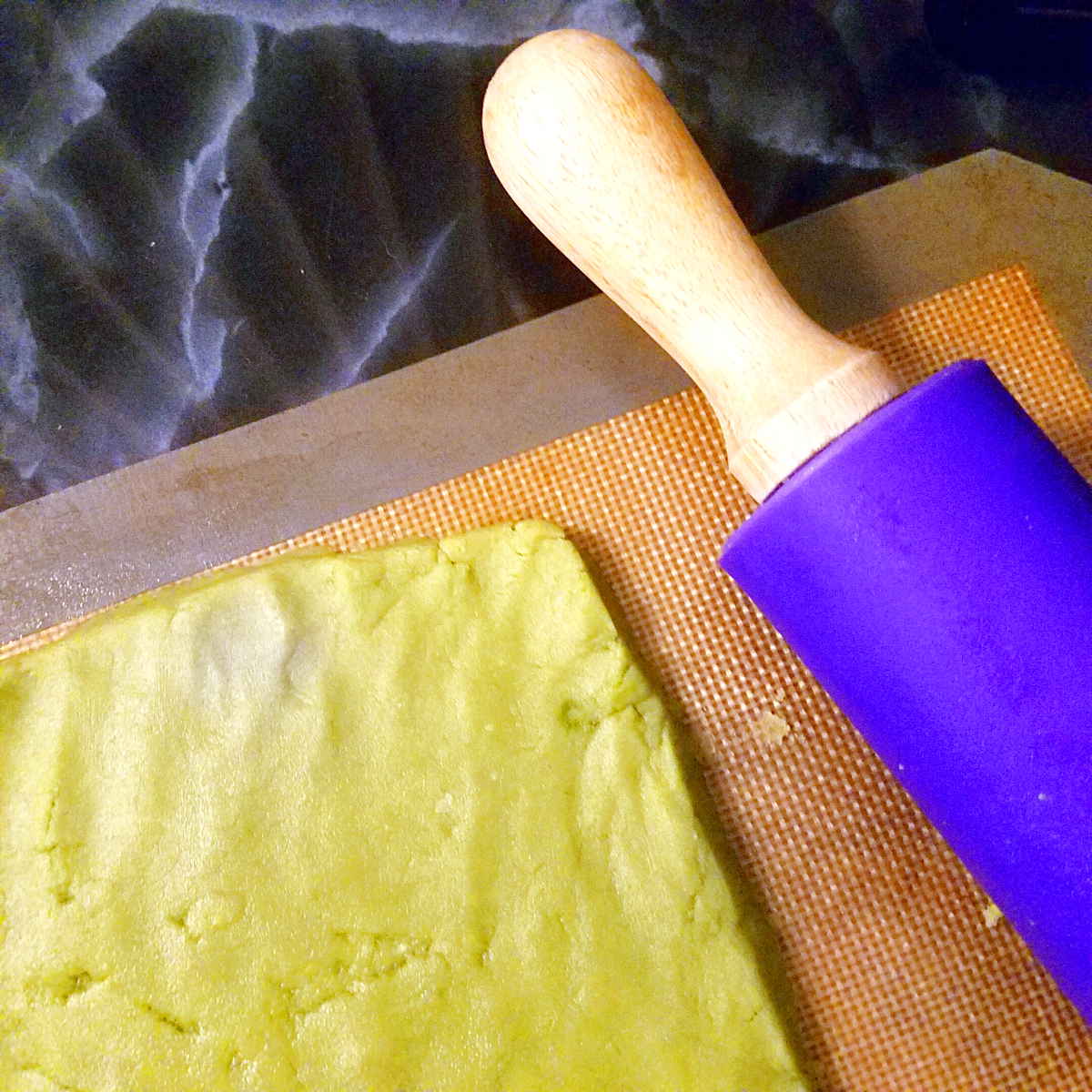 A Word About Coconut Oil in This Recipe
Ideally, use coconut oil that is in a "squishy" state, rather than coconut oil that is liquid or rock solid.  Why?  The texture of the shortbread dough will be difficult to work with otherwise!
You can gently warm hard/solid coconut oil by running warm water over the jar and then mixing it up with a fork.  Alternatively, you can gently cool coconut oil in a liquid state by placing it in the refrigerator for a few minutes at a time and then mixing it.
Ingredients
Cookie Group
2 1/2 c Trader Joe's gluten-free flour (other gluten-free flours may work, with slightly different results)
2/3 c virgin coconut oil
1/2 c powdered sugar
1/3 c unsweetened applesauce
1/4 c pulverized dried coconut*

Dried shredded coconut, ground up in either a coffee grinder or small food processor.  We want something that looks like sort of large grains of sand here.

2 TBS agave nectar
1/4 tsp Himalayan pink salt (or regular salt)
2 tsp xanthan gum
1/2 tsp gluten-free vanilla
Chocolate Marble Group
1/2 c coconut oil
1/4 c powdered sugar
1/ c cocoa powder
Instructions
To make the cookies…
Preheat the oven to 375 degrees Fahrenheit.
Combine all cookie group ingredients together.
If the dough starts to feel wet (perhaps your coconut oil is liquid/warm?) then throw it in the refrigerator for a few minutes until it firms up again to continue working with it.
Spread out some extra gluten-free flour on the surface you'll be working on.
Mix the dough with your hands, and roll the entire thing out into a flat sheet, less than 1 cm thick.  Pro tip for rolling: Use a sheet of parchment paper on the bottom and on the top of the dough, to make it less likely to stick to your roller!
Shape the rolled out dough into one giant rectangle.
Now, cut the shortbread dough with a butter knife into long strips.  I made mine approximately 10 cm x 2cm each.
Lightly grease a cookie sheet with coconut oil.
Carefully move the shortbreads over to the cookie sheet.  It's not necessary to leave more than about 1 cm of space between them, as they should not spread when baking.
Before baking, stick the cookie sheet full of shortbreads in the freezer for 15 minutes.
Bake at 375 degrees Fahrenheit for about 8 minutes.
Let cool completely before removing from cookie sheet.
To finish off with chocolate marbling…
Over low heat, melt the coconut oil from the chocolate marble group.
Gently stir in the powdered sugar and cocoa powder.  Mix as thoroughly as you desire.  We sort of liked the aesthetic of the chunks of powdered sugar in there and left them, but you could smooth them out if you prefer that.
Gently drizzle the liquid coconut oil chocolate mixture over the cookies, being careful to leave a bit of empty space on each cookie.
Set the coconut oil chocolate by placing the decorated cookies in the freezer for 15 minutes.
Notes
Since the chocolate on these IS made of coconut oil, it will melt a bit more easily than regular chocolate!  Keep that in mind and be sure to have napkins ready.  You might also want to make sure to serve them in a cooler environment – these could be a chocolate disaster if served outside in the middle of the summer in the hot sun!  But, if licking chocolate off your fingers is your thing, then by all means, serve them in the sun.  Up to you, but you've been warned 😀