What's even better than cinnamon buns?  Apple roses, of course!  Essentially a simple combination of pie crust (which we're going to make from scratch), vegan margarine, apples, sugar, and spice (and everything nice?)
They look impressive, and I'm not going to lie–they can be a little tricky to roll up to perfection–but they're worth it and will totally impress the host of the next party you bring them to.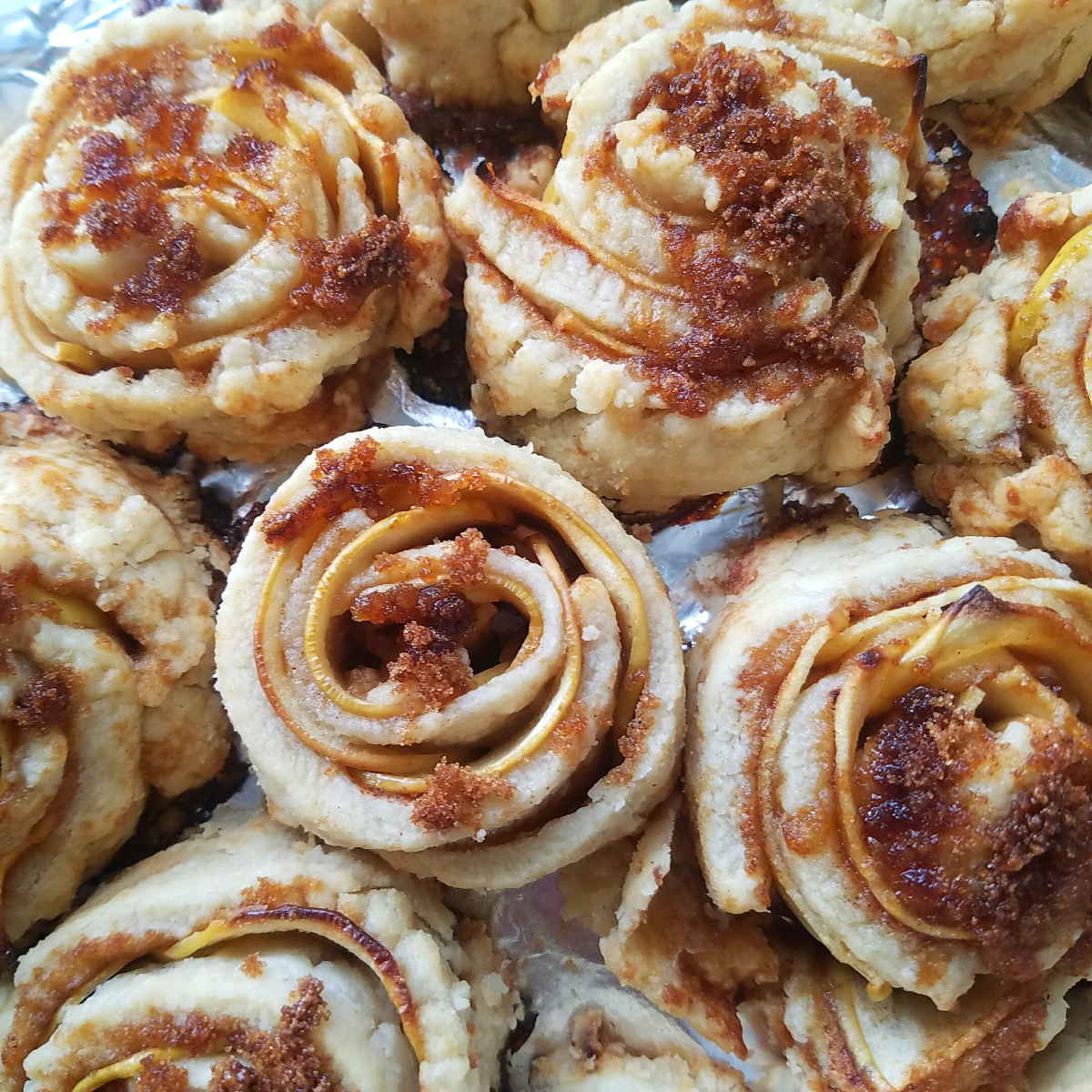 That said, here are a few notes that will help, should you choose this as your quest:
A word about thinly slicing apples
I used a mandoline to get perfect, even apple slices each time.  This would be possible to do by hand if you're some kind of amazing skilled knife person…but I'm not, so I use a mandoline 😀
Ingredients
Crust group
Fillings group
3 apples, thinly sliced
1/2 c Earth balance, or other vegan margarine
Brown sugar for sprinkling; you'll want about 1/2 – 1 c on hand
Cinnamon for dusting
Instructions
First, get all of the apples cut and sliced.  You'll want little half moon shaped slices, and the way you can do that is this:

Cut one third off the apple, avoiding the core.
Now cut another third off, from the other side of the core.
With each one of those apple slabs, slice thinly, with the cuts going what would have been horizontally across the apple.
I highly recommend using a mandoline to make this process easier & more even; see above 🙂

Create the crust by following the recipe for vegan coconut oil pie crust on our site.
With a rolling pin (or a wine bottle, your preference!), roll out the crust into a thin sheet, about 1/2 cm thick.  Pro tip for rolling: Use a sheet of parchment paper under and over top of the dough, to make it less likely to stick to your roller!
Cut, from that flattened crust, strips which are about 2-3 cm tall and about 30 cm wide.  Leave the strips on the table; we're going to roll them up one by one.  The goal with these is to have something which is just a bit shorter than your apple slices, so take that into consideration when cutting these.
Brush all of your cut strips with melted Earth Balance.
Now, rub brown sugar over the strips.  It should stick pretty well, since the strips are already coated in Earth Balance.
Lastly, dust the entire thing lightly with cinnamon.
Now, line up the thinly sliced up apples on each strip, like this: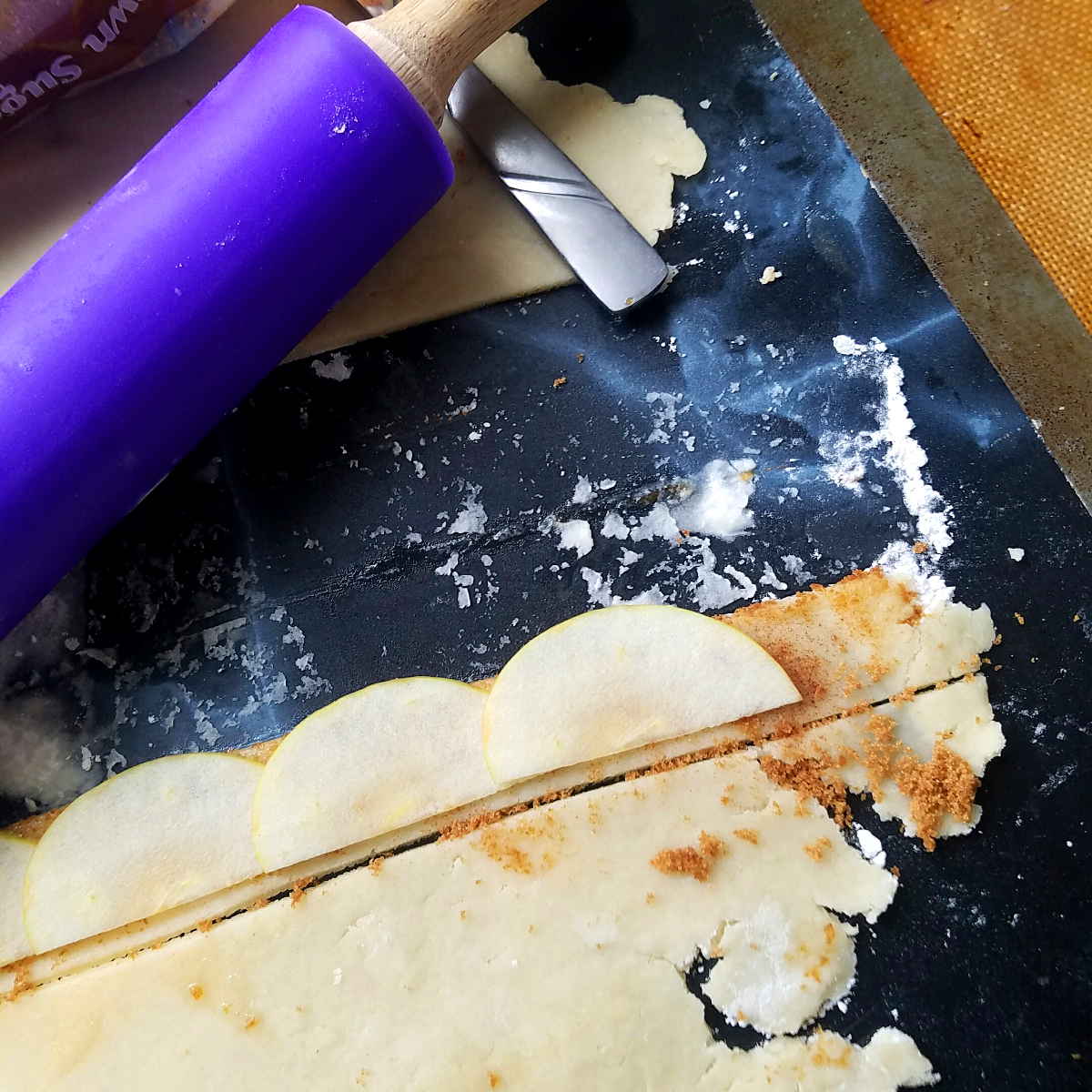 Gently and carefully, begin to roll the strip from left to right (or opposite of that, if you're left handed).  Leave a little bit of space at the end, so that you can seal the rose with the extra dough.  The end result should look kind of like a cinnamon bun: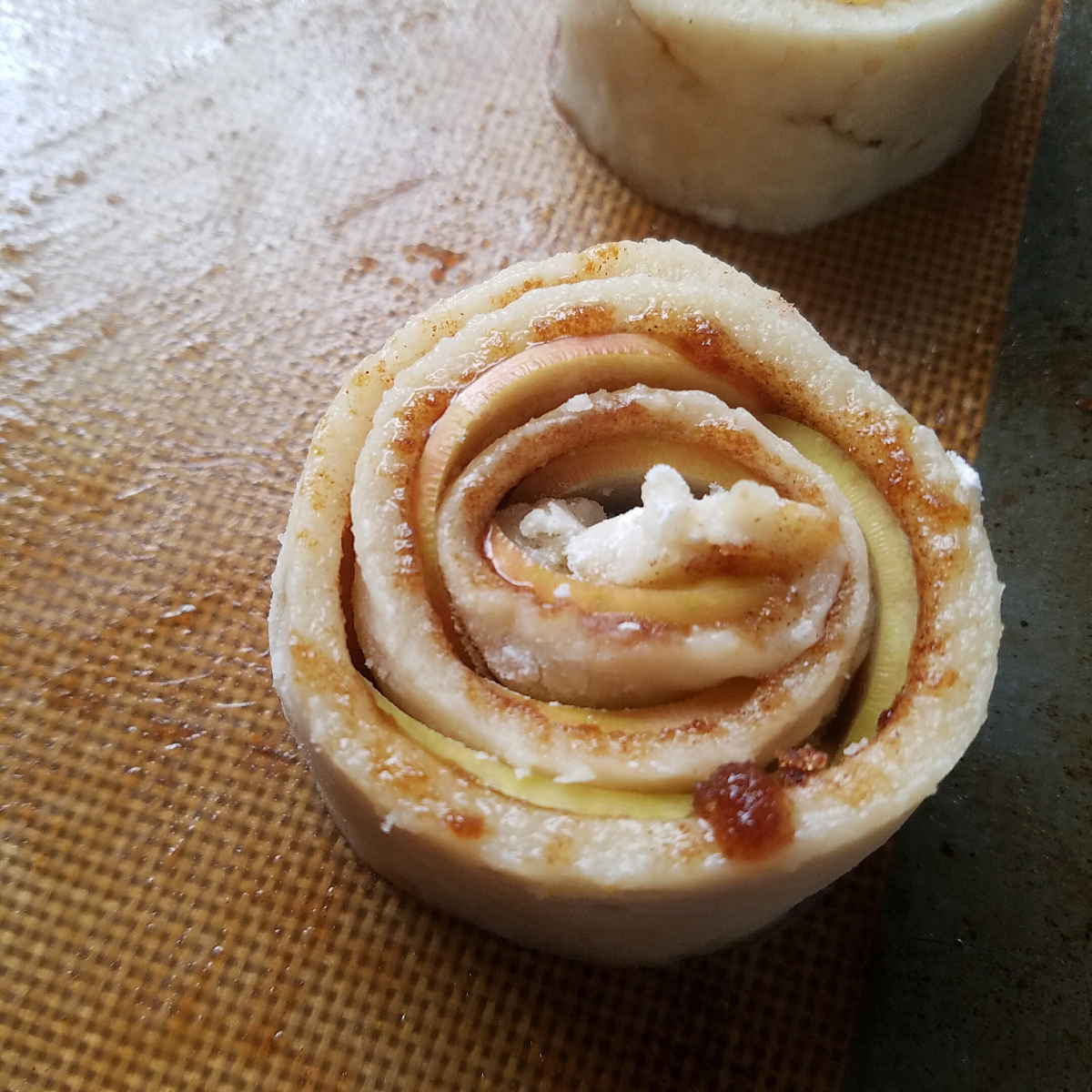 Brush the top lightly with some more coconut milk, and dust with a bit more brown sugar.
Bake these at 400 degrees for about 45 minutes, or until cooked all the way through.