This pie crust is the result of making a celebratory pie for a friend at work after a milestone was reached.  Those that are in the know are aware that anything I make is going to be plant-based…but the nice thing about work is that not everyone is "in the know"…and so I get honest feedback and reviews that don't include whether or not a person was prepared to eat "vegan food".  Turns out that the reviews are just as good when they aren't told 😛
So, with that said, here's the coconut oil pie crust I made.  This is a tiny bit tricky to get just right, but I'll be including some tips to help you do just that, even if your coconut oil pie crust starts to misbehave.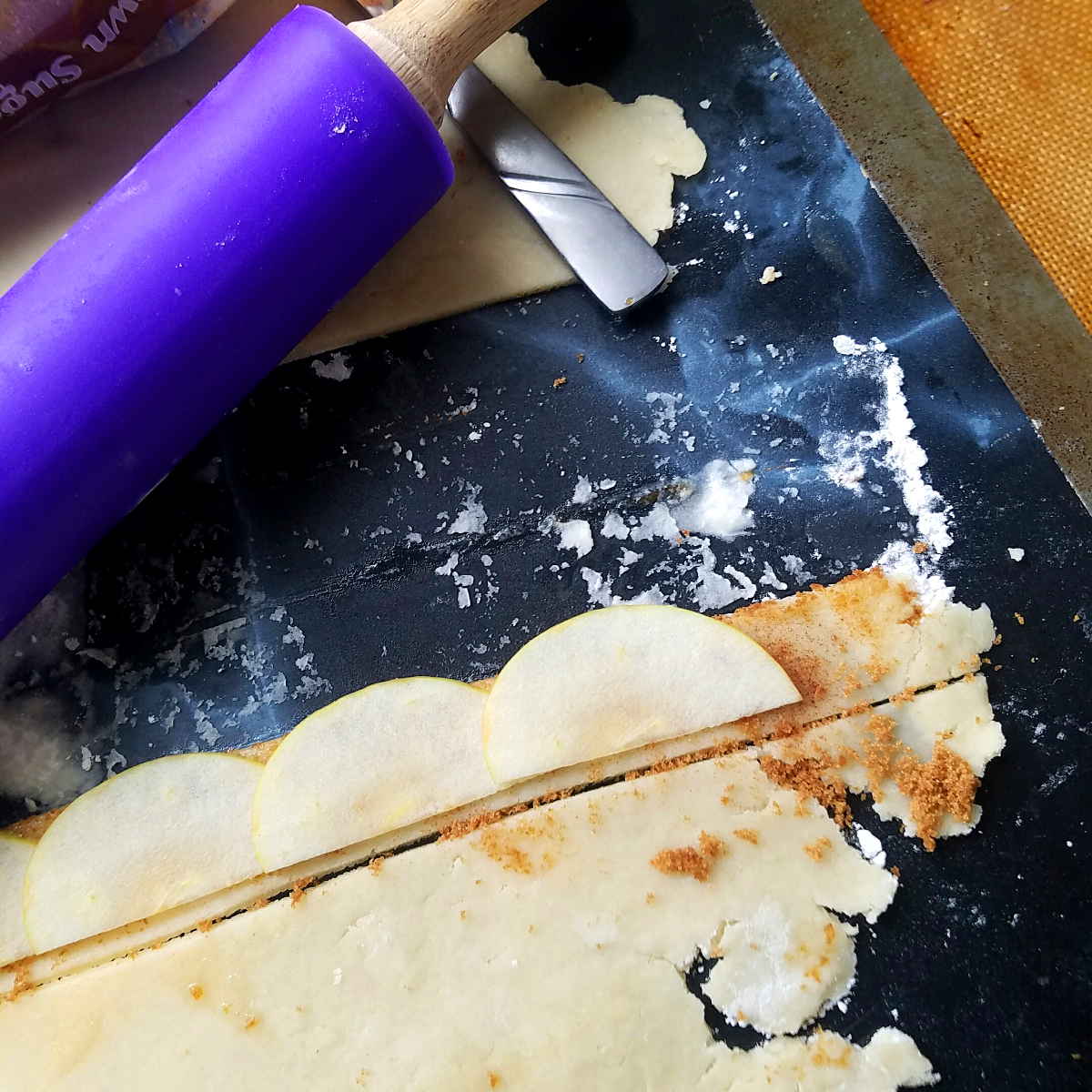 A word about coconut oil in pie crusts
Coconut oil can be liquid, or it can be hard as a rock.  Neither of those is good for making pie crust, though!  You want the in-between texture of slightly mushy, so that it can be stirred and mixed, but solid enough that you could pick up a glob of it with your fingers.
In the context of a vegan pie crust, coconut oil can be a bit tricky to work with.  If you notice that your coconut oil is melting too quickly, you might want to throw your pie crust in the fridge for a few minutes before continuing to work with it.  Why?  Coconut oil melts easily, especially when you touch it with warm hands.  You might accidentally melt it too much just by squishing it around and therefore need to firm it back up a bit before continuing to work with it.
Super coconut oil pie crust tips
Always make sure that your coconut oil is mashable – that means it's not pourable like a liquid, and it's not frozen into a rock-solid state.

Too solid?  Place the jar of coconut oil in a bowl of warm water, and stir it up after a few minutes.
Too liquid?  Stick in the refrigerator for a few minutes at a time, stirring every couple of minutes.

If the pie crust starts to get too soft and squishy, stick it in the fridge for a few minutes.  Check it every 5 minutes or so.  Once it starts to firm up, take it out and start working with it again.
You can try mixing the crust ingredients with a fork or with your hands, whichever is easier.
When rolling out the pie crust into a flat sheet, always put down a sprinkle of flour first!  Use a rolling pin or wine bottle to roll pie crust into an even, flat form.  To reduce stickiness even further, put a sheet of parchment paper under the dough, and put another one on top of the dough, so the dough is essentially sandwiched between 2 sheets of parchment paper as you roll it out!
Before baking your pie, freeze the entire thing for about 15 minutes.  Why?  This ensures that your coconut oil becomes nice and firm right before it goes into the oven, meaning a flakier, more delicious end result!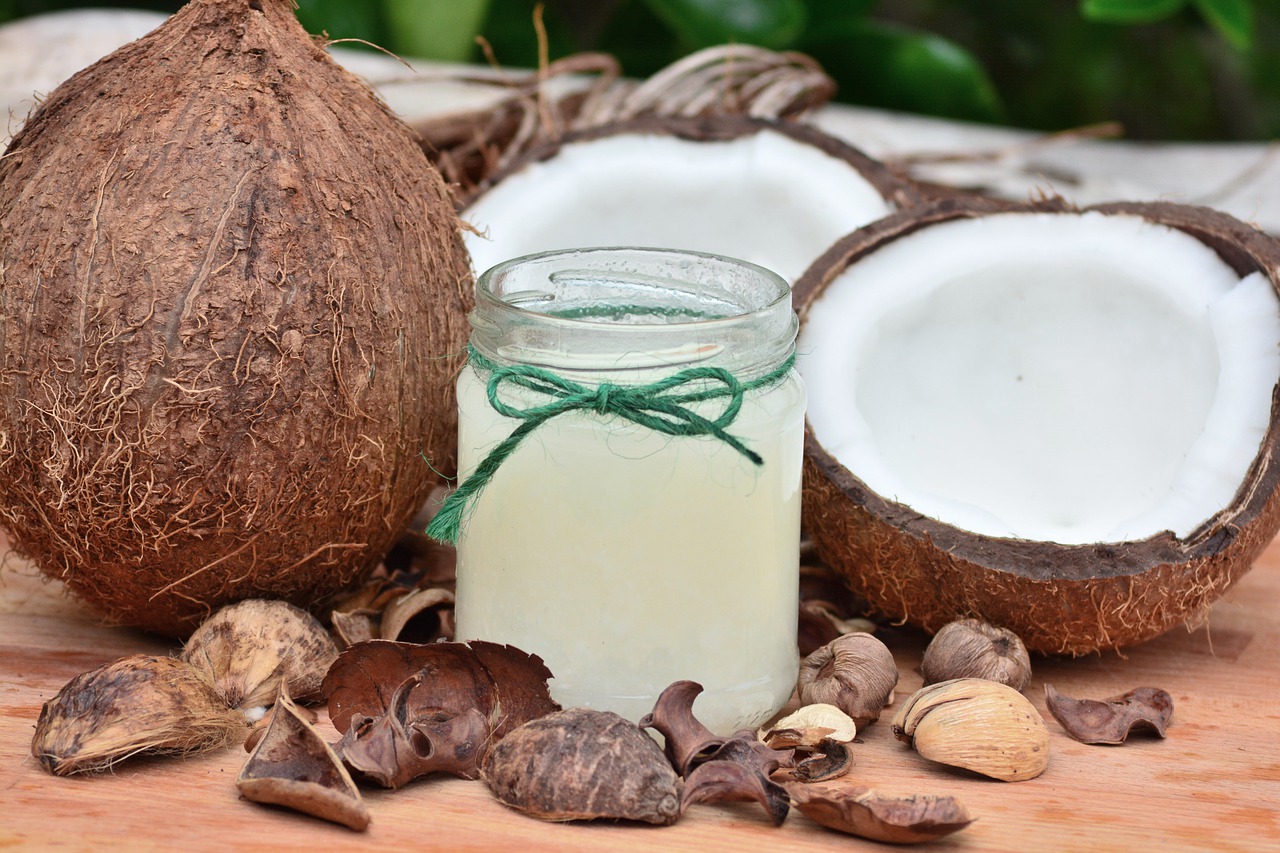 What if I don't like coconut oil? 
If you like the flavor of coconut oil, go ahead and use extra virgin coconut oil…but, if not?  Use refined.  If you use refined coconut oil, you won't taste the coconut flavor (says my friend's boyfriend, who hates the taste of coconut oil!).
Ingredients
3 c all-purpose flour
1 c coconut oil, in a mashable state (not liquified, and not a solid rock)
1/2 tsp salt
1/2 tsp cane sugar
1/2 c coconut milk (or another non-dairy milk)
2 TBS liquid coconut-based coffee creamer
Instructions
Create the crust by combining all of the ingredients, except for the coffee creamer, using a fork to incorporate them.  See notes above about coconut oil, and about working with coconut oil crusts!
Use your hands to mix all of the crust ingredients together until there are no more flour crumbs.  If it gets too soft or squishy, stick in the fridge for a few minutes before continuing.
Cover a large flat work space with flour.  You could cover your dining room table with wax paper and use that–clean-up is fairly easy that way.  We'll use this flour-covered space for rolling out the crust:
With a rolling pin (or a wine bottle, your preference!), roll out the crust into a thin sheet, about 1/2 cm thick.
Your crust is ready to use in the pie of your choice!  Typically, to create a pie, the process will be like this, but each recipe will vary:

Line a pie pan with the crust.  Gently press it into place.
Lightly brush any exposed parts of the crust with the liquid coconut-based coffee creamer (such as the top of the pie)
Before baking, freeze the entire pie for about 15 minutes.

Bake at 425 degrees Fahrenheit / 218 degrees Celsius, for 15 minutes.

Continue baking, at 375 degrees Fahrenheit / 191 degrees Celsius, for 30-35 minutes.
Looking for something to make with this coconut oil crust right away?
Try our vegan apple roses recipe!