Cauliflower pizza crust is unlike any other pizza crust you've ever had, but one bite and you'll be hooked!
It holds form when you pick up a slice of pizza–just like the traditional kind–yet this one is gluten-free, oil-free, without refined flour, comprised of whole foods, and higher in protein, fiber, and omega 3s (the good fats) than regular pizza crust.  Take that, regular pizza crust 😛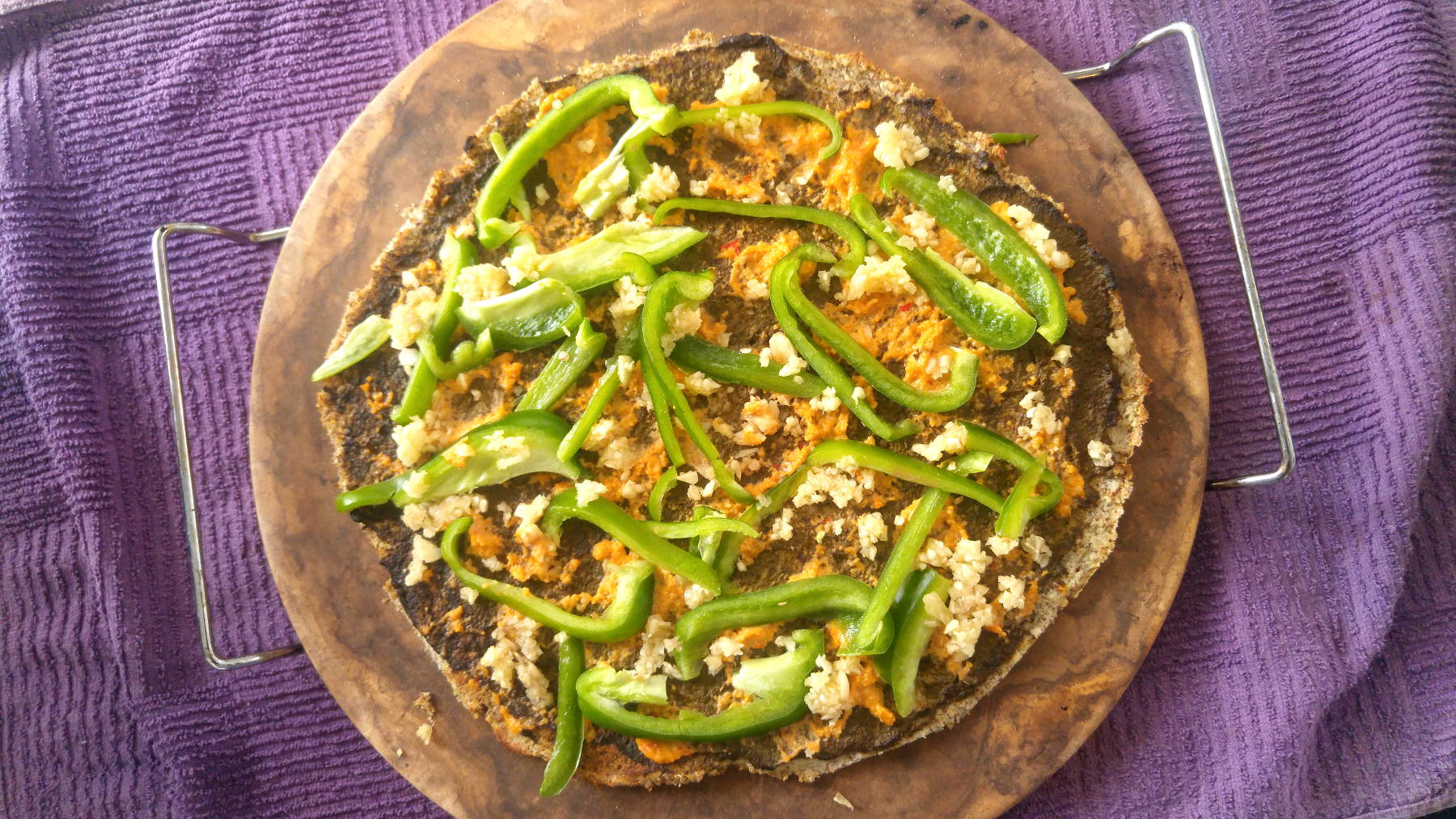 However, let's keep in mind that this *is* made of cauliflower!  That means you should be prepared for a new and different pizza experience:
Cauliflower crust is a bit more dense and moist then the regular version
Cauliflower crust will require baking in the oven for a bit BEFORE you use it to top your pizza
I topped mine with pesto, cashew cheese, and vegetables, but you can top yours however you want!  Prepared this way, this very cauliflower crust passed the crowd test, with gluten-free and wheat-eating friends alike.
Ingredients
16oz cauliflower
1/2 c almond meal
1/4 c coconut milk (another milk is fine, too)
2 TBS ground up flax seeds
1 TBS psyllium husk powder
1 TBS nutritional yeast
1/2 tsp Himalayan pink salt (other salt will work if you don't have any)
Instructions
In a food processor, pulse the cauliflower until it breaks up into pieces about the size of rice.
Add all other ingredients to the food processor, and process until the mixture starts to stick together.
Press the mixture onto either a silicon baking sheet OR a cookie sheet covered in aluminum foil, lightly greased on the top of the foil.
Use a rolling pin and/or your fingers to press the crust down into the desired shape.  I made a circle about 14″ in diameter with mine.  Try and ideally get it as thin as you can, so that in the end, the crust is less than 1 cm thick.
Bake about 20-30 minutes at 400 degrees Fahrenheit.  It's done baking when the top turns slightly brown.  Remember that thicker pizzas should probably go in for a bit longer, so definitely keep an eye on it!
Let your crust cool to the point that it's not too hot to touch.  If in doubt, wait longer, so that you don't burn yourself.
Get out the dish you plan to bake your pizza on.  This could be a pizza stone, another baking sheet, etc.  We'll call this the PIZZA BAKING SHEET.
Flip the baking sheet (or foil), WITH the crust on it, onto the PIZZA BAKING SHEET.  Now, slowly peel the foil or silicon sheet off the top.  Once you've done this, the crust is now upside-down, and that nicely browned top we saw a few steps ago is now face-down on the PIZZA BAKING SHEET.
At this point, top as you wish.  Feel free to add sauces, veggies, etc…whatever you like!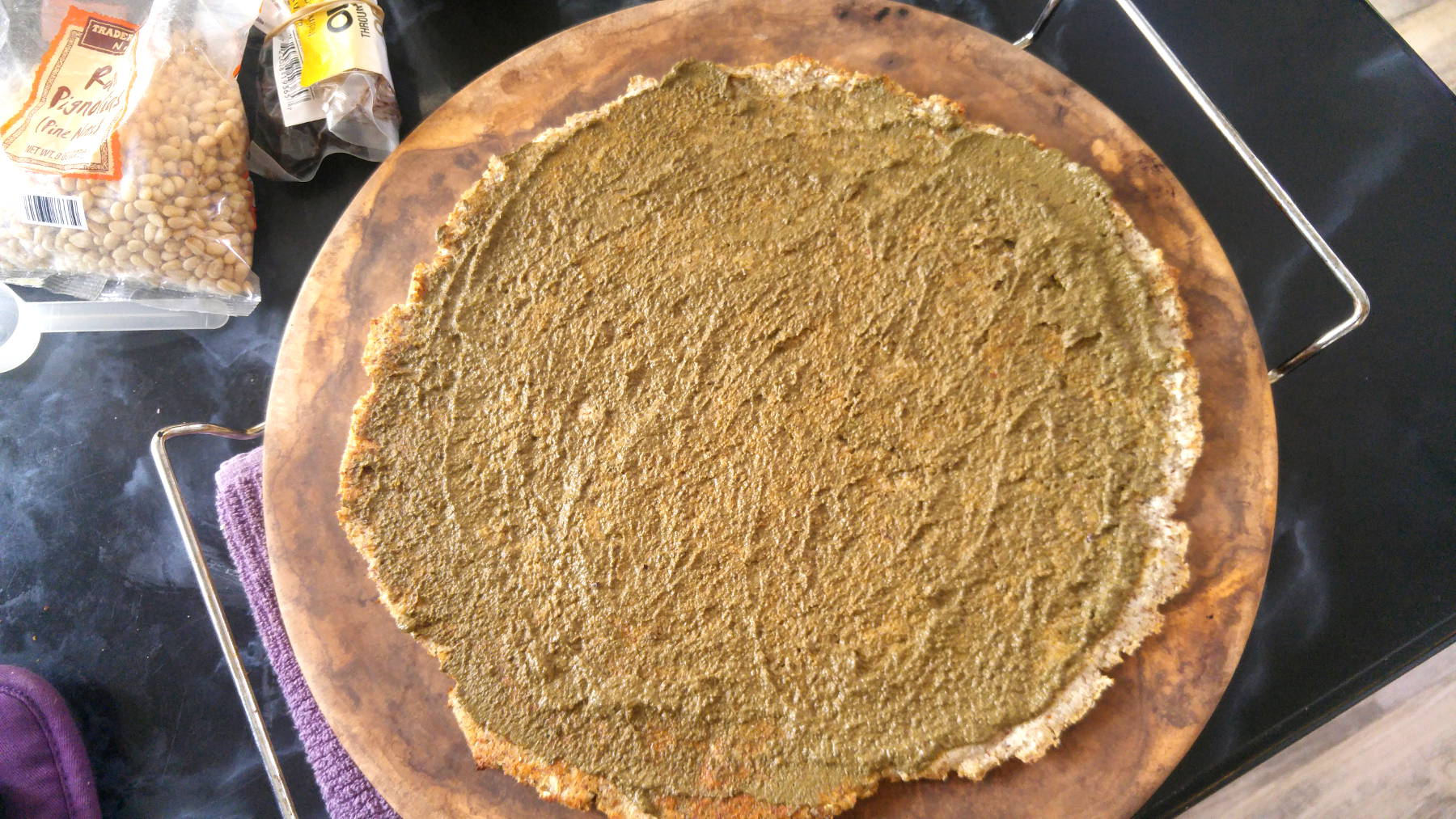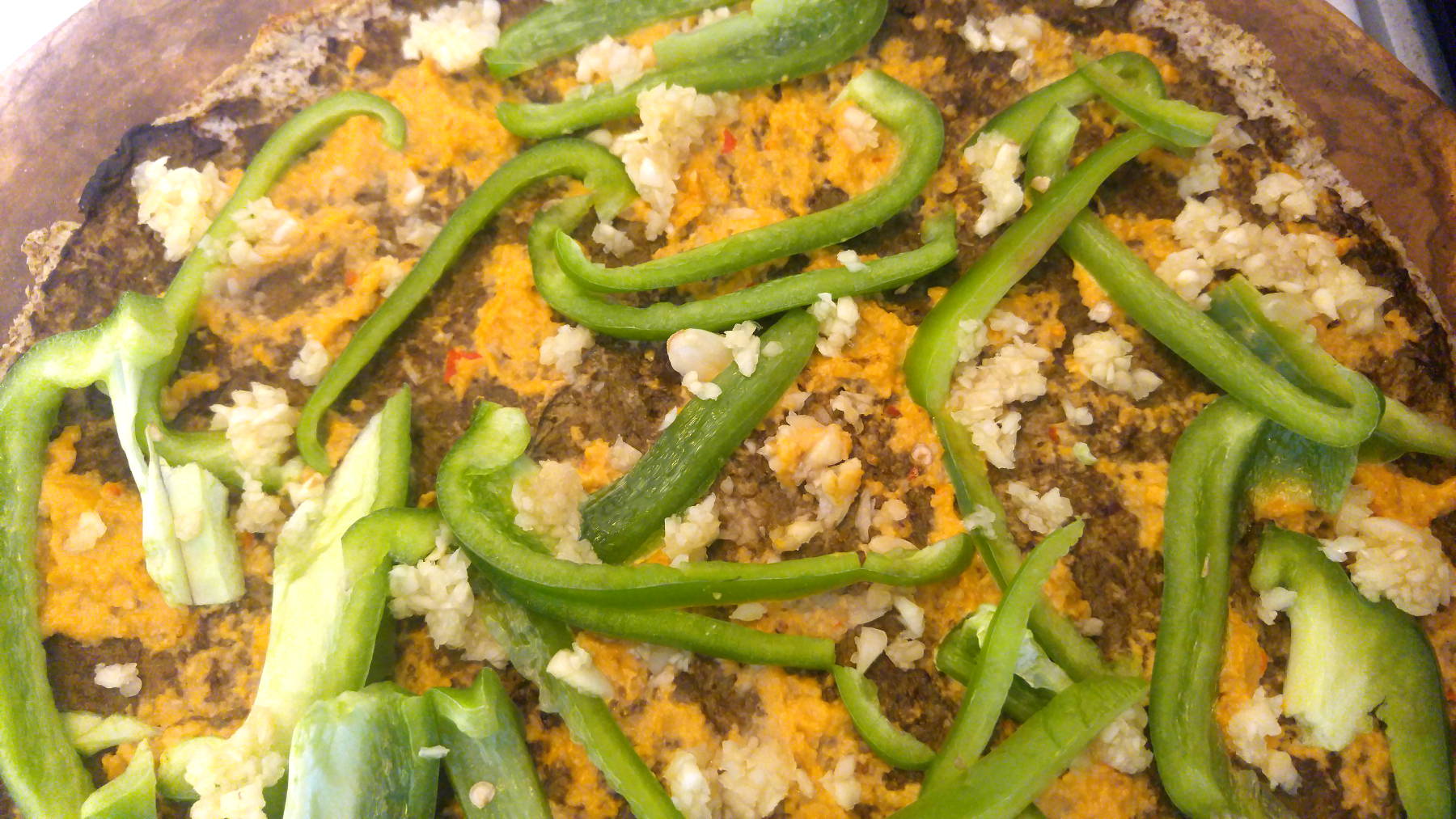 I found that this actually keeps pretty well in the fridge afterward, too, meaning that even gluten-free folk need not be void of the cold pizza experience 🙂  Just stick it on a plate and cover it.
This recipe makes a crust big enough for a pizza that's approximately 14″ in diameter, depending how thick you make the crust.