You know fall is coming…the air is getting a bit chillier, the colors are getting warmer and rosier everywhere you look, and classic treats like those involving salted caramel are everywhere…
Well, we've got our own version of that!
These bars are cute and delightful…but they're so rich and delicious you'll want more than just one…combine the sweetness of medjool dates, some super healthy seeds, and…well, let's just get started with the whole thing…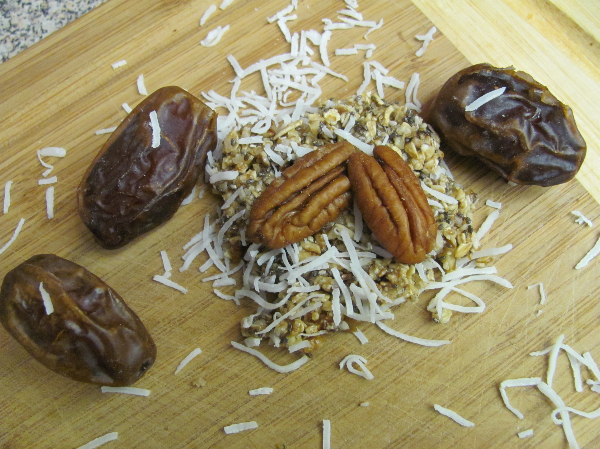 What You Need
2 1/2 c organic rolled oats
1 c pecans
1 c shredded dried coconut (unsweetened)
1/2 c maple syrup
1/3 c chia seeds
4-6 medjool dates (I used 6 medjool dates from Trader Joe's)
1 tsp vanilla
shake of Himalayan pink salt (regular salt will do if you don't have any)
What You Do
Combine the oats, pecans, coconut, chia seeds, and dates in the food processor. Pulse chop until you've got fairly even small pieces that stick together. (By small, I mean maybe a couple of millimeters across for each.)
Now, transfer all of that to a mixing bowl. Fold in the maple syrup, vanilla, and salt. Make sure you get everything thoroughly mixed together!
Press everything into a square casserole pan. You can optionally "grease" it with a bit of coconut oil, but you probably won't need to. These don't stick that much, and we're not baking anything here…
Want to make it beautiful? Top with a bit more shredded coconut and some strategically placed pecans.
These are delicious and super easy to make. For a variation, you could also try making these into balls rather than bars–instead of pressing the mixture into a casserole dish, you would simply ball it up into ping pong ball sized pieces by hand–up to you! What's YOUR favorite fall treat?
Save