Coconut is one of our favorite flavors….obviously 😀  These soft and delicious vegan coconut cookies are packed with coconut–AND friendly to most of the allergies and food sensitivities out there.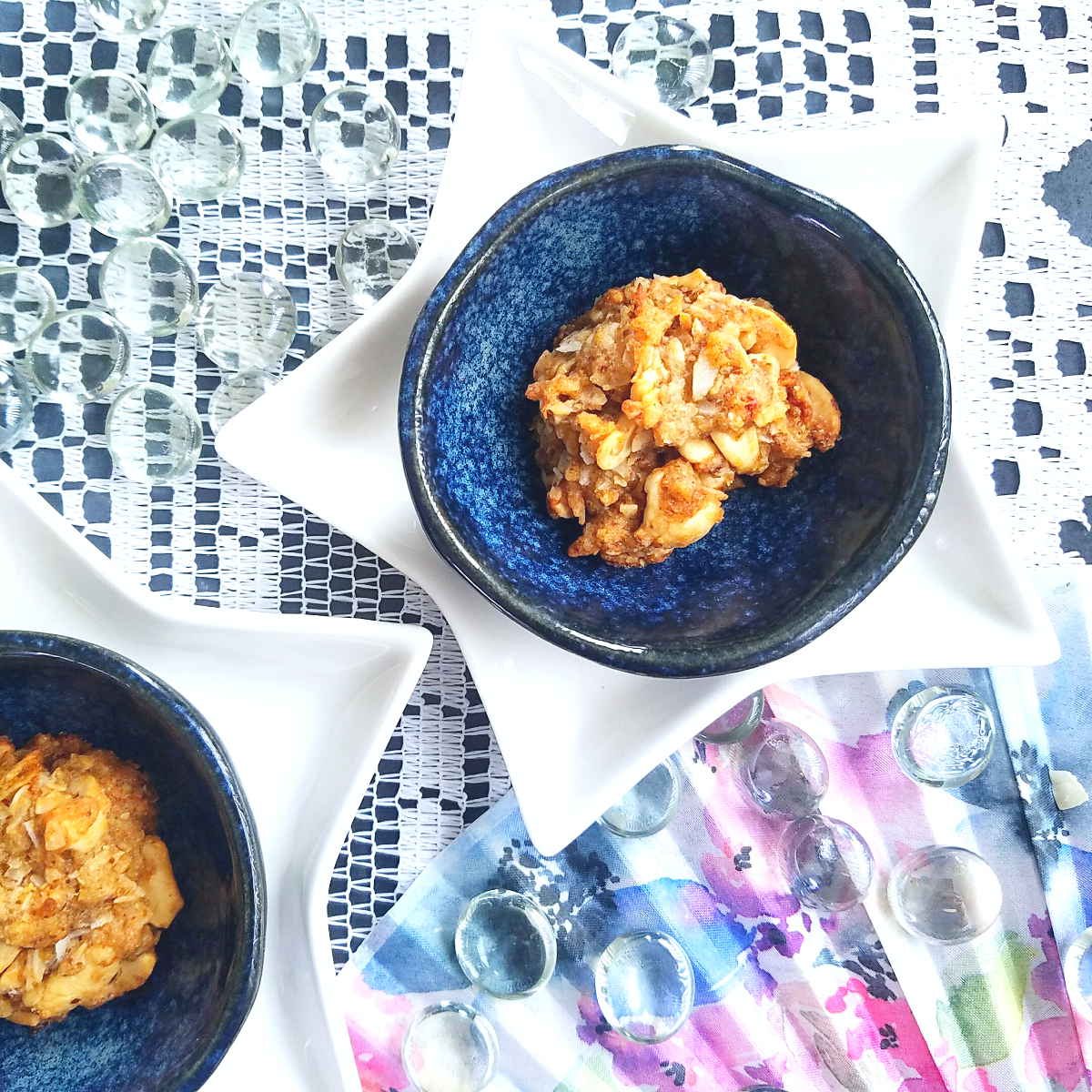 Vegan Coconut Cookies – What Else?
They're not only vegan but also gluten-free, nut-free, soy-free, egg-free, and dairy-free!
Coconut shreds, AND coconut oil, together in one soft, melt-in-your-mouth cookie…with flax seeds and agave holding everything together and perfecting the texture.
I am constantly fishing for suggestions on cookie flavors to make, and allergies to accommodate…and when a friend suggested to make something with coconut, that was the perfect excuse to throw together a recipe.  Kitchen time creating new recipes is sort of a stress reliever for me.  However, ironically, I'll generally only focus on cooking when I have an audience…eg, someone willing to eat the results.  Hungry friends and family, social events, etc. are my perfect excuse 🙂
Variations on these might include adding about 1 c of nuts or chocolate chips (provided you're not allergic!), which is one of my personal favorites.  We tried them last time with roasted cashews, and they were delicious that way, too.
A note on coconut oil
When baking with coconut oil, it's a good idea to get it in a sort of mushy state–one that's not too liquidy and also not rock solid!  You should be able to spoon it out of the jar easily.
Ingredients
2 c unsweetened shredded dried coconut
1 c gluten free flour
1/2 c brown sugar
1 tsp baking soda
1/2 c agave
1/4 c ground flax seeds
1/4 c coconut oil, softened
1 TBS Psyllium husk powder
2 tsp vanilla
1/4 tsp salt
Instructions
Preheat the oven to 350 degrees Fahrenheit (177 degrees Celsius).
Mix all ingredients together thoroughly in a large bowl.
Slightly grease a cookie sheet with a small amount of coconut oil.
Drop dough in balls of approximately 1 TBS each.  Leave a cookie width of space between each one; these don't spread a whole lot in the oven, but this should ensure that they won't run together.
Place the cookie sheet in the freezer for about 15 minutes.
Bake at 350 Fahrenheit (177 Celsius) for about 8 minutes.  Do not overbake!
Who did you make these for?  Did you add any chocolate chips, nuts, or seeds as a variation?  Tag us with your creations on Instagram @coconutsandsunshineblog!