Roasted Brussels sprouts are one of our family's favorite winter vegetables.  They're savory and satisfying while equally easy to prepare.  We love finding the entire stalk of Brussels sprouts for sale at the grocery as the weather gets colder–the sprouts are fresher, and we know they're in season!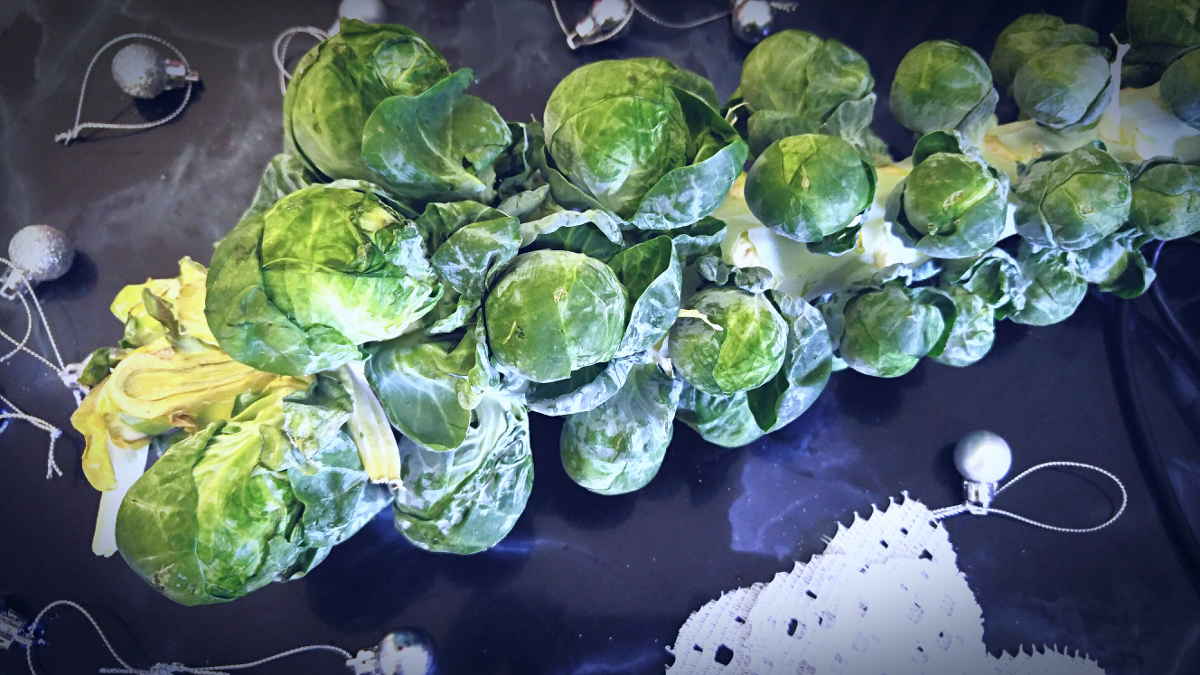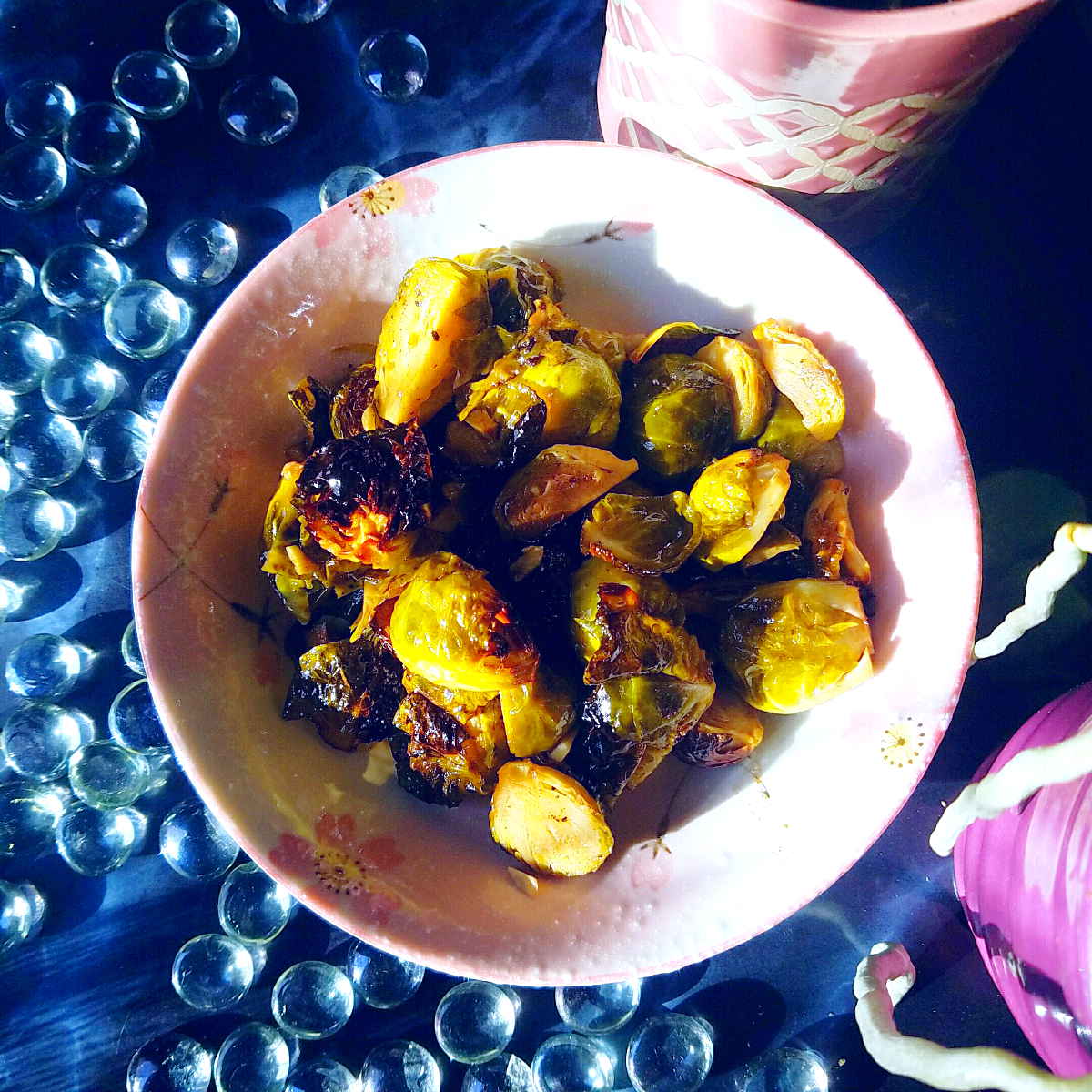 As a kid, believe it or not, I, like many other kids, didn't like roasted Brussels sprouts…like, at all.  A lot of it, though, has to do with how they're prepared (sorry Mom and Dad!)  Brussels sprouts are excellent roasted, with just the right amount of seasoning and a tasteful amount of oil (this is by no means a low fat dish, that said).
It should be no surprise that the secret to the seasonings here is the quality of the ingredients!  We use extra virgin olive oil so that we get the full flavor that it can offer, as well as fresh (never preserved) garlic.  It makes a huuuuge difference!  In fact, we've tried this with other oils, and it's just not the same.  So, go with the extra virgin olive oil for sure!  We found all the ingredients at Trader Joe's, and cheaper than anywhere else (Yes, I recommend them a lot, but I don't get paid or anything for that…*sigh*)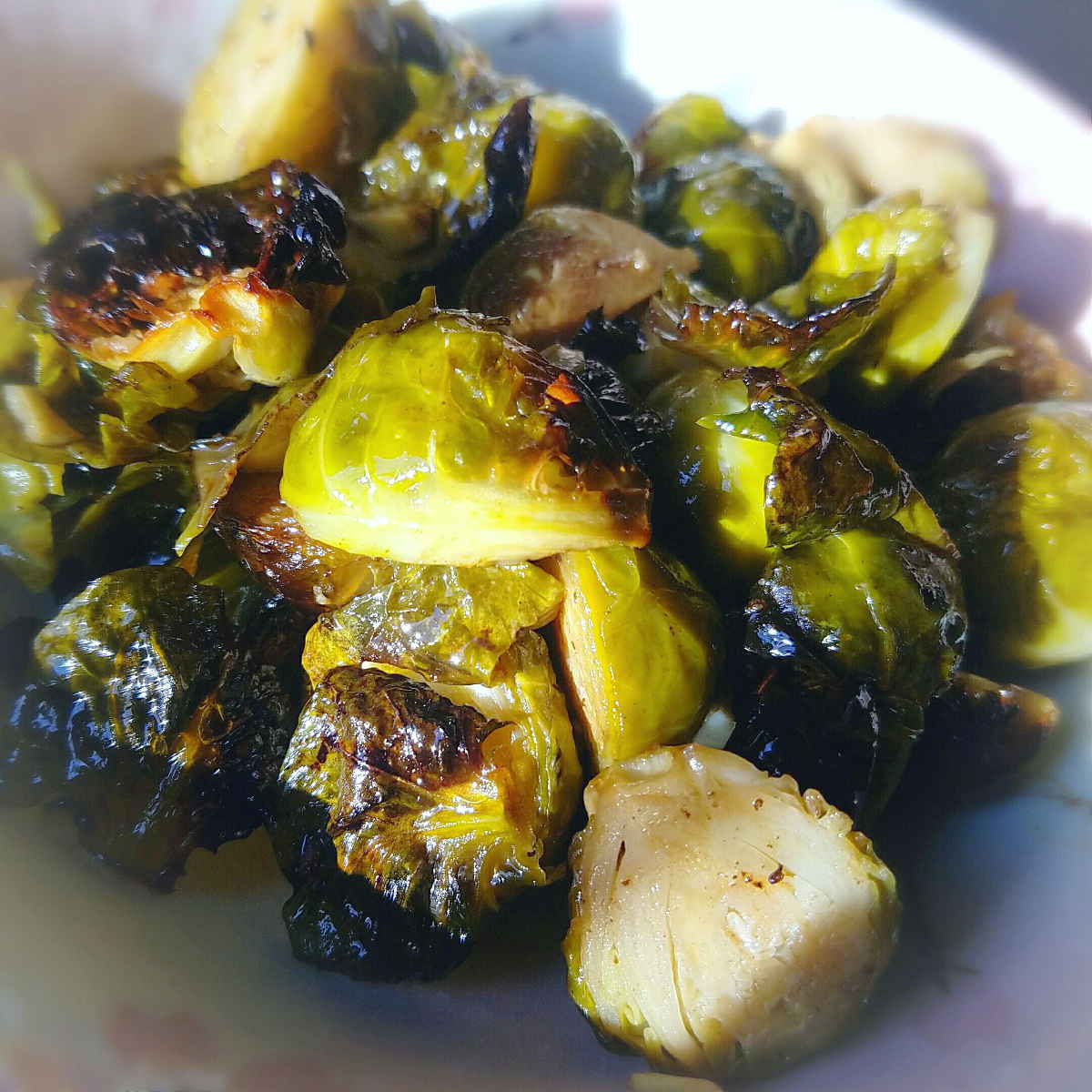 Ingredients
1 lb Brussels sprouts
1/4 c extra virgin olive oil
5 cloves fresh garlic
1 TBS balsamic vinegar
1 tsp Himalayan pink salt (regular salt will do if you don't have this)
Instructions
Preheat an oven to 400 degrees Fahrenheit (204 Celsius).
Chop the hard, stalk ends off of each sprout.  (This is the end where the sprout would have been attached to the stalk, and it's hard and chewy.)
Cut any Brussels sprouts in half (or even fourths) which are larger than about 2 cm in diameter.  We want relatively small pieces so that everything will cook up evenly.
Mince the 5 cloves of garlic.
In a casserole dish, combine all the ingredients: The chopped Brussels sprouts, minced garlic, olive oil, balsamic vinegar, and salt.
Use your hands, or a pair of large spoons, to mix all ingredients so that all the sprouts are coated in oil/vinegar and the garlic is distributed throughout the mix.
Cook uncovered in an oven at 400 degrees Fahrenheit (204 Celsius) for 45 minutes.  Remove when tops of sprouts are darkened and golden.  Let cool before eating.