So, disclaimer, I'm not Thai 😀  But I am a lover of flavor, and some variation of this vegan Thai green curry dish has been a favorite for many years.
When I was in college, a curry similar to this one was one of the first Thai dishes I tried…ever.  Never before had I tasted something that incorporated flavors like lemongrass, coconut, and ginger…together.  I was an instant fan and of course had to start making it at home.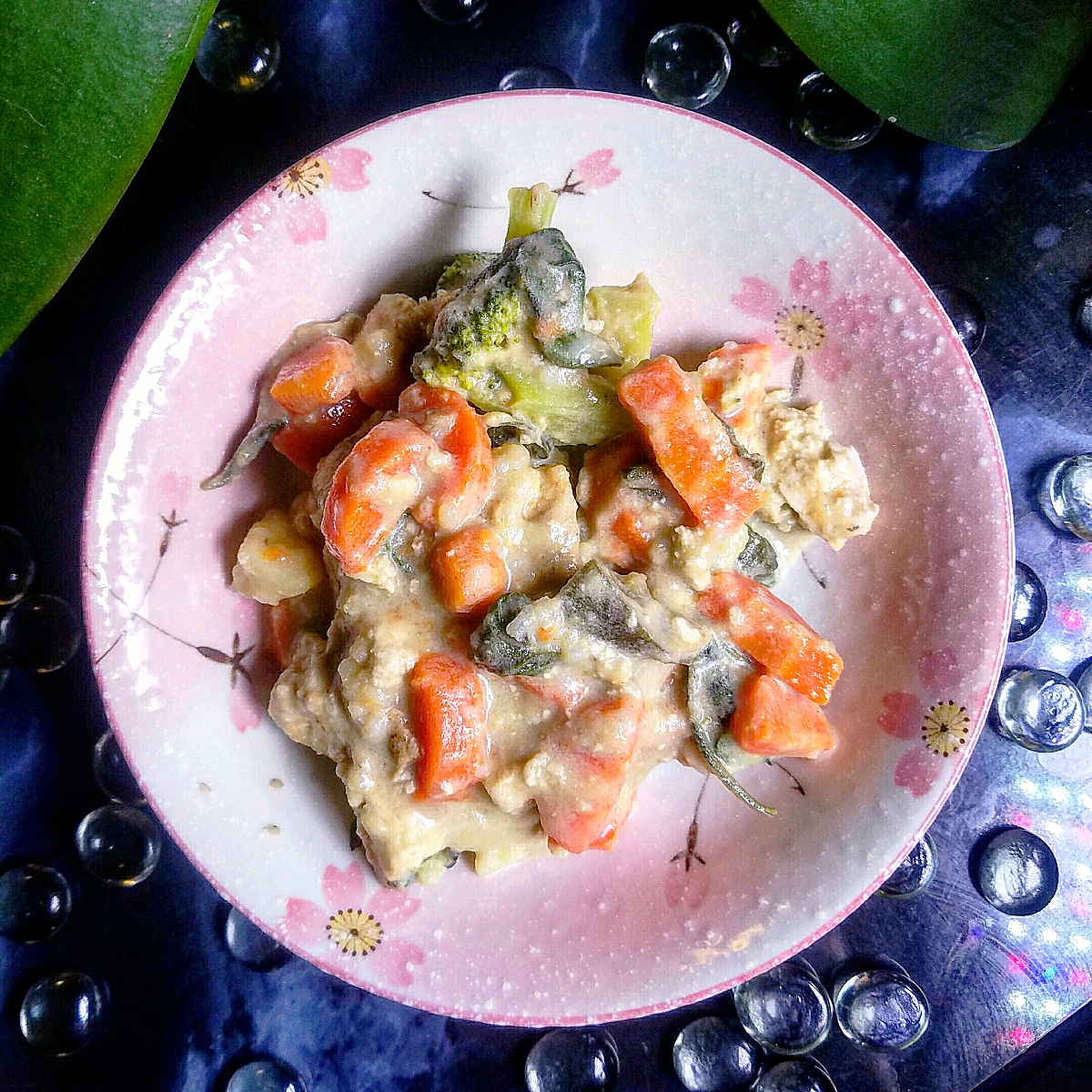 There are sweet potatoes in this Thai curry!
One of my favorite ingredients in this, ironically enough, is not the flavor type things but the sweet potatoes.  Sweet potatoes taste amazing in a variety of contexts and are a good source of potassium, manganese, vitamin A, vitamin B6, vitamin C, and fiber, among others.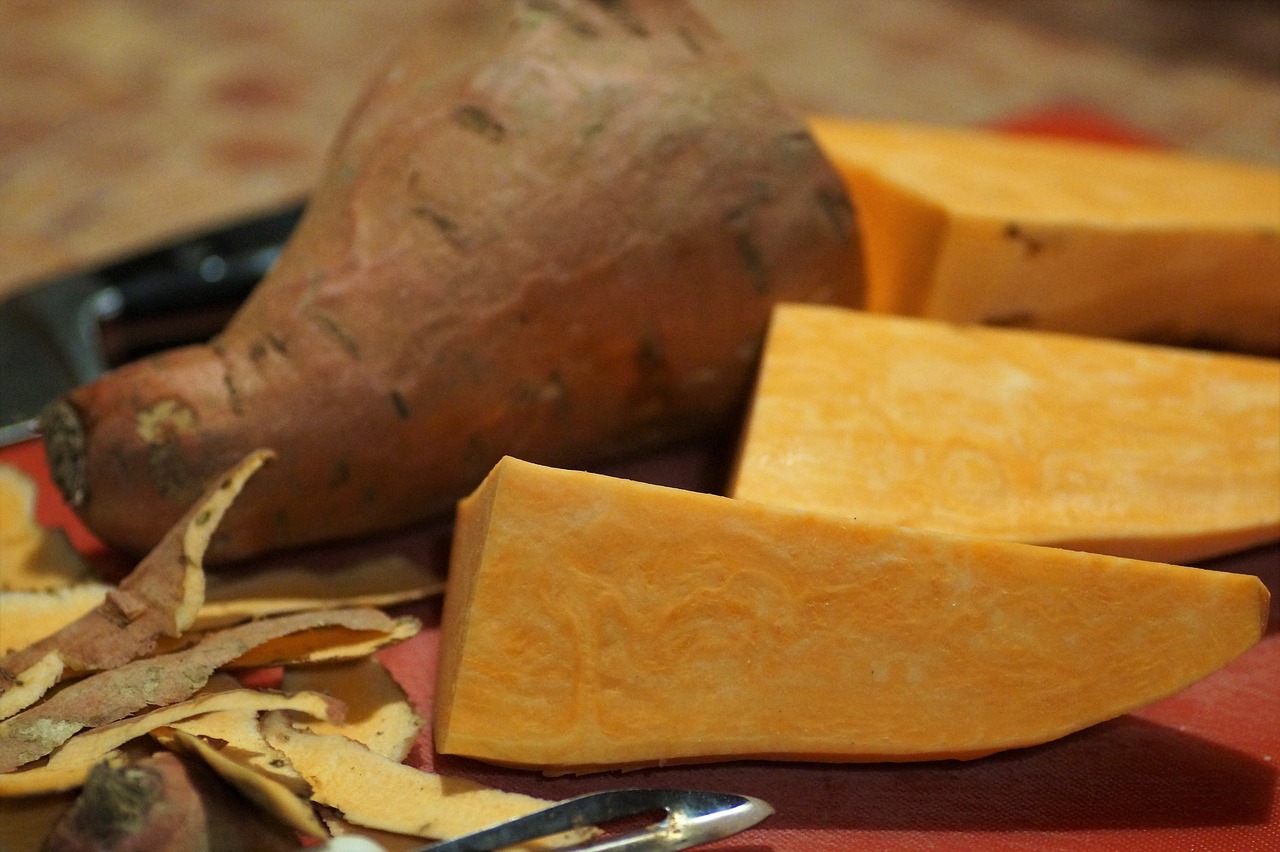 Blue zones are areas on Earth where abnormally large numbers of healthy centenarians (those who live to be at least 100 years old) are found among the general population.  One such blue zone is (was) the older generation of Okinawa.  Their diet consists mainly of sweet potatoes…I think they might be on to something 😀
Different vegan Thai green curry vegetables
I make this vegan Thai green curry with different vegetables each time, but always with sweet potatoes.  The picture at the top of this page shows one I made with sweet potatoes, broccoli, vegan chik'n, and eggplant.  The process is mostly the same as what I'll describe here, so once you get the hang of how to make this dish, feel free to experiment with your own vegetable combinations!
Green Thai curry paste…what???
One of the ingredients here is a green Thai curry paste.  This usually comes in a very small jar, tin, or packet, depending on what your store carries.  I've seen this product for sale in traditional American grocery stores as well as Asian grocery stores.  It's sold online as well, but for quite a bit more money.  That said, you're not looking for the "curry sauce" which often comes pre-mixed with coconut milk.  If you see a large can/jar, and the product looks creamy, that's not it.  Thai green curry paste comes in a tiny jar and won't have coconut milk on its ingredients list.  Lastly, if you're vegan, double check the ingredients list to ensure there are no shrimp/fish ingredients.  Green curry paste usually doesn't contain them, but formulas vary by brand, so it doesn't hurt to double check.
Orange oil…or not
If we were to be super picky here, we'd probably be using tamarind paste.  Since we established I'm not Thai, this dish gets to take a bit of liberty.  I found over the years that a drop of orange essential oil adds the tangy citrus-y quality I'm seeking with this dish, and if you don't have food-grade orange essential oil sitting around, the same effect can be achieved by taking the twist of an orange.  I discuss how to do the twist of an entire orange here.
Thai basil
Thai basil is very similar to Italian basil, except that it's a bit more purple in color and has a taste that is slightly more reminiscent of liquorice.  This special flavor will definitely enhance your dish!  If you can't find Thai basil (check an Asian market), you could try Italian basil, but do note that you'll be getting a slightly different flavor!
Recipe: Vegan Thai Fusion Green Curry
Ingredients
(In order of appearance)
1 TBS avocado oil
1 lbs tofu or vegan chik'n, cut into 1″ pieces
1 TBS avocado oil (yes, again)
2 TBS garlic, minced
2 TBS ginger, minced
16 oz can full fat coconut milk (NOT light)
2 TBS vegan fish sauce, or 1 TBS gluten-free soy sauce + 1/4 tsp sugar
2 TBS Thai green curry paste
1 drop food-grade orange essential oil, or the twist of 1 orange's rind (optional)
8 oz. sweet potatoes, cut into 1″ cubes
8 oz. tomatoes, chopped
1/2 c chopped cilantro (or a whole bunch)
1/2 c chopped green onions
1/2 c fresh Thai basil
Instructions
Be sure to prep all the ingredients beforehand–cut and chop everything so it's ready to go!
In a wok over high heat, stir fry the tofu or vegan chik'n in 1 TBS of oil until you start to see a bit of darker color.  Set aside.
In an empty and clean wok over high heat, add 1 TBS avocado oil, and stir fry the minced garlic and ginger for about 30 seconds or until fragrant.
Pour the coconut milk into the wok with the garlic and ginger.  Add the vegan fish sauce, Thai green curry paste, and orange oil/twist.
Stir with wooden chopsticks or spoon until all ingredients are incorporated, and there are no more chunks.
Add in the sweet potatoes and vegan chik'n/tofu (the one we cooked and set aside).
Turn heat down to medium, cover with a lid, and cook for about 20 minutes (or until sweet potatoes are soft.  You can determine if sweet potatoes are ready by sticking them with a fork.)  Check on it every few minutes to stir slightly (and check the sweet potatoes for softness).
Remove from heat and gently stir in the chopped tomatoes, cilantro, green onions, and loose Thai basil leaves.
This dish goes really nicely with steamed rice but can also be enjoyed by itself.  Once you get the hang of the dish, you can experiment with adding other vegetables as well.
Did you try your hand at making some of your own vegan Thai green curry?  Tell us about it!