Cashews are kind of like "vegan dairy". When you need something creamy, whether it's a sauce, cheesecake-like texture, cheese-like flavor, etc, there's probably a delicious way to do it with cashews.
Never had a cheesecake made of nuts? Today is your lucky day 🙂
This is for anyone who wants to try and say that a raw vegan diet is somehow boring, just "lettuce and carrots", rabbit food, etc. This cashew cheesecake recipe happens to be both vegan and raw, and it makes enough for you and several friends, so feel free to share the love!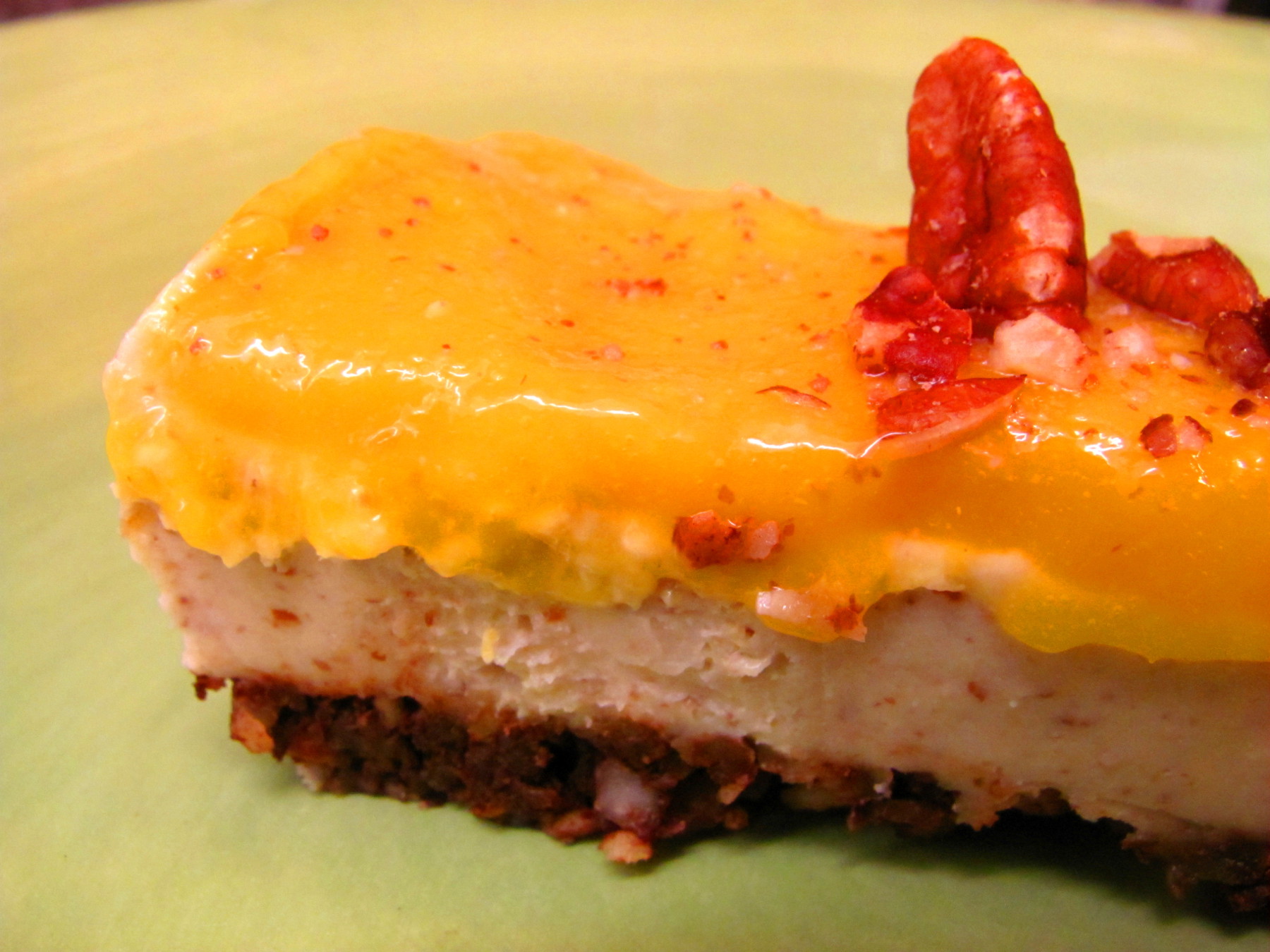 What You Need
1/2 c pecans
1/2 c sunflower seeds
3 TBS raw cacao powder
3 large organic dates
1 1/2 c cashews
1 c water
1/2 c coconut oil
3 TBS agave nectar
2 TBS ground up flax seeds
Dash almond flavoring (you could substitute vanilla, but it's not the same)
1 TBS lemon juice
What You Do
In a food processor, pulse the first group of ingredients until they are sticking together and nut/seed pieces are very small (pecans, sunflower seeds, cacao, dates, vanilla).
Remove the mixture from the food processor, and press it into the bottom of a 9″ round pie pan.
Remove the seeds and skin from the 3 mangos. Cut mangos into cubes, and puree in a blender. Set aside.
In the same blender (you took the mangos, out, right?) puree the second group of ingredients (cashews, water, coconut oil, agave, lemon juice, flax seeds, almond extract). Now, measure 1/4 cup of mango puree. Mix that in with the rest of the blender mixture.
Gently spread the blender mixture over the crust in the 9″ pie pan. Use the back of a spoon to smooth it out as best you can.
Pour the rest of the mango puree on as a final layer. Note: if the nut mixture from the blender is too liquidy, you may want to set it in the refrigerator for about 30 minutes BEFORE trying to pour on the mango puree. This will cause it to firm up quite a bit.
You can top this with crushed nuts, or even berries or more mango slices. Mouth watering yet? Well, you have to let it set in the fridge for about 30 minutes still…and then…well, dig in!