Here's a twist on the classic raw vegan pizza concept…raw vegan white pizza! Packed with heart-healthy omega-3s and featuring delicious creamy cashews, bold Kalamata olives, and fresh basil, this is sure to bring a new dimension to your dinner.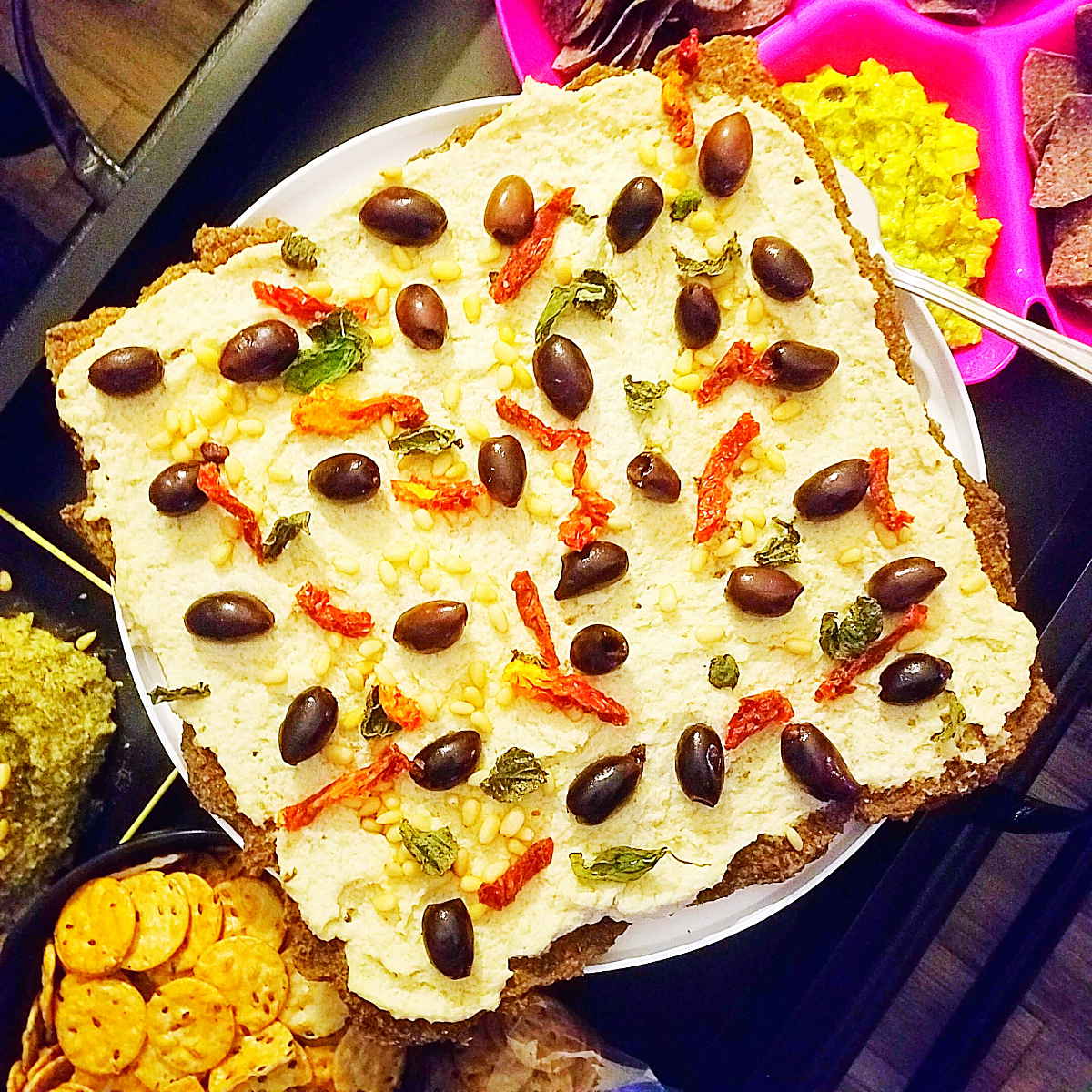 If you've never made raw pizza before, you should note that raw pizza crust is NOT like traditional pizza crust. Raw pizza crust is typically dehydrated and will be more similar in consistency to a cracker than to a piece of bread. That said, we're going to be using ground up flax seeds for our crust!
You will need to start preparations for this a day in advance, but no worries–we will detail exactly what to do when, and it's quite easy. Only a small amount of preparations are needed; this takes very little hands-on time.
Ingredients:
Crust group
2 roma tomatos (or other medium tomatoes), chopped
4 stalks green onion
1 clove garlic
1 TBS extra virgin olive oil
1/2 lemon, juiced
sprinkle of Himalayan pink salt (regular salt will do if you don't have any)
sprinkle of oregano
White sauce group
1 c cashews, soaked overnight
1/2 lemon, juiced
1 TBS nutritional yeast
water (to add gradually and help blend the mixture together)
Toppings group
8 Kalamata olives
1/2 c fresh basil leaves
1/4 c pine nuts
Handful of sun-dried tomatoes
Instructions:
Combine all of the crust group ingredients (except oregano and salt) in a blender. You shouldn't need to add much water, if any, since the juices in the chopped tomatoes and lemons should be sufficient to get this mixture to blend. The goal is a thick, spreadable paste-like texture.
Spread this mixture out onto a dehydrator screen or Teflex sheet. Sprinkle on the oregano and salt. Leave to dehydrate overnight.
Don't go to bed just yet–take the cashews from the white sauce group and set them in a bowl of water. Leave them there overnight.
(The next day…) Drain the water from the cashews, and blend them together with the other ingredients in the white sauce group. Add water as needed gradually to get everything to blend. The consistency goal here is a smooth sauce that is thick and spreadable, so you don't want this to get to runny. Add as little water as possible while blending.
By now, your crust should be ready. You can tell they are ready by the fact that they are completely hardened, with no detectable soft spots. They should slide right off the dehydrator sheets.
Break the crust into 4 pieces. It's easier and less messy to do it now than it is to do this once the toppings are on it.
Spread about half of the white sauce mixture onto the crust. Add more if desired, or save the rest for later (makes a nice dipping sauce for veggies).
Cut the Kalamata olives into small bits.
Sprinkle all of the toppings group ingredients on top of your crust with white sauce.
Makes four (4) servings. One slice pretty much makes a full meal for me – I don't feel hungry again for another few hours after eating one. Here are some of the great nutrients in just one slice, according to cronometer.com: