I have been craving this black bean soup–an excellent source of iron–ever since the first time I made it, and what adds a sour/tangy flavor to this is–instead of the expected limes–hearts of palm in their broth!  Preserved hearts of palm typically come packed in a slightly sour citric acid solution, and that's excellent news for our soup.
I found hearts of palm in a 12 oz bag at Trader Joe's, but other places sell them, too.  Look for those that are packed in some sort of citric acid solution.  We'll use the entire 12 oz pack for this soup!  Note, though: If you can't find hearts of palm packaged in this way, you can throw in about 1/4 c apple cider vinegar in place of the citric acid solution, so don't worry if your grocery store sells hearts of palm packed in oil/water/something else/etc.
This soup, as mentioned above, is a great source of iron, featuring both black beans and spinach!  One of the nutrients that it's wise to watch on a meatless diet is not protein but iron, so having an arsenal of great sources of it just makes life so much easier.  (Seriously, it's almost impossible to become protein deficient, without already being malnourished already, according to nutritionists!)  So stop worrying about protein and watch iron instead.
Here is the soup, ready to eat, and in this picture, drizzled with a bit of vegan chipotle mayo and some extra chili lime seasoning: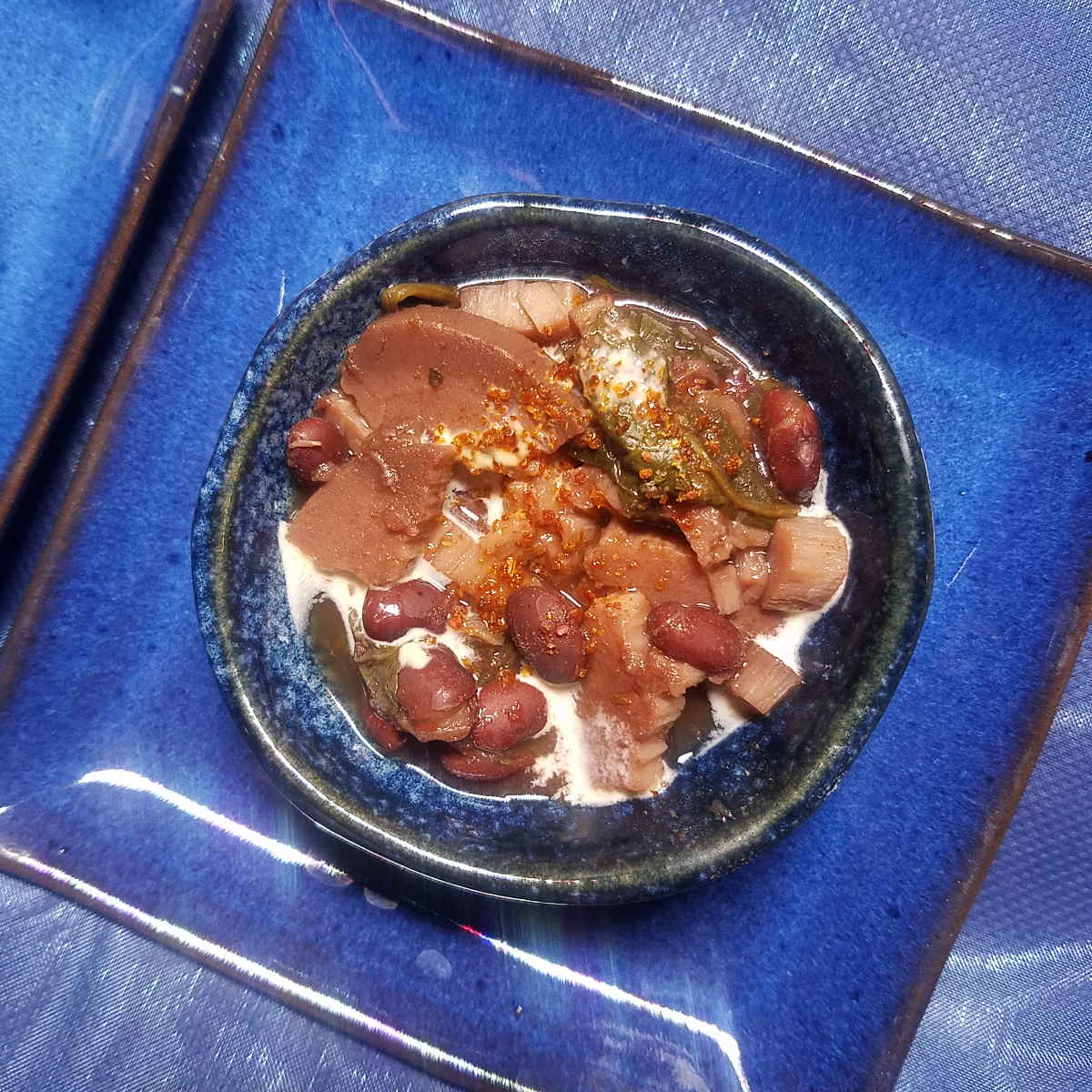 Ingredients
1 c dry black beans
3 c water
12 oz jar hearts of palm
3 oz fresh spinach
1 Roma tomato
1/2 onion, diced
2 cloves garlic, minced
1 tsp Chile lime seasoning
1/2 tsp Cumin
1/4 tsp pink salt
Instructions
Combine all ingredients in a pressure cooker.
For the hearts of palm: Don't forget to pour in the citric acid solution that they were packed in.  If yours weren't packed in citric acid solution, then no worries – just add 1/4 c apple cider vinegar instead!
Cook for 1 hour on medium to high pressure, or until the beans start to fall apart.  Or, if you don't have a pressure cooker:
Soak beans overnight.  Drain water.
Combine all ingredients in a large pot on the stove, and bring to a boil.
Reduce heat and simmer for about an hour and a half, or until beans start to fall apart.
You can top this soup with chopped green onions, pico de gallo, corn, etc.  Pictured above is the soup drizzled with some chipotle flavored vegan mayo and sprinkled with a bit of extra chili lime seasoning!