This uniquely delicious tofu salad is packed with iron, calcium, and protein while delivering a flavorful departure from the norm.  Featuring mint leaves and orange oil, it's got a flavor that's vaguely reminiscent of Thai tofu spring rolls (but, totally different!)
This was something I put together for a Thanksgiving get-together a while back and have been meaning to write it down ever since.  After making somewhat of a to-do of getting pictures of all the food, (because who knows, maybe some of it will be worth blogging sometime down the road :P) this dish one was my personal favorite flavor pick of the evening!  And, I suppose that's a lot to say about something that I just called a "salad".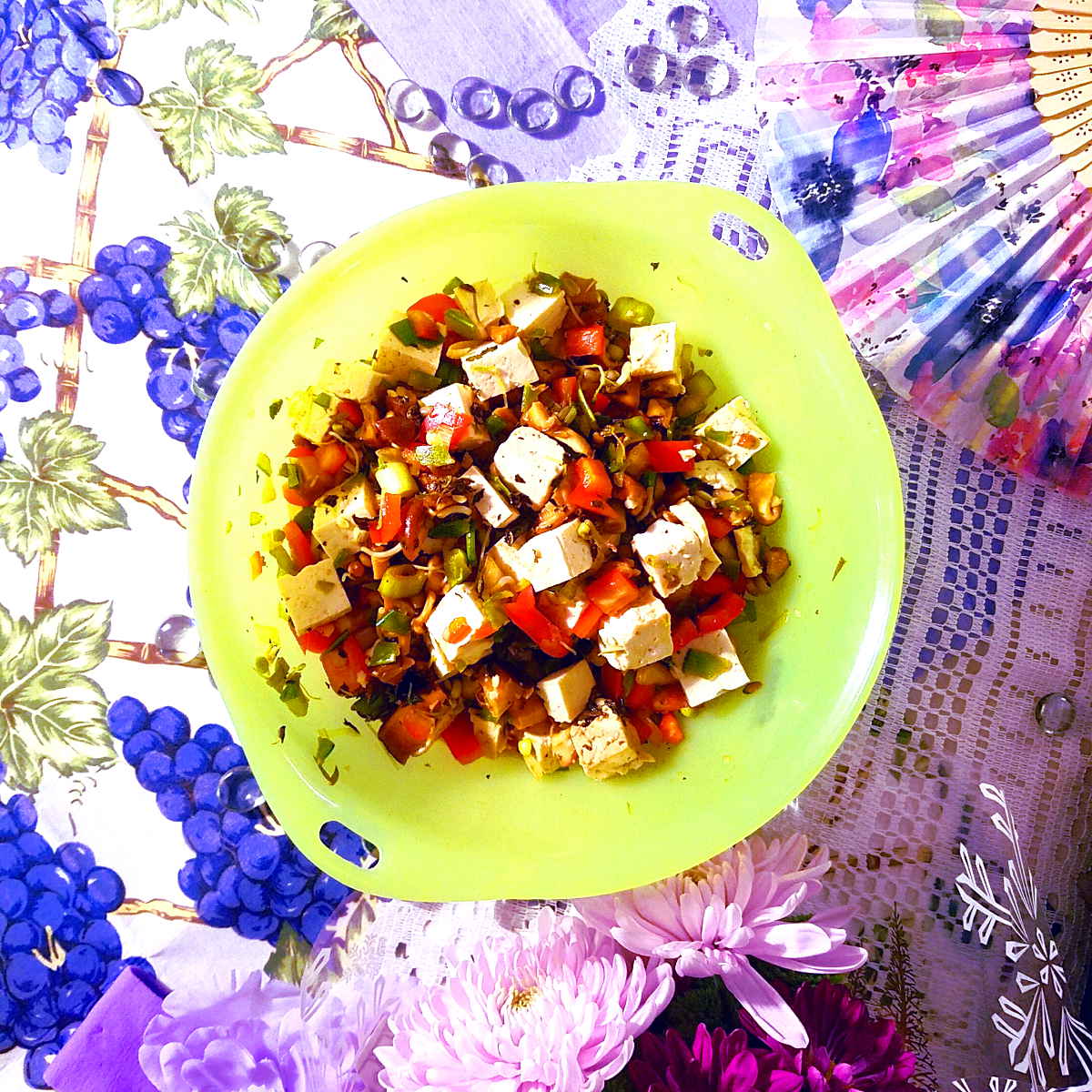 But here's the thing about salads…People have this hang-up about salads in that they're "boring" or not "exciting".  Honestly, if a person describes salads in that way, my first thought is that she's doing salads wrong 😛  Hopefully that's not the case!  Maybe we just need some fresh examples of what salads can be, to cleanse the verbal palette of the connotations of flavorless iceberg lettuce doused in enough ranch dressing to drown a fork.  Enough of that, though.  Let's talk about some of the things in our citrus tofu salad with mint…or, possibly, all the things we don't think about when hearing the word "salad".
Food-grade essential oil of orange
"Wait, but I don't have that!" I hear you say.  No worries.  You can get similar results by adopting an old bartender trick called a twist.  Taking a twist of a lemon, lime, or orange means taking a slice of the peel, holding it colored-side down (towards the food or drink), and twisting it to make a tiny spritz of the oil come out.  If you plan to use the twist method to replace the orange essential oil in this recipe, there are a few things to keep in mind:
Always buy organic citrus fruits when using them to make a twist or zest
Try and buy from local farmers, so you can ensure that the fruits haven't been waxed or coated with any protective elements.  (Sometimes, fruits and veggies going the long haul are coated with certain chemicals to help them make the journey)
Wash your citrus fruits before attempting to twist or zest them.

How to do an orange twist…of an entire orange
For this recipe, if you'll be doing the twist method, you'll need the entire orange.  We'll need the whole peel in nice little slices for this to work.  Don't worry though–it's very easy to do, and once you learn how, you can employ your twist skills the next time you need to play impromptu bartender.
Cut the stem end of the orange off, aiming to cut the peel, but not the fruit
Do the same to the bottom of the orange
Cut little slits into the peel (not the inside fruit) of the orange, reaching from top to bottom, about 2 cm apart from one another.
Your finished orange should look like a globe with longitude lines cut all around it!
Now, remove each of the peel slices.
Take each slice, and, colored side down, gently twist it back and forth to release a small spritz of orange oil.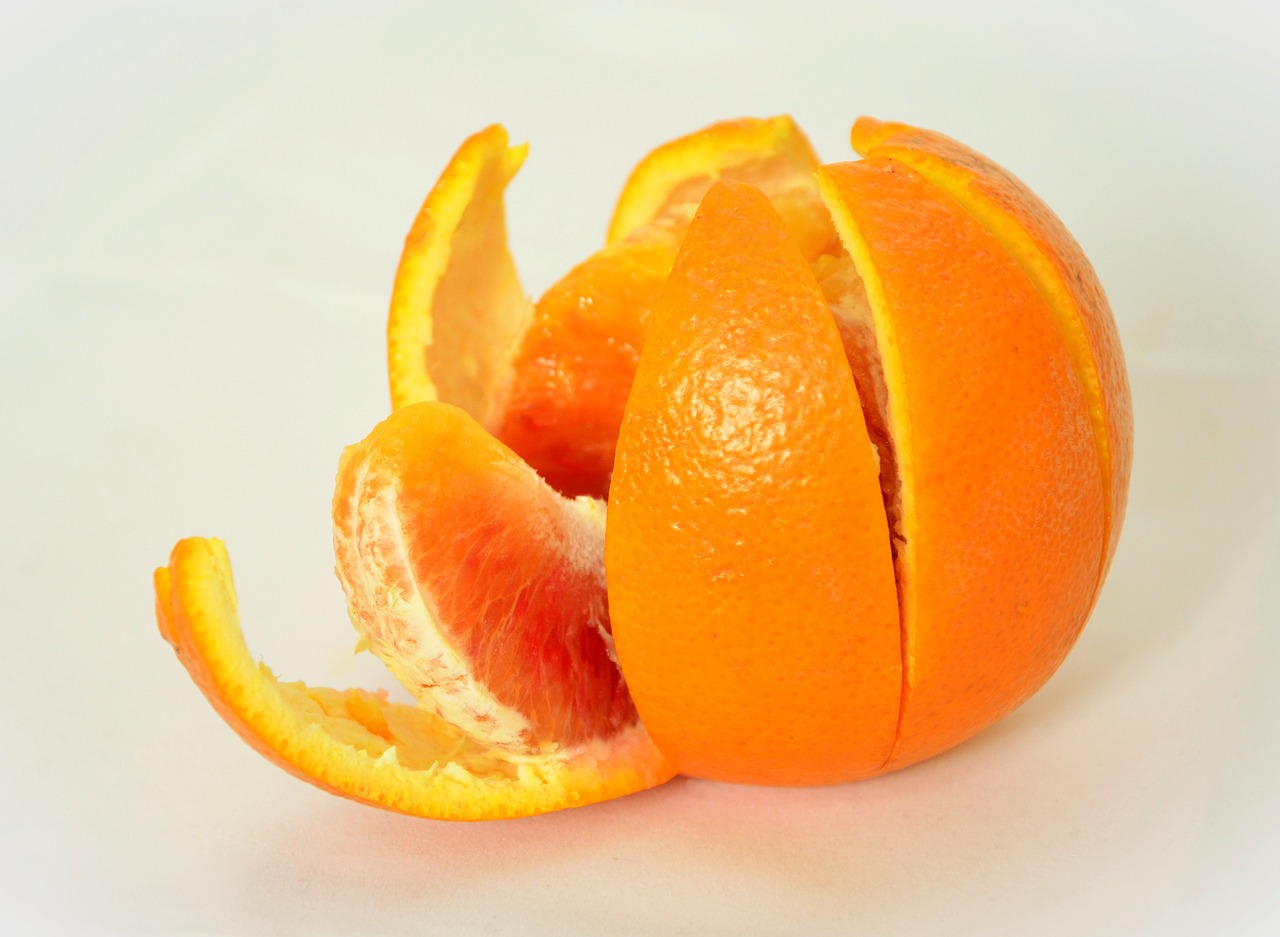 Lentil sprouts
I like to sprout my own lentil sprouts, for many reasons.  For one, it's cheaper…and two, I know they're fresh!  You can sprout your own lentils by putting them in a mason jar covered with cheese cloth and a rubber band.  Twice a day, fill the jar with water, and immediately turn it upside down, to let all the water drain out through the cheese cloth (do this over the sink!)  Repeat daily.  Refrigerate and stop watering to store, once the lentils have tails a couple centimeters long.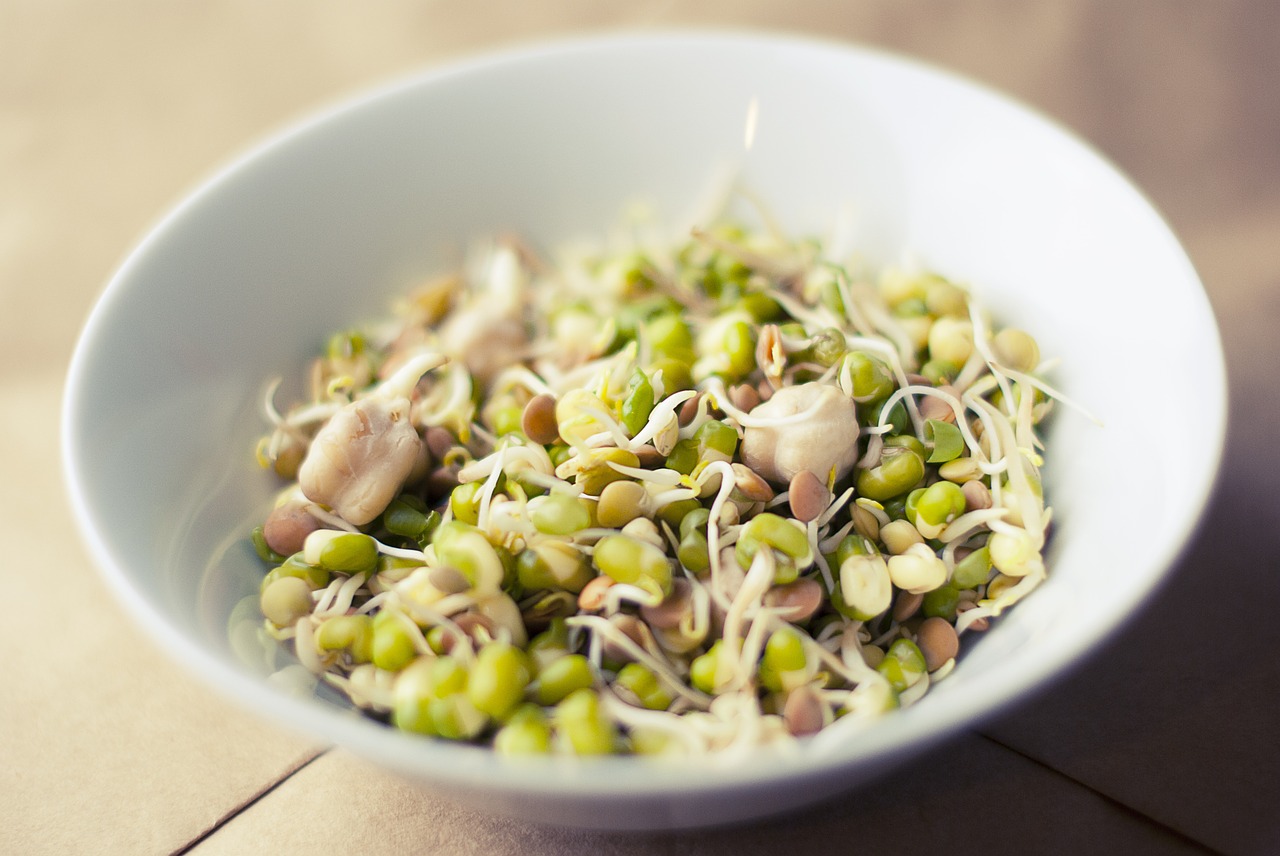 A word about doing this soy-free
"But it's got tofu.  It's a tofu salad, in fact.  Don't you know that tofu is soy?" I hear you say.  Here's one place that Tempt Hemp Tofu (found at Whole Foods and health food stores) actually seems to work well.  We recommend using that.  Another soy-free tofu of your choice could work, too.  Another things that would work (but would change the recipe) is using boiled potatoes instead.  It's up to you.  This recipe also calls for soy sauce, which can be replaced by coconut aminos and some extra salt.  I usually buy coconut aminos at Trader Joe's, but stock will vary by location.  Whole Foods and your local health food store are also good places to look.  The extra salt recommended is due to the much lower salt content in coconut aminos.  Maybe you like it that way?  If so, consider the extra salt recommendation optional.
Ingredients
Salad Group
1 block extra-firm tofu* (Soy-free?  Use Tempt Hemp Tofu, found in Whole Foods and health food stores)
1 red bell pepper, diced
1 c lentil sprouts (you can either sprout your own or purchase them at Whole Foods or health food stores)
6 oz shiitake mushrooms, chopped
4 green onions, chopped
3 spears asparagus, boiled and chopped
1 bunch cilantro, chopped
1/2 c fresh mint leaves, chopped
Dressing Group
Juice of 2 small limes
3 TBS soy sauce (Soy-free? Use 3 TBS coconut aminos + 1/2 tsp salt)
1 TBS agave nectar
1/2 TBS avocado oil
2 drops food-grade orange essential oil (or, the twist of 1 large orange peel; see above for how)
Instructions
Cut the tofu into 3 cm cubes.
Mix all of the dressing group ingredients together.
Toss the tofu in the mixed dressing.  Refrigerate for at least an hour, or preferably, overnight.
Boil and chop the asparagus.
Chop the red pepper, shiitake mushrooms, green onions, cilantro, and mint.
Now, combine all the chopped vegetables (and the lentil sprouts, which didn't need chopping,) with the marinated tofu, being careful to keep all the sauce.  You may need to find a bigger bowl than the one the tofu is in to do this!
Your salad is ready to serve!