What is the black superfood in this stir fry?  It's surprisingly cheap and easy to find, and it's called wood ear mushroom.  Wood ear mushroom (aka wood ear fungus) has iron, vitamin B2, fiber, and collagen–yes, the same collagen that keeps your skin looking young and elastic.  Naturally sourced collagen from a plant-based food!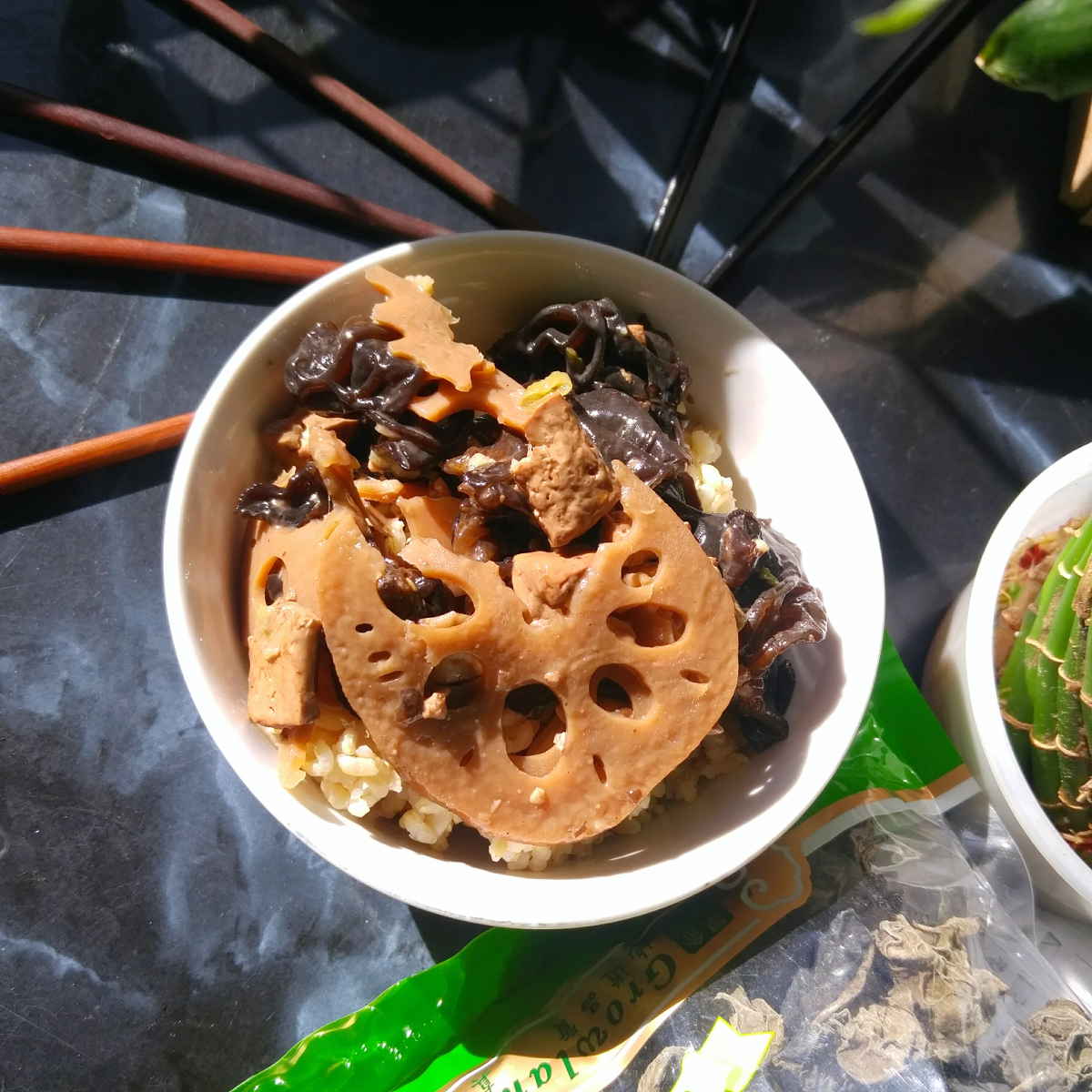 Chinese medicine holds that wood ear mushrooms can help with a myriad of issues, from fighting hunger to intestinal issues to helping with positive emotions, so if you're into that stuff, there's clearly more to these little gems than meet the eye.
If you're looking for them, try online or in Asian markets.  They come dried, and they look quite different: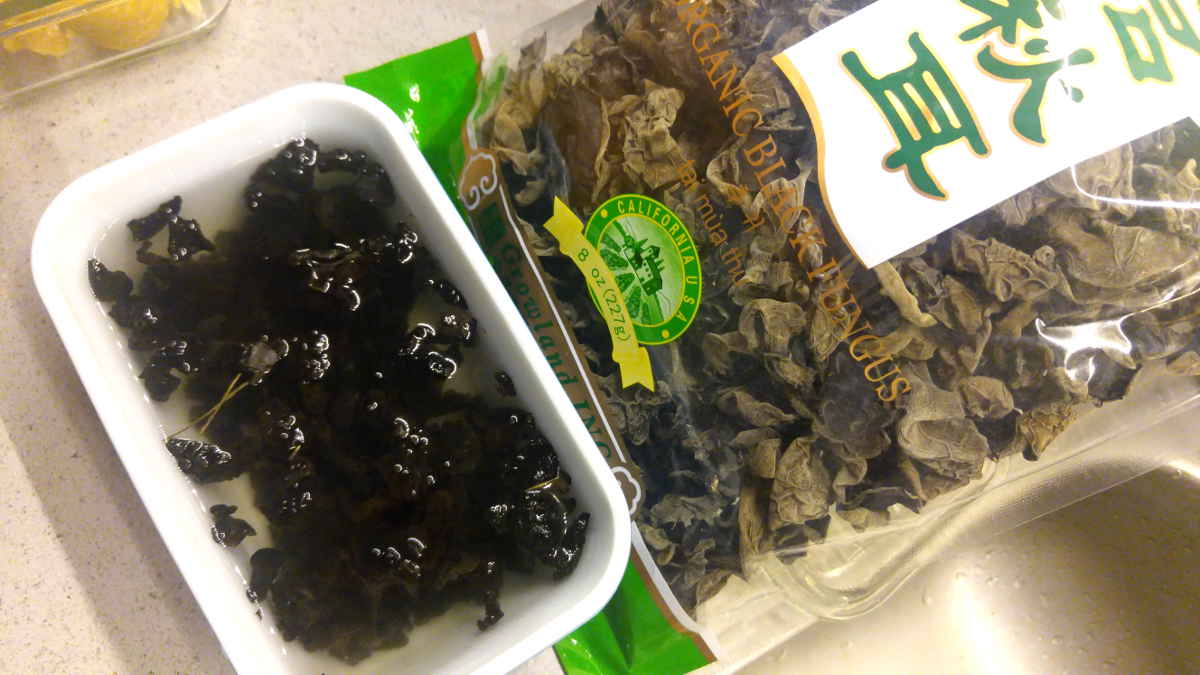 Lotus roots are the next star of the show.  If you've never had lotus roots, think of them as long, slightly crispy potatoes with holes in the middle.  They have to be thinly sliced in order to cook all the way through for this dish!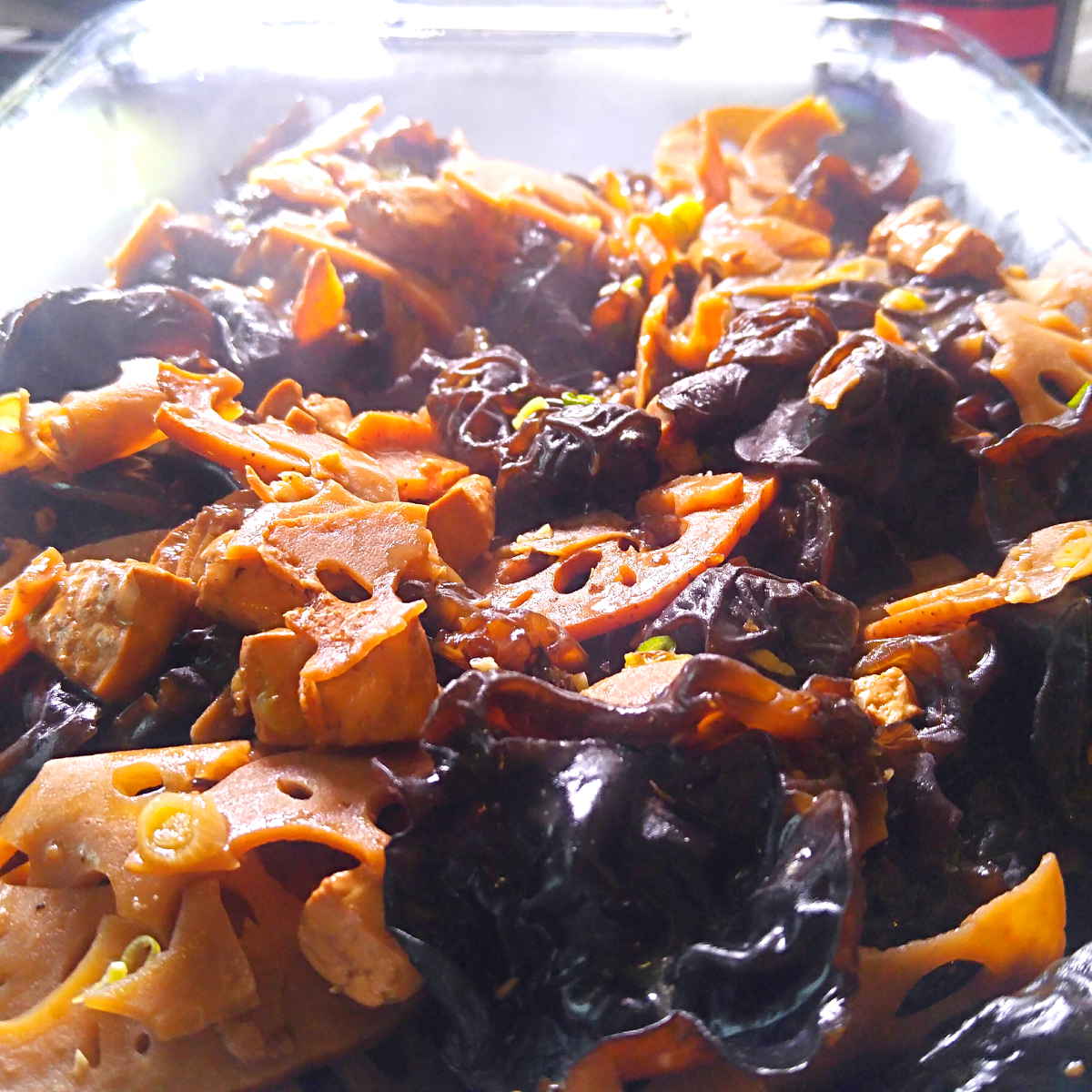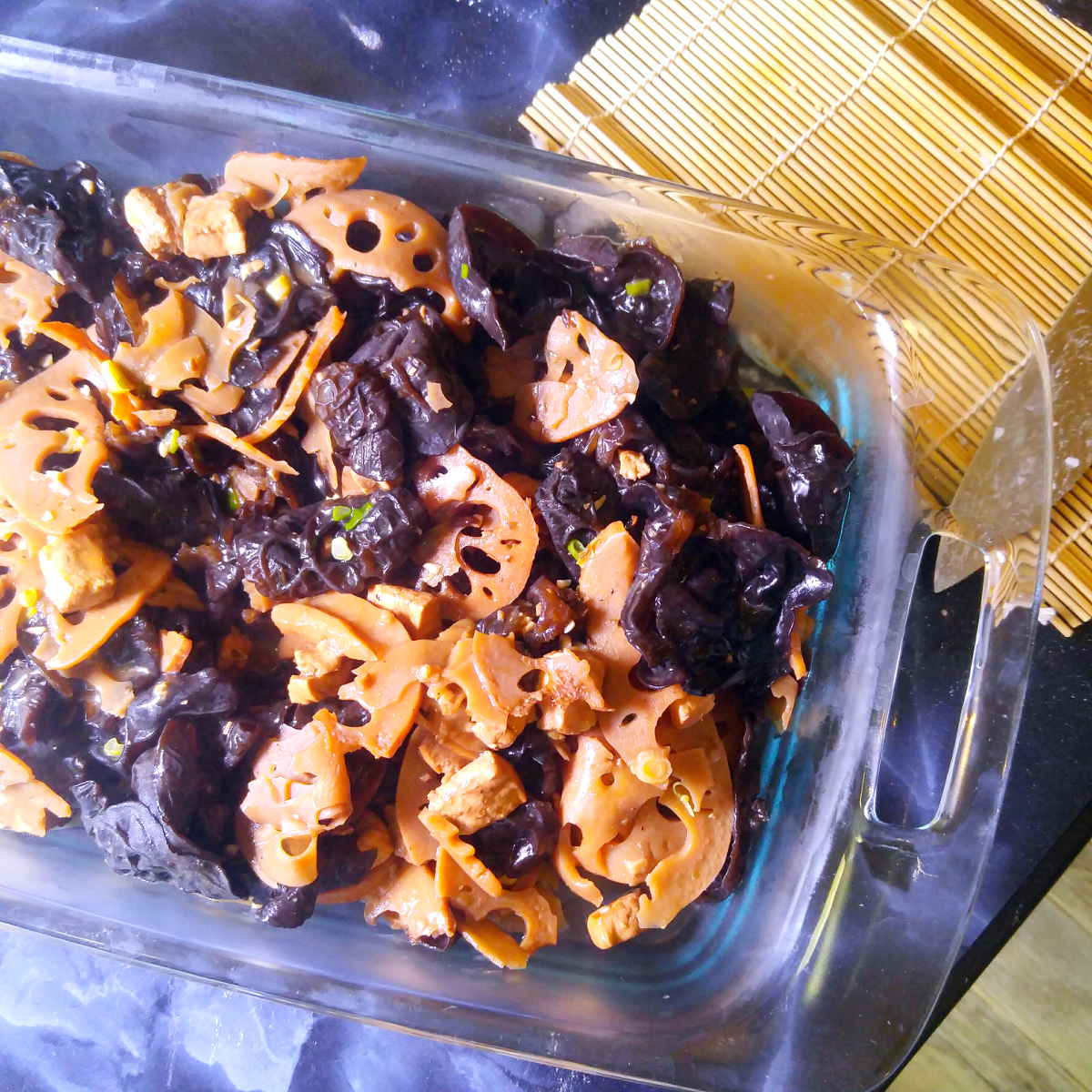 Ingredients
Having trouble finding any of these, including the gluten-free versions?  Check out our guide on where to buy Asian ingredients! 
1/2 TBS avocado oil
1 1/2 cloves garlic, chopped
1/2 lotus root segment
1 TBS oyster mushroom sauce
1 TBS gluten-free soy sauce
1 1/2 oz wood ear mushrooms
1/4 black tofu, in small cubes
1 stalk green onions, chopped
Instructions
In a large dish, cover the dried wood ear mushrooms with hot water.  Set aside for about 30 minutes or until they expand to full size and are no longer crunchy.
As with any stir fry dish, star by making sure that all of the vegetables are sliced, chopped, etc. so they're ready to go.
Over high heat in a wok, quickly stir fry the chopped garlic in the avocado oil for about 30 seconds.
Add the lotus root, stir fry for a few more minutes, and then add water to the wok to cover the lotus roots.  Also add the sauces: oyster mushroom sauce, soy sauce.
Let this cook until the water is almost gone.
Now, drain the water from the wood ear mushrooms, and add them to wok.  Stir fry briefly to get everything mixed together, and then again add water, this time to *almost* cover the entire mixture.
Let this cool until the water is almost gone.
Now, add the cubed tofu, and stir gently to incorporate.  Add water again to nearly cover the mixture
Again let it cook until the water is almost gone.
When the water is nearly gone, add chopped up green onions and immediately remove from the heat.  It's ready to serve!