I have to be honest: I didn't know carrot greens (carrot tops) could be eaten until I found myself with a bunch of farmers' market rainbow carrots the other day and the thought occurred to me: "All these carrot greens must be good for SOMETHING…I can't let them go to waste!"
It turns out they have a lovely flavor that is sort of like parsley, but much more mild, with a hint of basil. Basil…pesto. Made sense. So I present to you what I concocted (after a few tries to get it right, admittedly!)
This dish also uses wild rice, which is delicious when prepared raw or cooked. Wild rice is chewier than traditional white or brown rice, whether you cook it or soak it. In this recipe, we'll speak to both methods. I love wild rice and love coming up with more excuses to eat it!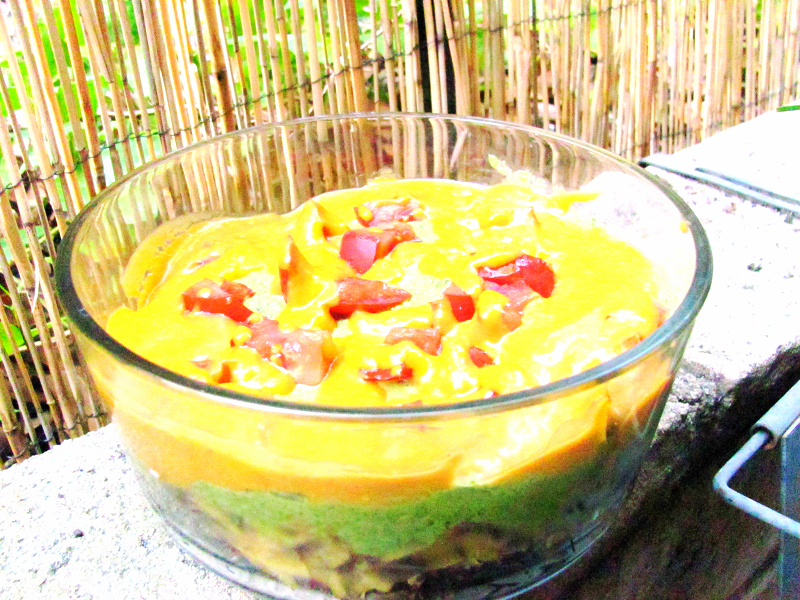 Ingredients
Pesto group
3 c chopped carrot greens
1/4 c cold pressed flax oil (I like flax oil because of the omega-3s. You can use avocado oil or another oil if you don't have flax oil)
1/2 c sliced almonds
2 cloves garlic
1/4 tsp cayenne (if you like a bit of a kick, like I do!)
1 TBS coconut sugar (or your favorite sweetener)
1/2 c water
1/2 tsp Himalayan pink salt (regular salt will do if you don't have any)
Other layers
1 1/2 c prepared wild rice (I get mine at Trader Joe's)
1 1/2 c shredded carrots (I like to use the food processor, which shreds them all in a matter of seconds)
Toppings
Instructions
Prepare the wild rice.  If you're making this raw, soak about 1/2 c wild rice overnight and drain it the next morning, which yields the needed 1 1/2 c.  Alternatively, you can cook the wild rice according to the instructions on the package.
Prepare the citrus avocado dressing according to the recipe, and set it aside in the fridge.
Now, prepare the carrot top pesto: Simply add all of the ingredients from the pesto group to the blender, and blend. Your goal with this is a smooth, consistent texture. Set aside.
Now, for the assembly…In an 8″ casserole dish, (or several small bowls, if entertaining,) add the prepared wild rice.
On top of that, gently add the shredded carrots.
Next, layer on the carrot greens pesto that you made in step 4.
Top it off with about 1/4 c of the citrus avocado dressing and some chopped tomatoes.