We often buy salad dressings for the convenience factor, but if you are trying to avoid preservatives and cut down on your consumption of unhealthy fats, (most vegetables oils,) making your own dressing is the way to go.
It's really easy, is fairly quick to make, and it stores for a long time in the refrigerator, so there's truly no reason not to!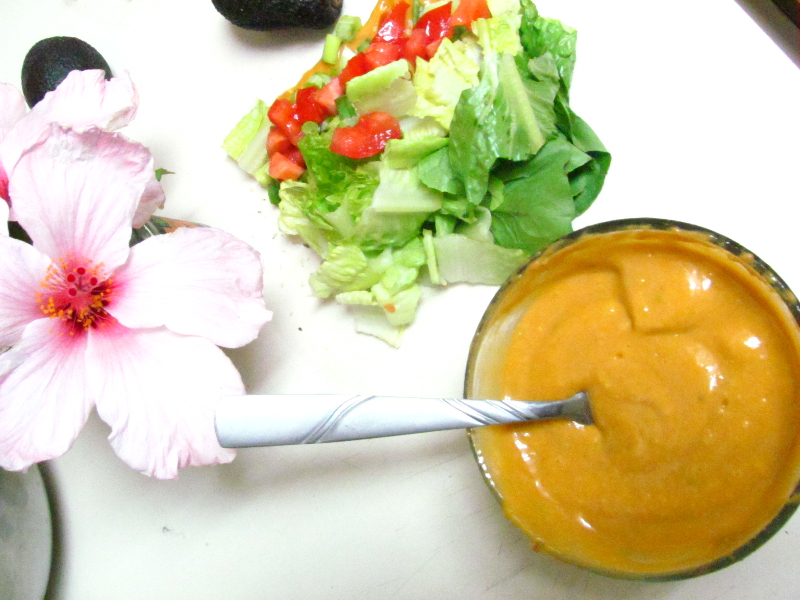 Right now, avocados are in season, so I have a bunch of them lying around the kitchen. Avocados and fruity/citrus-y flavors pair really well together, especially with a salad or a wrap in mind for the near future. I whipped this up in about 5 minutes:
Ingredients
Group #1 – Juice Group
2 medium-large carrots (I'd say the ones I used were about 8″ long)
1 green onion stalk, roots and all
1 navel orange
1 lemon
1 medium tomato (I used a Roma)
Group #2 – Blend Group
1 small mango (4-5″ diameter, the long way), with skin and seed removed
1 California avocado (they're a bit smaller than many others, at about 3″ diameter the long way)
Instructions
Use a juicer to juice everything in Group #1 – Juice Group.
Now, pour the resulting juice from step #1 into a blender. Add the ingredients from Group #2 – Blend Group.
Blend until smooth – you should see no chunks, and it should be fairly creamy in consistency.
Store in a glass container you can easily pour from. Makes about 2-3 cups of dressing, which is about the amount that would fit into most salad dressing bottles (maybe a bit more!)
Serving Suggestion (my wrap!)
It's a wrap…
I have been eating this salad dressing on lots of things, but here's a little wrap I made this afternoon. I made a few of these and ate them for dinner.
Wrap fillings
shredded romaine lettuce
chopped tomatoes
hemp seeds
chopped green onions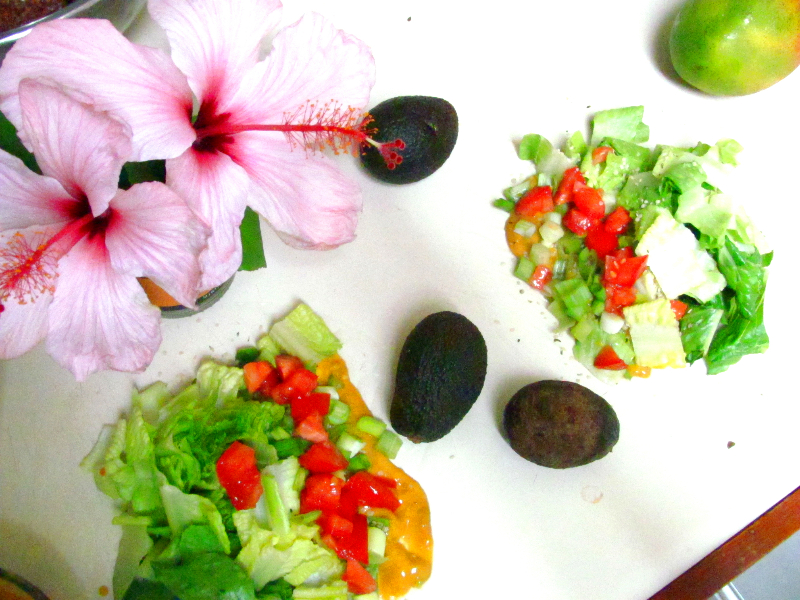 How to assemble this wrap
I used rice paper for this wrap. To use rice paper, simply soak it in water and set it on whatever surface you will be using to assemble your wraps.
Pile on all of the wrap fillings: romaine lettuce, chopped tomatoes, hemp seeds, chopped green onions
Add about 1-2 TBS of the avocado citrus dressing you just made
Roll it up like a burrito!
Save
Save