We love going to the Asian grocery store to pick out fruit.  There are just so many types of fruit that we can only find there…and by now, you guys know I LOVE fruit!  Enter the dragon fruit smoothie:
One of my obsessions at the moment is dragon fruit, or pitaya–and PINK dragon fruit, at that!  It's got a pink outside with soft green leafy spikes sticking out of it, and when you cut it open, it's a deep magenta or white color with a bunch of tiny black seeds, reminiscent of what a kiwi has.  The flavor is very subtle and delicate.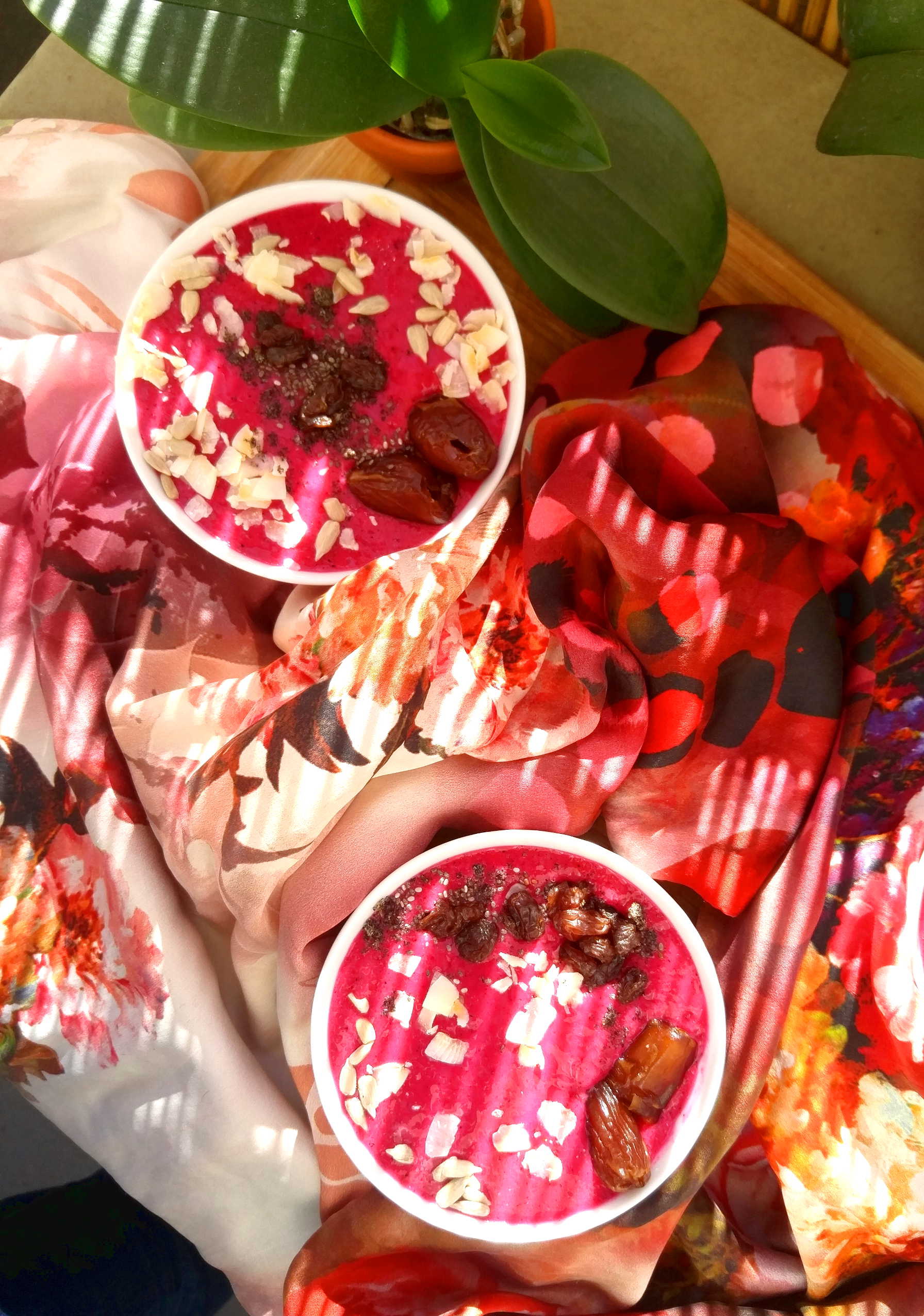 How to pick a ripe dragon fruit/pitaya for your smoothies:
Picking a ripe dragon fruit can be a challenge, too, especially if you're seeing them for the first time in a store or a farmer's market.  A ripe dragon fruit is fully pink on the outside, minus the spikes (unless you have the yellow variety – then it's fully yellow, minus the spikes).  Your fruit should give a little if you press two fingers up to it, but too much bruising or spotting could indicate either over-ripeness or mold. Pro tip: Many people think the spikes should be plump and green, but in actuality, that's not the case and could even mean your fruit isn't ripe yet.  Once the fruit is totally ripe, the spikes will actually start to wilt a little bit.
Now, for the dragon fruit smoothie bowls!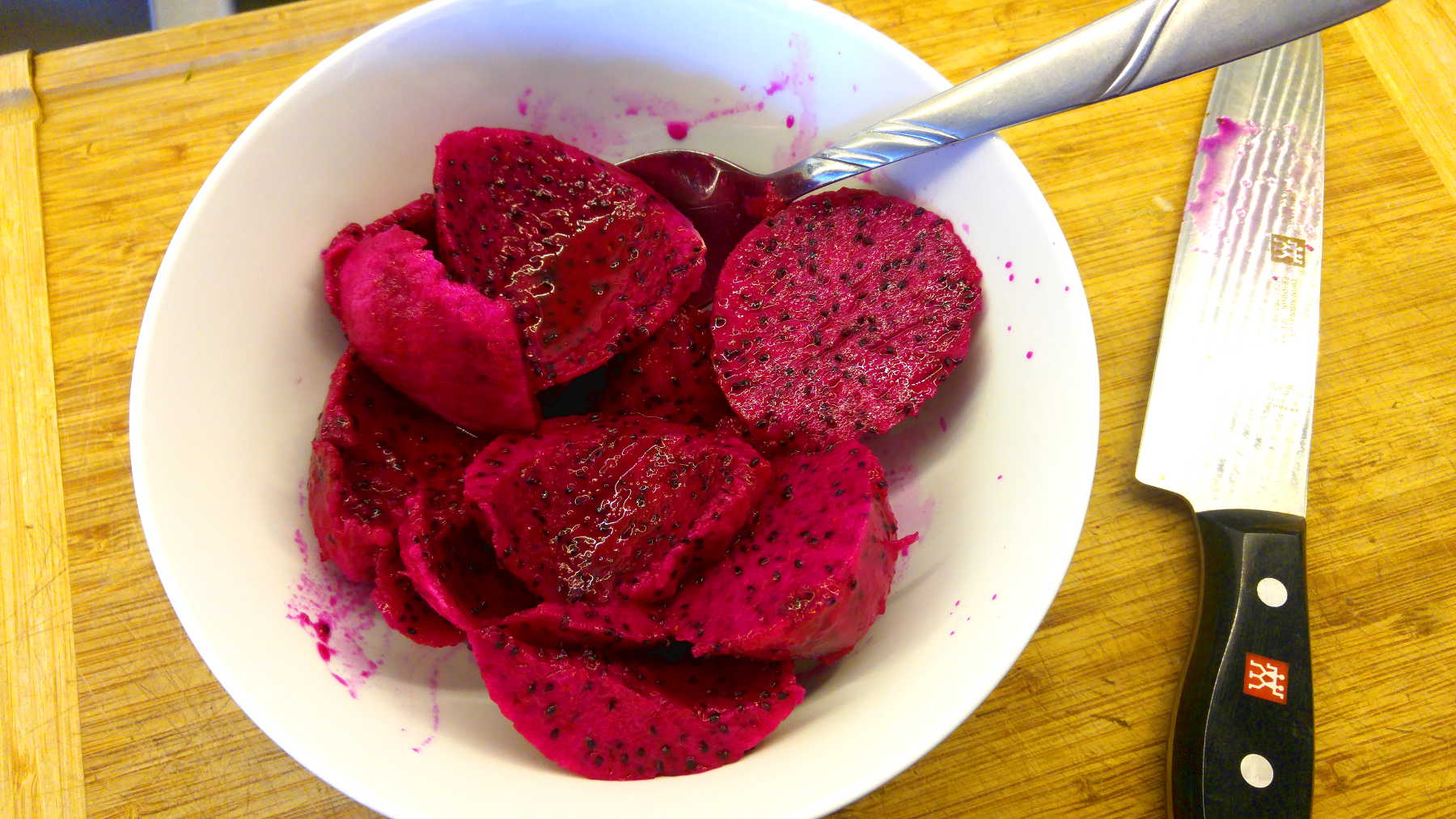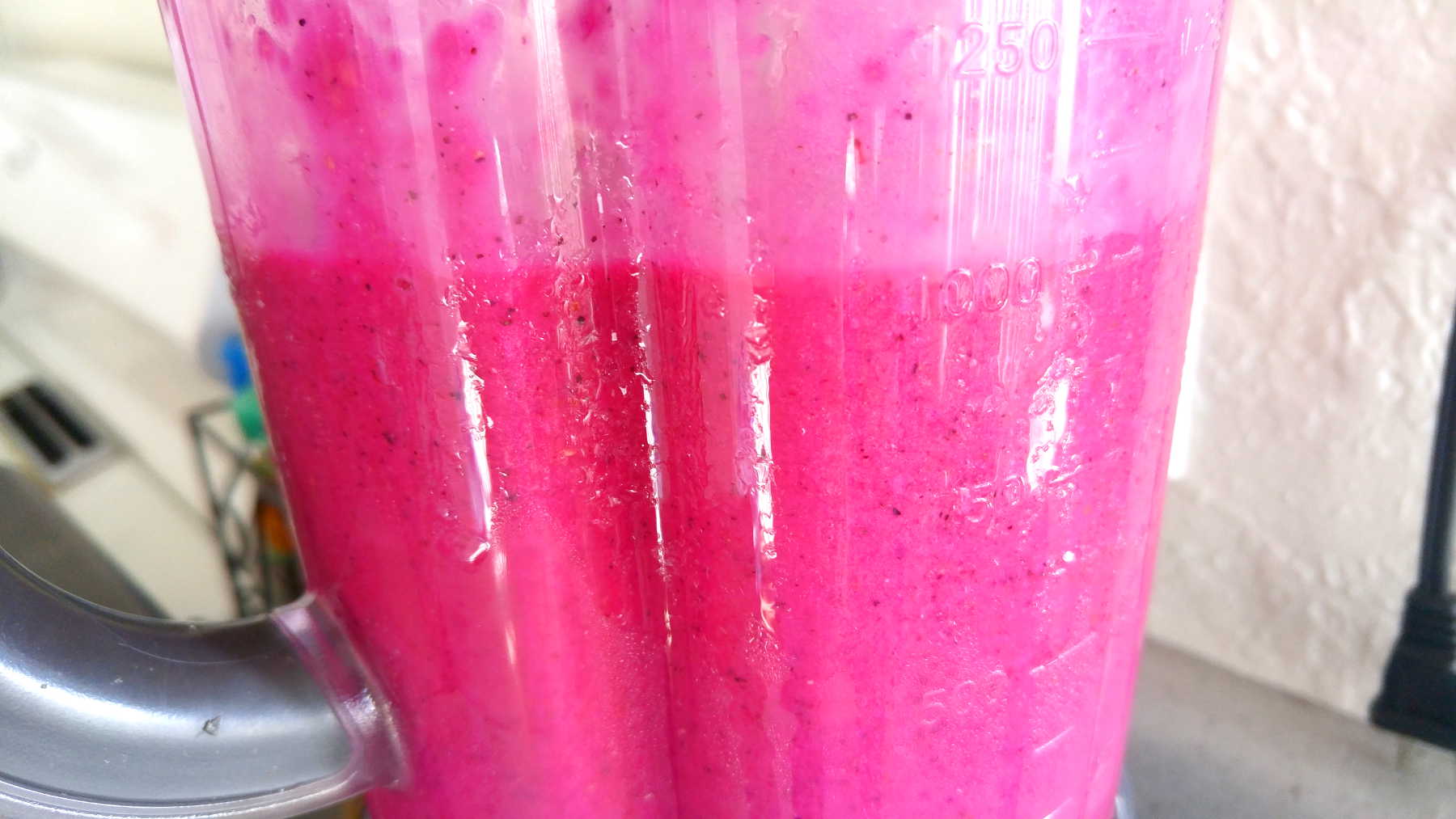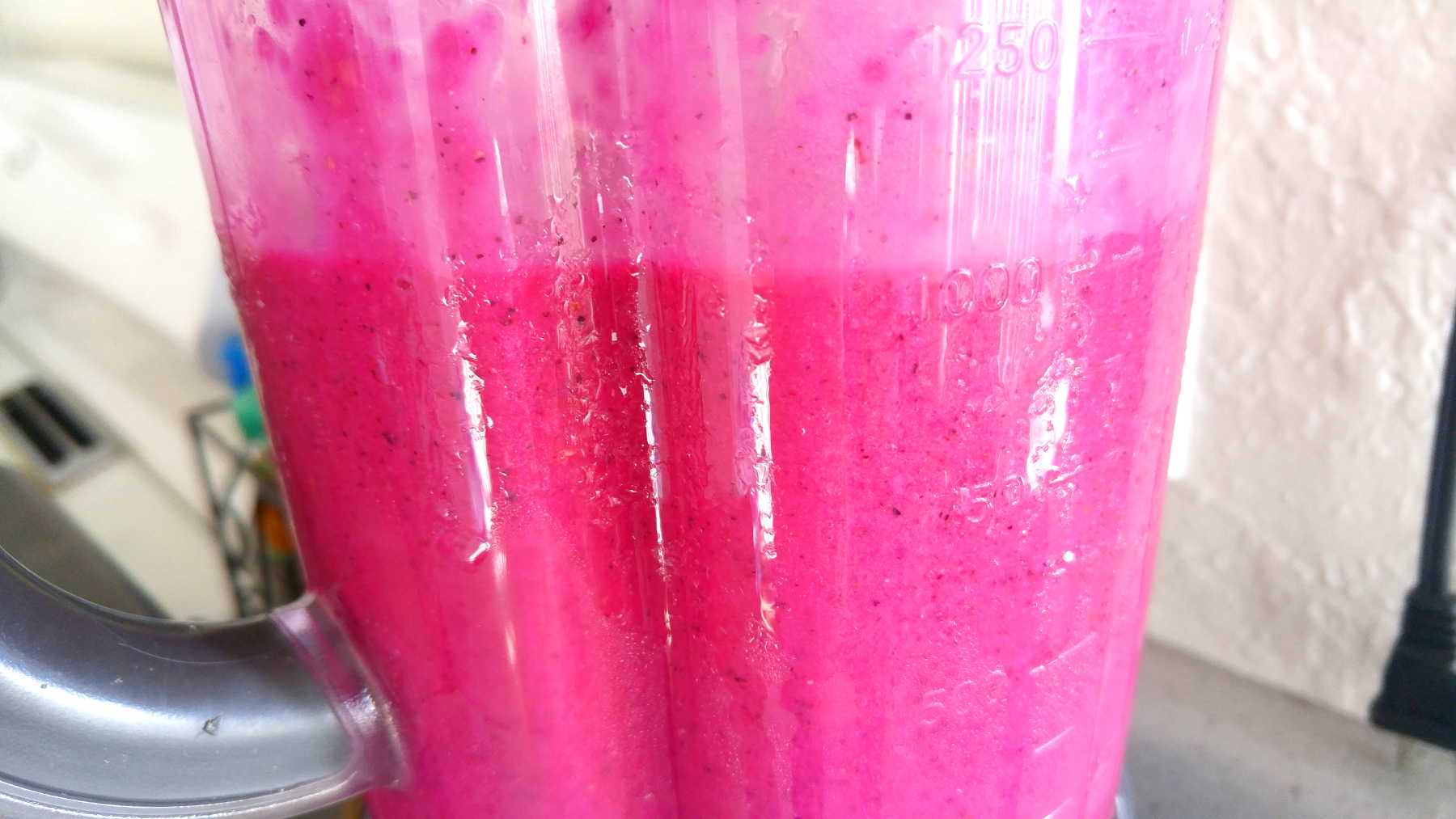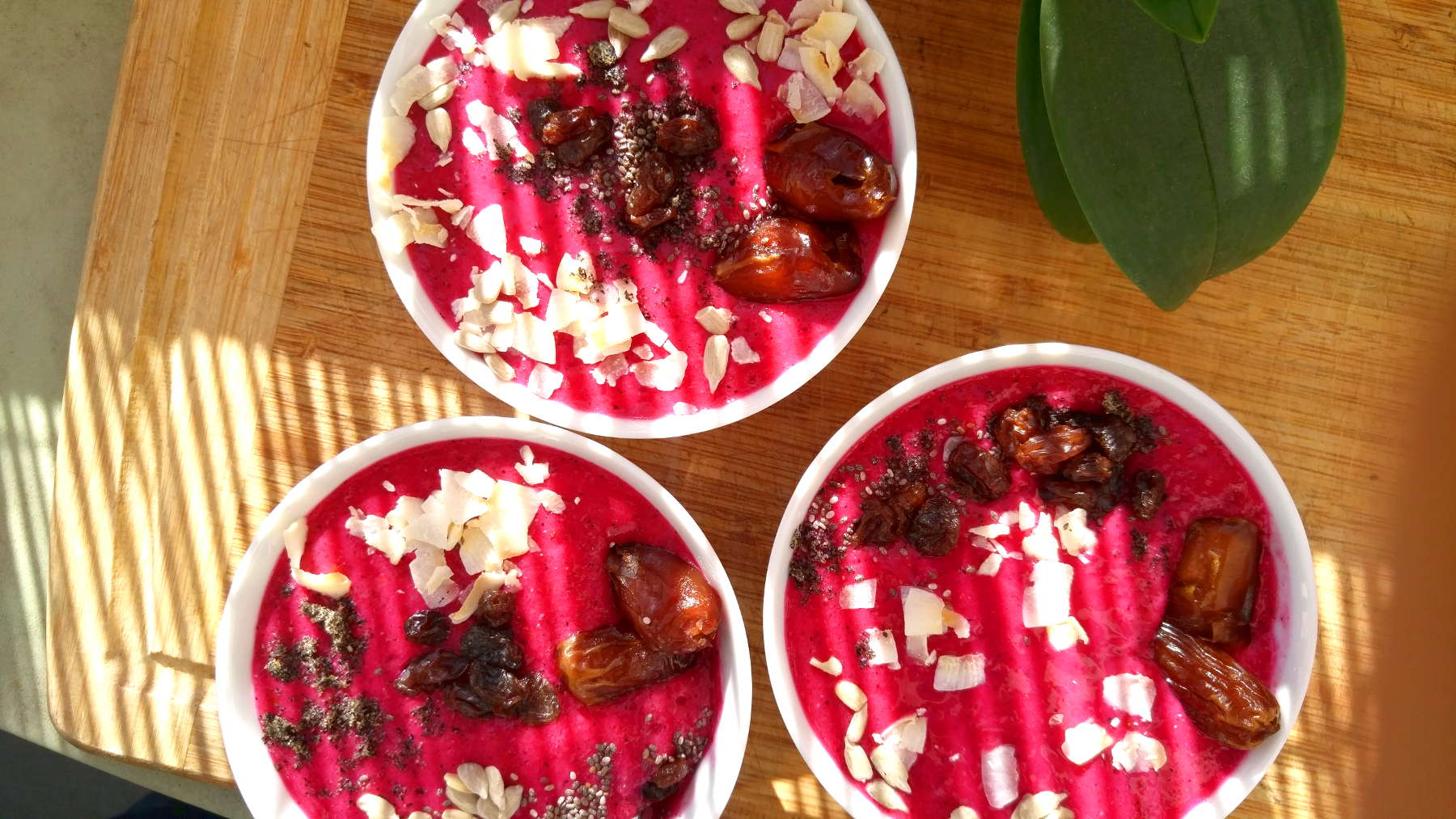 Ingredients
Smoothie group
3 c chopped mangos
2 c chopped pink pitaya (skins removed)
1 c vanilla coconut milk beverage (or your favorite vanilla non-dairy milk)
1 TBS agave nectar
Toppings group
Dates
Raisins
Unsweetened coconut flakes
Ground up black sesame
Raw shelled sunflower seeds
Chia seeds
Instructions
Combine all of the smoothie group ingredients in a blender.  Blend until very smooth!  (If in doubt, blend longer)
Pour the smoothie mixture into three small bowls.
Top each bowl creatively with the toppings group suggestions, or even your own creative ideas!
Who did you share YOUR dragon fruit smoothie bowls with?