This dish is the type of comfort food that we actually feel pretty good about eating, too.  Why?  Not only is it swimming in creamy deliciousness, but it's also sneaking in some secret greens and antioxidant-rich turmeric as well.  That's right…this super awesome pasta salad comes secretly packed with not just one but TWO superfoods!  You'll never know it comes with health benefits by the taste, though.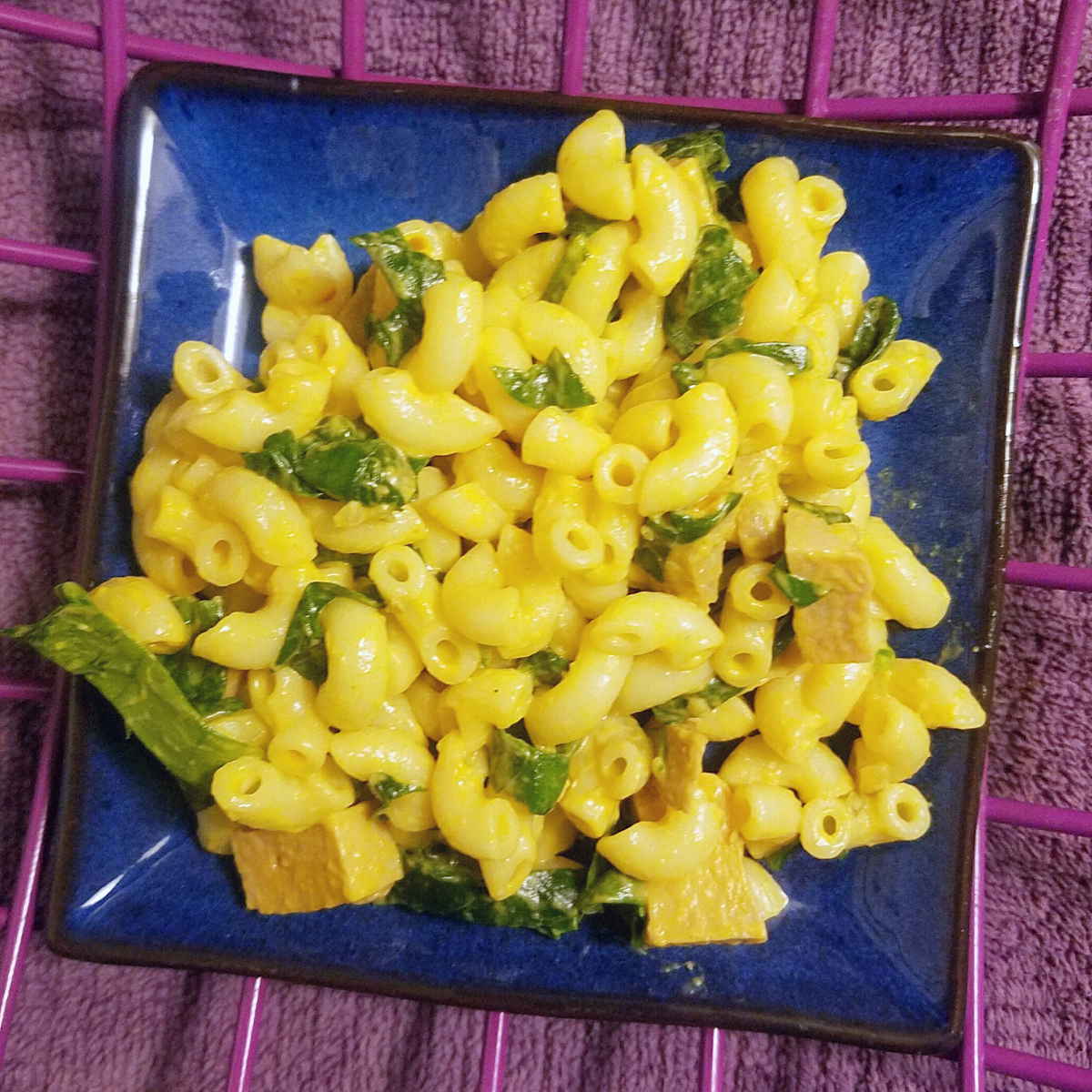 Proof?  I made this twice in a row in one week and it disappeared off the table like magic.  I didn't even get any 😛  Oh, well.  It was definitely enjoyed…and when something gets eaten quickly and repeatedly like that, it's my cue to post it here.
Warming and familiar, this pasta salad also features iron-rich spinach and the popular spice known for its anti-inflammatory claims, among other things: turmeric.  Then of course there's pasta coated in creamy sauce made without even a trace of dairy.  The best part?  It's actually really easy to make.
Ingredients
1 c dry gluten-free macaroni
2 c spinach
2 TBS vegan mayonnaise (I used Trader Joe's brand)
3 TBS vegan Thousand Island dressing (I used Follow Your Heart brand)
1 large clove garlic (or 2 small), minced
1/2 tsp turmeric
1 c cubed vegan 'ham' (or cubed bean curd would work, too)
Instructions
Steam the spinach until slightly soft.   Set aside.
Cook the dry macaroni according to the instructions on the package.  Drain away the water when done, and set aside.
Once the spinach has cooled, chop into small pieces.  Strips are great – but you can go smaller if you prefer.  The smaller the pieces, the less vegetable-y this dish will seem.
Add the following to the drained pasta: vegan mayonnaise, vegan Thousand Island sauce, minced garlic, turmeric, and chopped spinach.  (That should be ALMOST everything else from your ingredients list!)
Gently stir everything together, being careful not to break the pasta.
Now, fold in the vegan 'ham'.  Again, be careful not to break the pasta (so it looks pretty…that's the main reason!)