I am so excited to finally share this one with you guys!  This vegan matcha green tea white chocolate cream pie was the very first pie to get 100% devoured when we did pie night a while back.  Not only is it super delicious, it's pretty easy to make as well and doesn't require any complicated techniques.  It's no-bake, totally vegan, uniquely flavored and colored, and suuuuper creamy!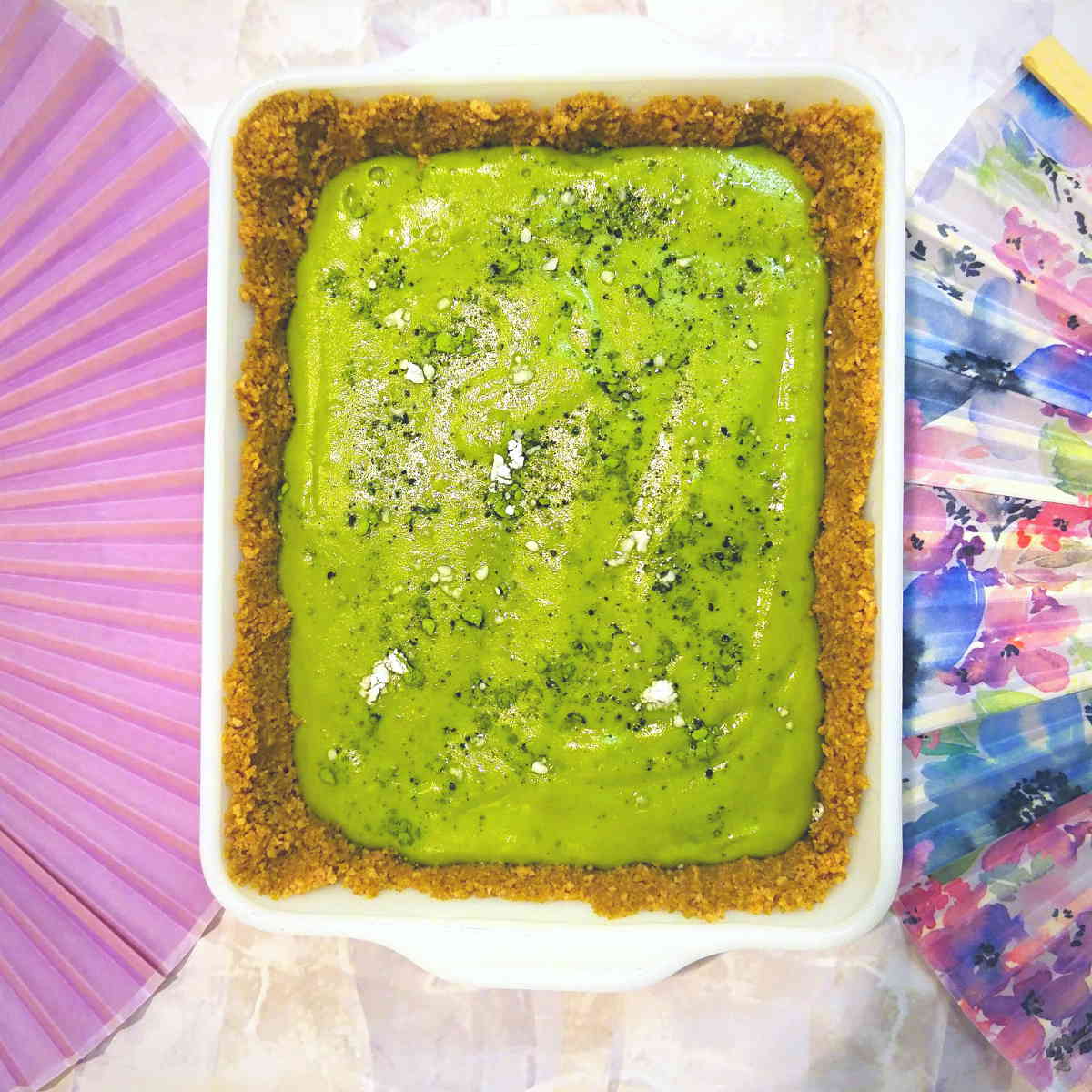 A word about matcha: Matcha is a type of very finely ground up green tea which is sold in either small bags or even individual drink packets.  You can drink it hot or cold…and of course, if you're like us, make pies with it!  Some grocery stores will sell matcha powder in the tea section.  Be sure to buy matcha powder that does NOT have any added sugar or milk powder!  You want pure matcha goodness for this one 🙂  Asian grocery stores generally carry matcha powder, and more and more, traditional grocery stores are starting to realize this is an in-demand item.  If all else fails, you can buy matcha powder online.
Ingredients
Filling group
1 1/2 c cashews
8 oz tub vegan cream cheese (I used Trader Joe's)
2/3 c virgin coconut oil
1/2 c powdered sugar
1/2 c almond milk
1 TBS matcha powder
1 tsp vanilla
1/4 tsp Himalayan pink salt (regular salt will do if you don't have this)
Crust group
3 c bite sized neautral/vanilla cookies (I found some vegan ones at Trader Joe's)
1/3 c vegan margarine (I used Earth Balance)
1/2 TBS matcha powder
 Instructions
In a food processor, combine the ingredients for the crust group.
Pulse until small crumbs form and start to stick together.
Press the crust mixture into the sides and bottom of a 9″ round pie pan.
Ensure that your coconut oil is soft and/or liquidy.  If not, warm it slightly until it is.
Combine all of the ingredients in the filling group in a blender.
Blend until smooth.
Pour the filling mixture over the crust, spreading to the sides.
Top with your choice!  We used vegan white chocolate chips, matcha powder, and some extra powdered sugar.