It's pumpkin season! What better way to celebrate than by baking up a delicious vegan and gluten-free pumpkin chai pie?
Pumpkin chai pie is even better than regular pumpkin pie and features a multidimensional, more complex flavor profile, thanks to the addition of chai tea spices in place of the traditional pumpkin pie mix of spices.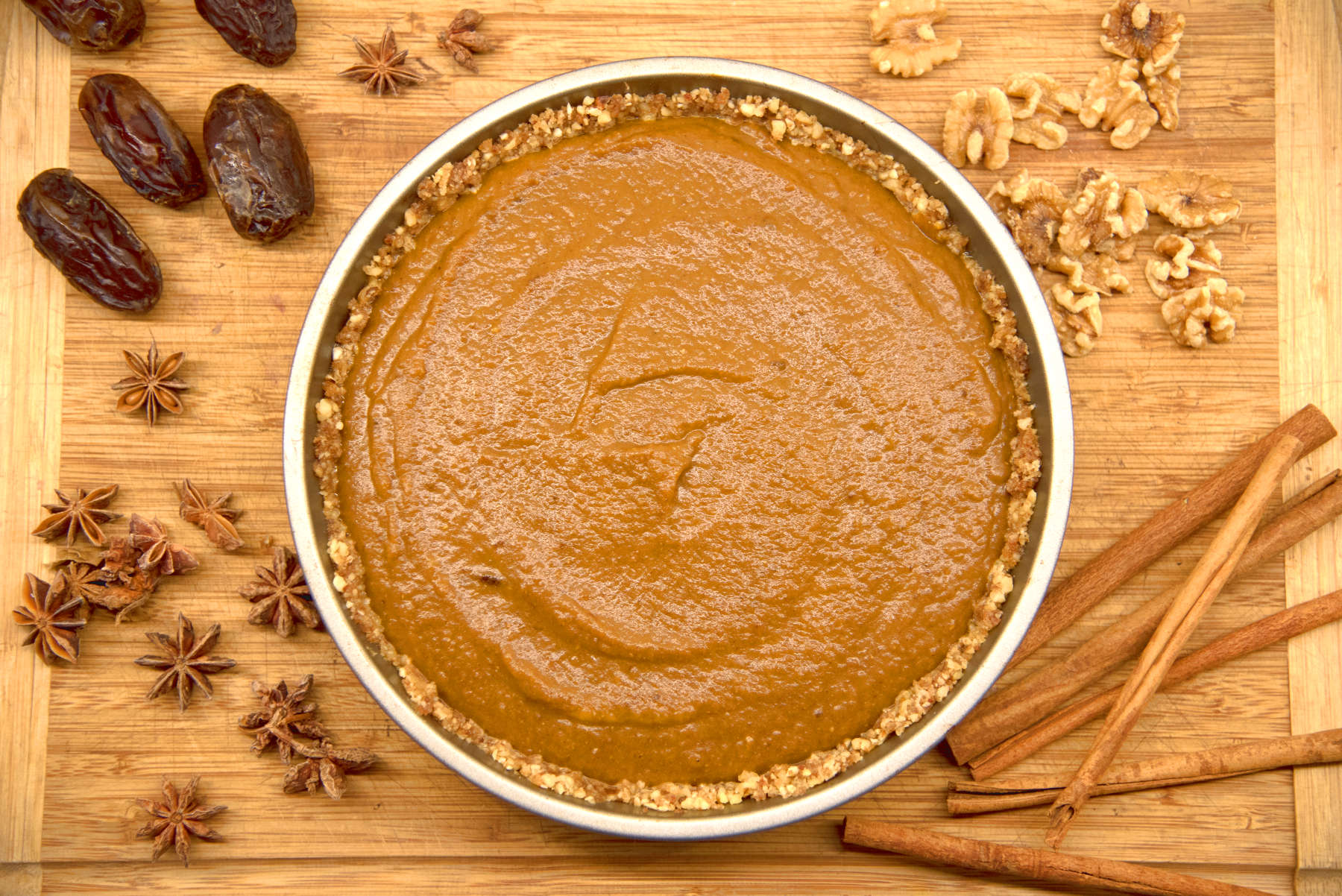 You can make this pie with any crust you want. I like making nut pie crust (see below), but you can use a Graham cracker crust or traditional pie crust as well – up to you!
Ingredients
Group 1: Crust Group (Skip if making a nut-free pie)

1 1/4 c walnuts
1/3 c almonds
1/4 c chopped and pitted dates
1/2 tsp vanilla
1/4 tsp Himalayan pink salt (other salt will do if you don't have this)
Group 2: Chai Tea Group
2 chai tea bags, OR 2 TBS chai tea drink mix powder
1/2 c vanilla coconut milk beverage
Group 3: Filling Group
Instructions
Making the nut crust (Or use a pre-made crust if you're making this nut-free, and skip this:)

In a food processor, combine the Crust Group ingredients.  Pulse until everything starts to stick together.
Press the crust mix into the bottom of a 9″ round pie pan

Making the super concentrated chai tea (Chai Tea Group):

Bring the coconut milk to a boil in a small pan. Add the chai tea bags or powder, and immediately turn off the heat. Set aside for at least 5 minutes before removing tea bags.

Making the filling

Combine all other ingredients – in the Filling Group – in a mixing bowl. Mix together thoroughly by hand or with an electric mixer.
Pour the tea mixture into the rest of the pie filling mixture from the previous step.

Putting it all together:

Pour the entire pie filling mixture into your crust of choice.
Bake at 400 degrees Fahrenheit for 40 minutes, or until pie becomes slightly more firm in the middle.