When making oil-free dishes, it's not as simple as omitting the oil: Instead, a new flavor has to be created.  In this case, the dish inherits a savory flavor from the combination of tomatoes and tahini, and a multidimensional feel from the addition of basil and coconut aminos.  The result is a vegan, soy-free, nut-free and gluten-free dinner main or side.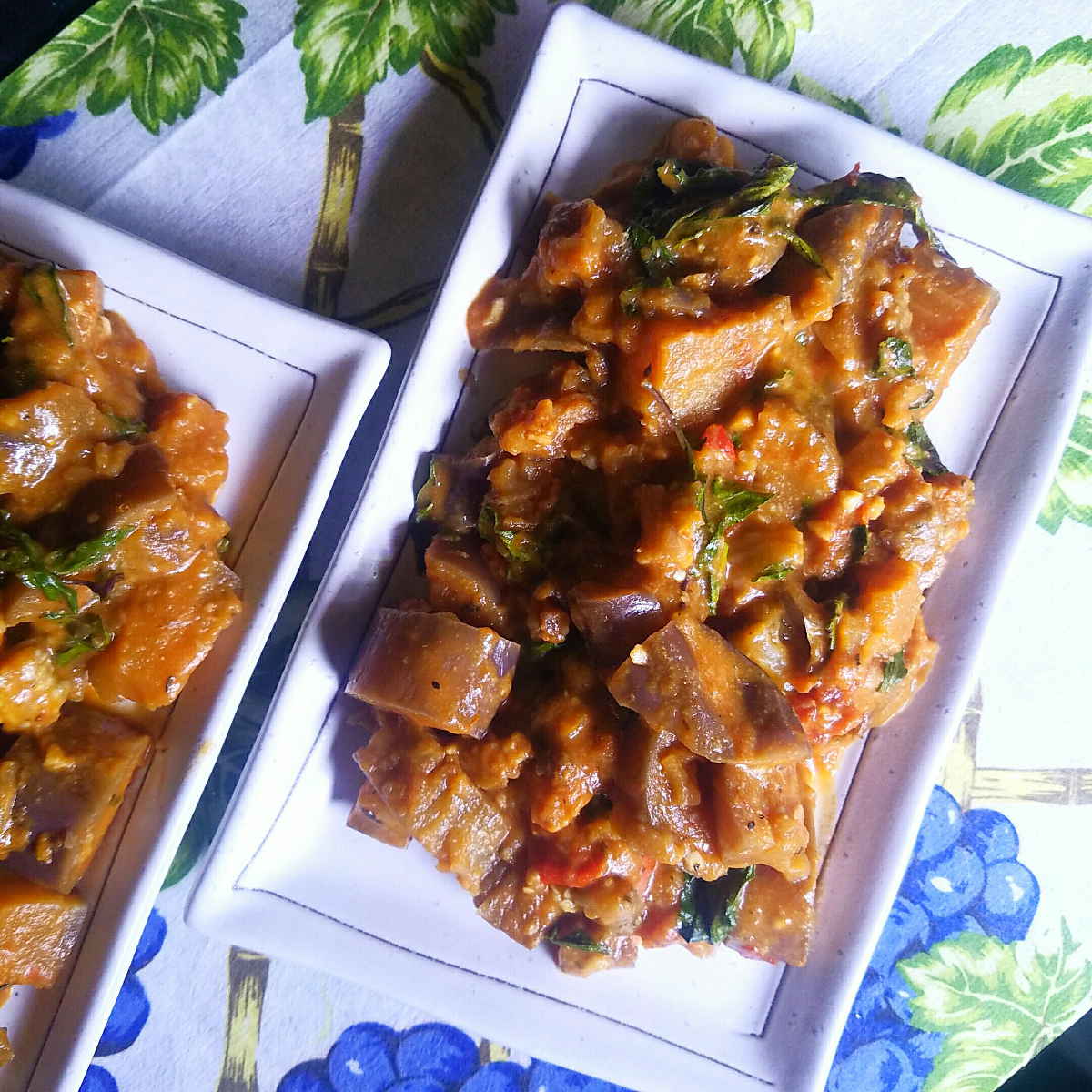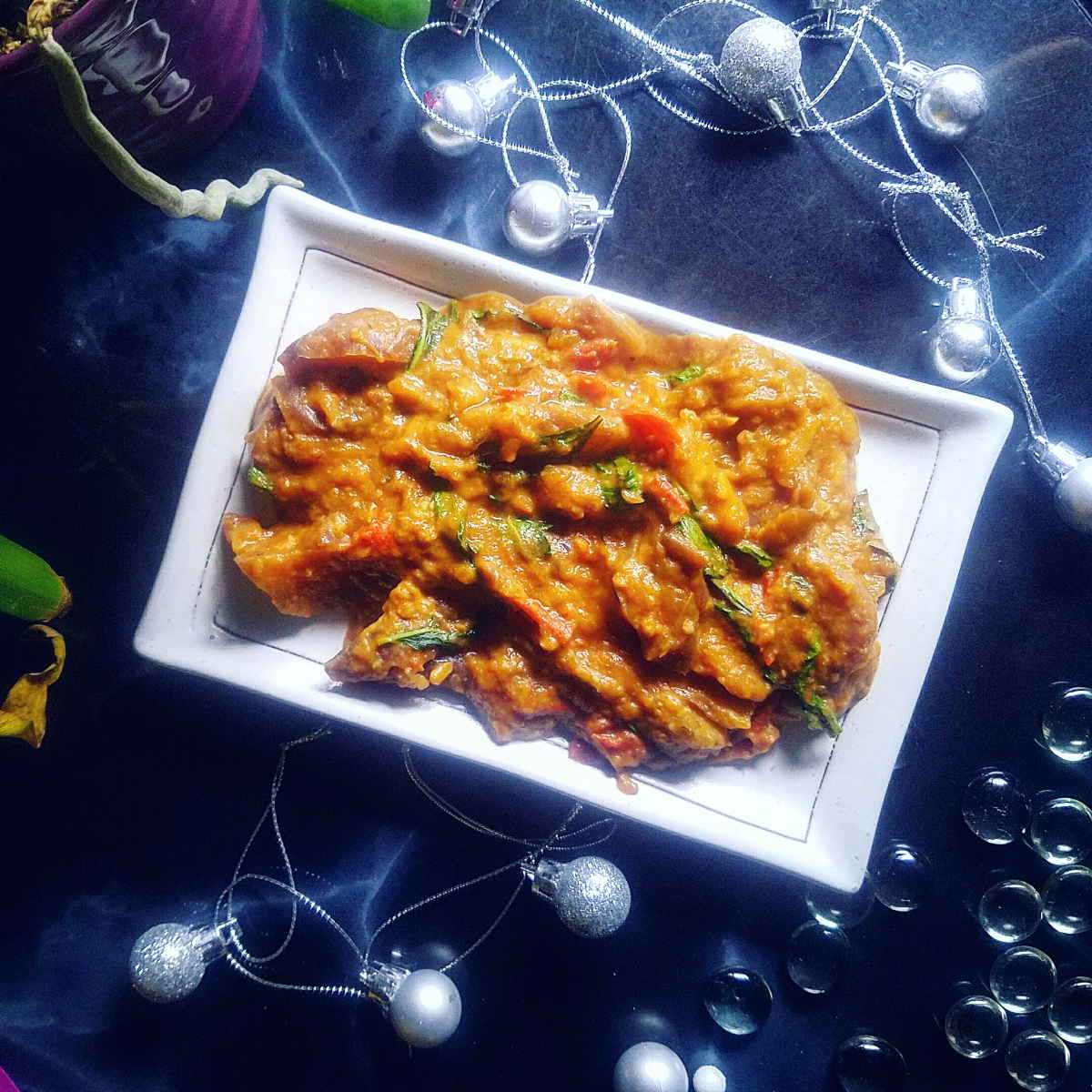 The cooking method for this dish is somewhat similar to what a version with oil might contain: There's a stage where we get the garlic started, start to soften the eggplant, etc.  These things will be done with vegetable broth and water, though, which will still allow the raw ingredients to get heated to a point of becoming fragrant but will not require oil in the process of doing so.
A word on the ingredients (and what to do if you can't find these!)
Thai Basil
I have had a lot of Thai basil around the house lately, and that is the sort of basil originally used for this recipe.  You certainly can use Italian basil, though, if that's what you prefer, or that's what is available.  The result will be slightly different, though, as the Thai basil adds a sort of licorice-y overtone to the flavor, which pairs really well with the miso and miso broth in this dish.
Miso
The miso I used for this dish was a chick pea based miso that is organic and completely soy free.  I found this in a health food store.  Luckily, there are a number of soy-free miso varieties available today–but admittedly, it my be necessary to venture into a natural foods store or Whole Foods market to get them.
Eggplants
The eggplants used in this recipe are the longer, lighter colored Chinese eggplants.  You can probably use any long eggplants found in an Asian market, and, although I haven't tried it, I'd imagine this dish would work with Italian eggplants also.  The only caution regarding that is that since I don't have an exact weight on the eggplants, it might be challenging to get the right amount of eggplant for the dish.  If you try it with Italian eggplants, though, do let me know what worked!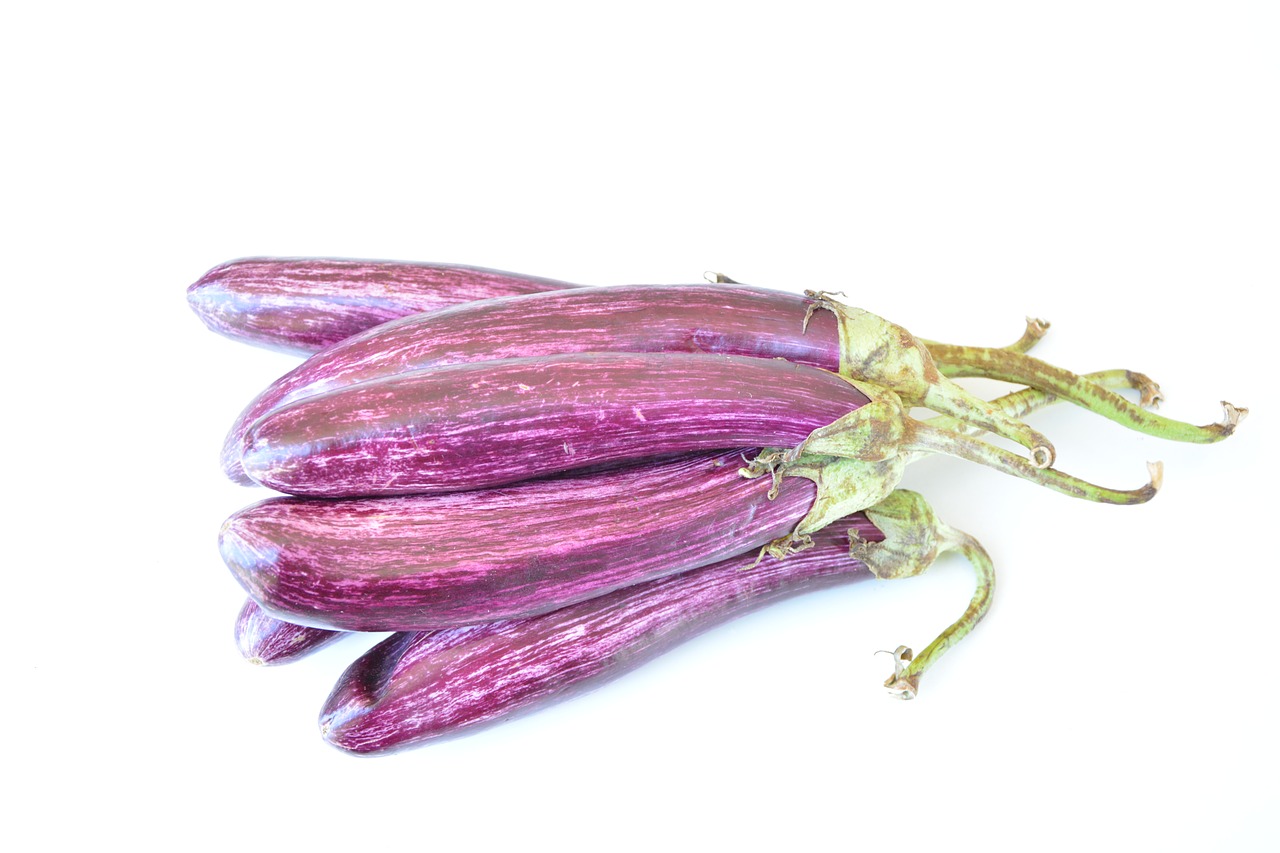 Mushroom Umami
The mushroom umami seasoning called for in this recipe is a sort of dried mushroom powder with a few additional spices in it, sold at Trader Joe's.  It's literally called "Mushroom Umami Seasoning".  If you haven't got a Trader Joe's around, try adding a bit of extra salt and perhaps throwing in a handful of very finely chopped mushrooms.  Mushroom umami contributes to the savory flavor of this dish!
Coconut Aminos
Coconut aminos are a sort of soy-free alternative to soy sauce…except that it's far less salty, and the flavor is really its own thing.  If you're not soy-free, this might not be a product you keep on hand much.  You can try substituting low-sodium soy sauce, but only use about half the amount (2 TBS instead of 4 TBS in this recipe).
Ingredients
1 TBS minced fresh garlic
1/4 c vegetable broth
1/2 c water
2 long Chinese eggplants, chopped
4 TBS coconut aminos
2 TBS sesame tahini
1 TBS chick pea miso
1 can diced tomatoes
1 c Thai basil leaves (fresh)
1 TBS white wine
1/2 tsp salt
1/4 tsp mushroom umami
Instructions
Wash and chop the eggplants before getting started.  Slice each long eggplant lengthwise down the middle, and make 1-2 cm slices from each long half.  Set aside.
In a wok or large sauce pan over high heat, begin to fry the garlic in the vegetable broth and water.  Stir-fry with a wooden spoon for about 30 seconds.
Immediately add the chopped eggplant, coconut aminos, sesame tahini, miso, and diced tomatoes.  Continue cooking, turning the ingredients every so often to prevent them from sticking to the bottom of the pan.
Cover with a lid and allow the mixture to continue cooking until the eggplant is soft.
Once eggplant is soft, remove the lid, and stir in the fresh Thai basil, white wine, salt, and mushroom umami.
This pair really nicely with rice or garlic bread.  Enjoy 🙂