Vegan almond cookies with almonds…amazing, really, with or without an added almond on top (although adding them makes the cookies super cute!)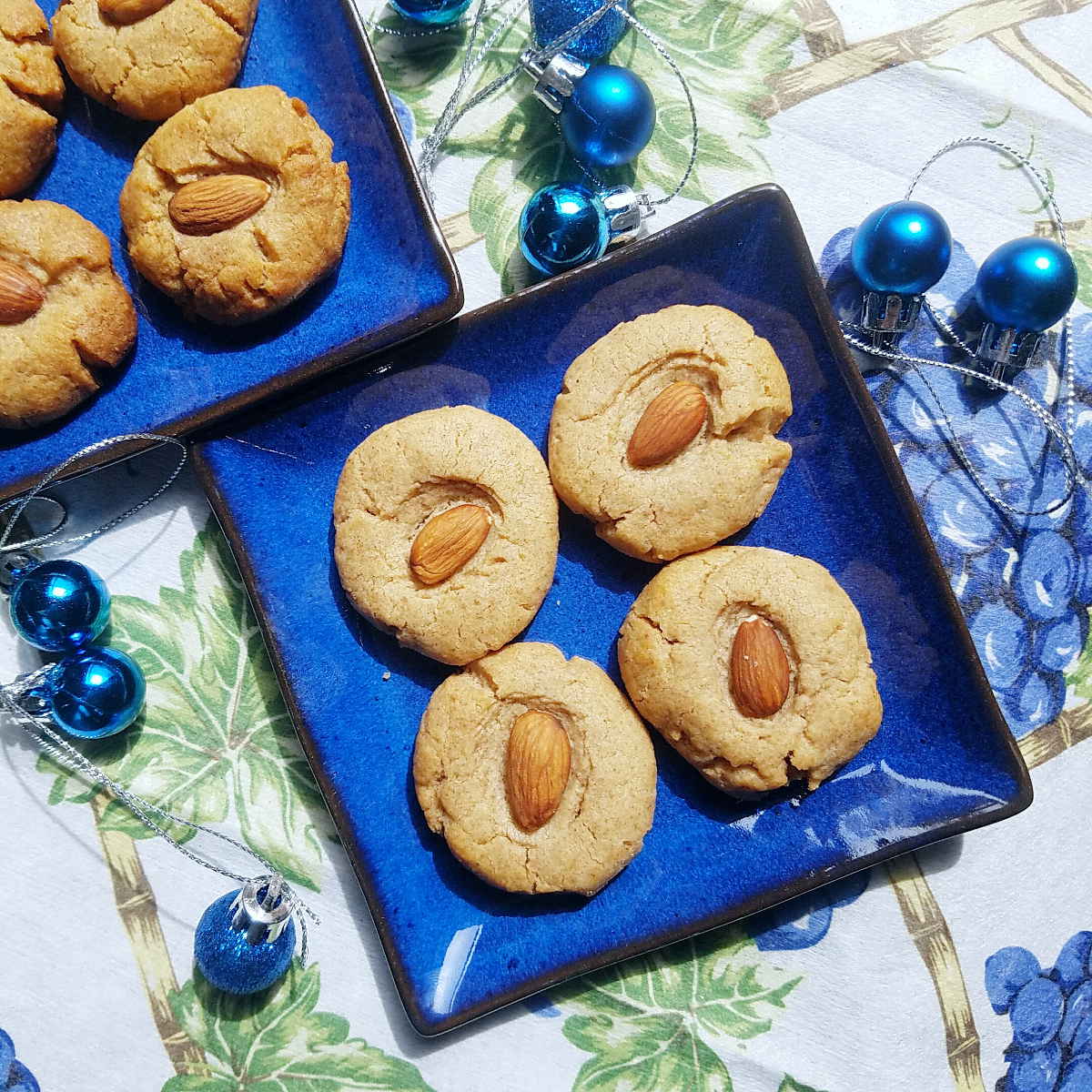 I love shopping discounts, and for some reason, that has resulted in a situation where I have a ton of almond butter sitting around the house.  Almond butter is one of those items that I know will get used, and so naturally, when I see it on sale, I just buy it.  Fast forward to having an extra 4 jars of the stuff on hand, and this recipe was born.
Origin of our Vegan Almond Cookies
This was adapted from the peanut butter cookie recipe already on this site, with a few changes.  Lately, I've been making more and more of my recipes soy-free, so the first change (besides using almond butter instead of peanut butter,) was to replace the Earth Balance vegan margarine (which contains soy) with coconut oil.  Then, the adjustments for texture, etc. followed from there.
Replacing Earth Balance with Coconut Oil
I've generally found that Earth Balance can be replaced with some combination of coconut oil + applesauce or coconut oil + agave in most recipes.  The proportions will vary, but the coconut oil is generally 2/3 of the original amount of Earth Balance, and the remaining third is generally applesauce and/or agave.  Coconut oil by itself as a 1:1 replacement messes up the texture too much IMHO, and the result is drier, less structure (read: cookies that spread into goo piles when baking), and a bit more brown in color.  So, instead, I use the combos when replacing Earth Balance in old recipes, and with a bit of tweaking, the flavor and texture is pretty much the same, only without the soy.
Also, it's good to note that when baking with coconut oil, it's best to aim to get it in a spoonable state…rather, one that's not too runny/liquidy, and not too solid, either.
Recipe: Vegan Almond Cookies
Ingredients
1/2 c brown sugar
1/2 c cane sugar
1/3 c coconut oil
3 TBS applesauce
1 TBS agave nectar
1 1/4 c creamy almond butter
1/2 tsp Himalayan pink salt (regular salt will do if you don't have this)
1/2 tsp baking soda
3/4 tsp vanilla extract
1 3/4 c flour
(approximately) 1/3 c whole almonds, for topping the cookies
Instructions
Combine all ingredients (except the whole almonds for topping) into a large bowl; mix thoroughly.  You may need to use your hands!
Grease the cookie sheets you plan to use with more coconut oil, applied very thin.  Sprayable oil works for this purpose as well, but check the ingredients for soy if allergic.
Take about 1 TBS of cookie dough at a time, and form ball shapes with your hands.  Place these gently on the cookie sheets.  Press each one down very slightly, but do not flatten completely.
On each cookie, place 1 whole almond in the center.
Set the cookie sheet in the freezer for about 15 minutes.
Bake in a preheated oven at 375 degrees Fahrenheit for about 7 minutes.
Be careful not to over-bake these!  If after 7 minutes, yours don't seem done, check on them every minute, so as to prevent them from over-baking!
Let vegan almond cookies cool completely before attempting to move them from the sheets.