Whether you're eating gluten or not, you've got to try carrot noodles! They're just sweet enough, and prepared in this recipe, tastefully savory as well. This can be a creative side or even the focus of your whole meal. As a main dish, it can be topped with whatever you like–perhaps some grilled tofu, kebabs, or even some Thai Basil Eggplant or Lotus Root & Wood Ear Mushroom Stir Fry.
You will need a bit of special equipment for this (either that or a whole lot of patience!)
Ideal
Get a spiralizer, and be sure to buy the biggest and fattest organic carrots you can find. They're usually under $30 online, and once you get one, you just might want to spiralize everything…like we apparently did here: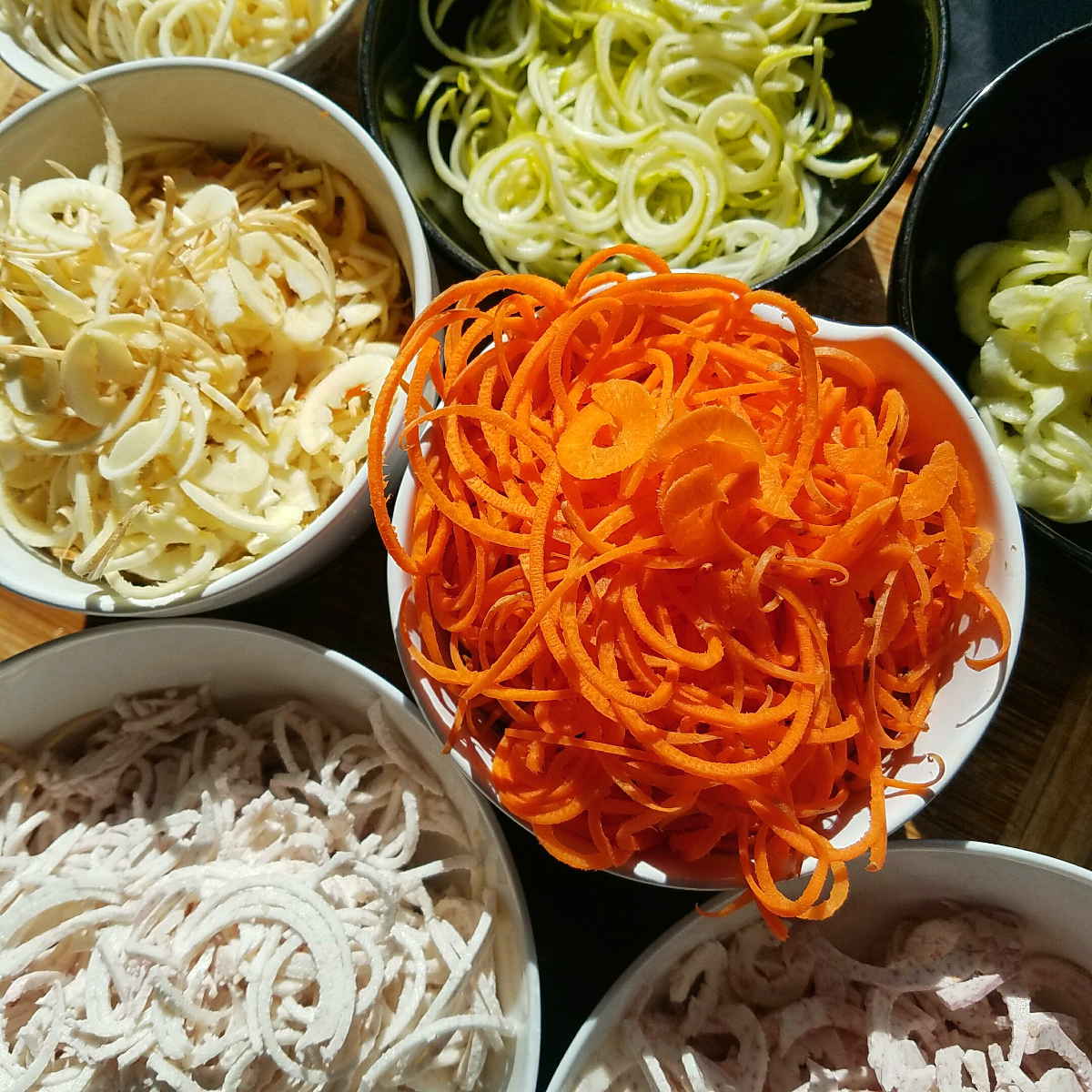 Next Best
Mandoline with a thin fry cutter plate. If you have one of these, you can get short noodles with a bit of manual labor, but trust us when we say a spiralizer is better!
Honorable Mention
Your standard household grater. You'll get very small shreds, and they won't really resemble noodles. But, you could still make this recipe with those shreds, pretending they're just very, very short noodles 😛
You can also sometimes find pre-cut carrot noodles in the stores.
Regardless, of your choice on how to get carrot noodles, here is how we prepared ours!
Ingredients
3 c spiralized carrots (carrot noodles)
1 TBS avocado oil (or other high-heat cooking oil)
1 clove garlic, minced
5 small dried hot peppers, NOT CUT (for flavor more than for spice)
1 tsp agave syrup
1/2 tsp salt
Instructions
Spiralize your carrots, and set aside 3 cups of them to use in the stir fry.
Over high heat in a wok, heat the avocado oil.
Add the garlic and hot peppers and stir fry for about 30 seconds, or until it just starts to turn brown. Be careful not to burn it!
Now, add everything else: Carrots, agave, and salt. Continue stir frying, stirring occasionally, until carrots are just a bit soft.
Remove from heat and enjoy!