The flavors of traditional pasta are great, sometimes, something on the lighter side is sure to please! The flavors of ripe tomatoes and basil mix together perfectly in this creamy, full-bodied sauce.  The pine nuts are more than just a decoration here and finish the dish with a distinct accent.
If you're not used to raw foods, then think of this sort of like a savory salad.  Here, traditional noodles are replaced by zucchini–and if you prefer, you can pan-fry them a little bit before using, if you're not concerned about the dish being raw.  Honestly, it's delicious either way.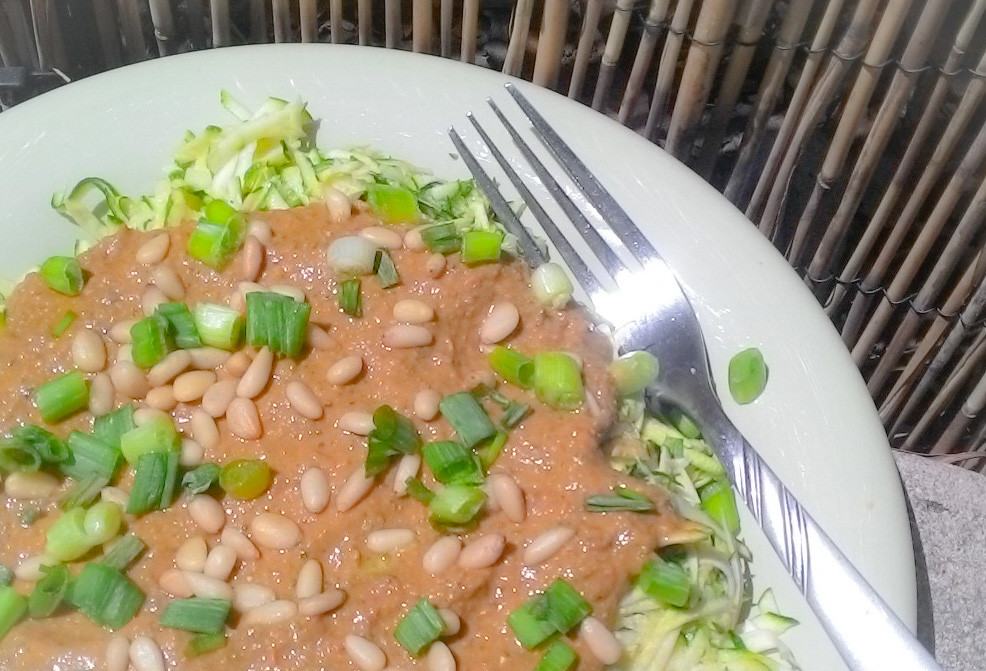 Ingredients
Group 1 – sauce
3 c basil
3 romas
1/4 c extra virgin olive oil
1/4 c water
1 clove garlic
1 green onion stalk
1/2 avocado
1/2 tbs gluten-free soy sauce
Group 2 – pasta
Group 3 – toppings
3 green onion stalks
1/3 – 1/2 c pine nuts
How To
Blend together the first group (sauce) in a blender until smooth. This will be the sauce base, so set it aside, because we will use it shortly.
Take the 3 zucchinis (group 2 – pasta) and either spiralize (you'll need a spiralizer) them or grate them. You can grate them by hand or by using the grating plate in most food processors.
Optional step, if you're not making this dish raw: Pan-fry the zucchini shreds over high heat in about 1 tsp of oil plus about 1/4 c water.  This does three things: makes this a warm dish, softens them up a bit, and enhances the flavor.
Chop up the ingredients in group 3 (toppings), and set them in a small bowl.
To serve, place a portion of the pasta on a plate, ladle on the sauce, and top with the pine nut mixture.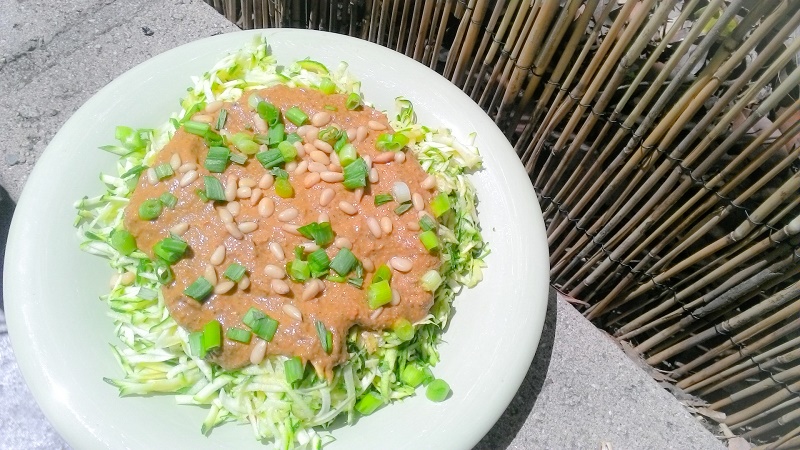 This recipe is super simple and can serve 3-4 people (or just 1 very hungry person!) I made the amount described in the recipe and ate it in two sittings…the first one was around lunchtime, and the second was partway through the afternoon when I started to get hungry again.
Enjoy!