This delicious, creamy raw salad dressing goes on pretty much example, so we're going to show you how to make it plus show some juicy pictures of our favorite examples!
There is beauty in simplicity, which unfortunately means it's easy to miss, too, but we're here to help you appreciate all of the raw goodness you can handle.
Did we mention it can be nut-free, too? Here goes the recipe:
INGREDIENTS:
1/2 c extra virgin olive oil
1/3 c water
1/4 c sunflower seeds or cashews, your choice
1-2 cloves garlic, depending on your tastes
1/4 tsp gluten-free soy sauce
1 tsp capers
Juice of 1 lemon
1/8 tsp ground mustard (powder)
INSTRUCTIONS
Very simple! Combine all ingredients in a blender, and blend!
Add more water if you need to in order to blend consistently and smoothly. With a high-powered blender, you shouldn't need to add any more water than the recipe calls for.
This stuff keeps well in the fridge for a long time, but please keep in mind that olive oil tends to harden a bit when it gets cold…because of this, remember to shake/stir the dressing thoroughly before using it.
NOW, WHAT DO I DO WITH THIS STUFF?
1) Favorite Use #1 – Replace regular mayonnaise with this!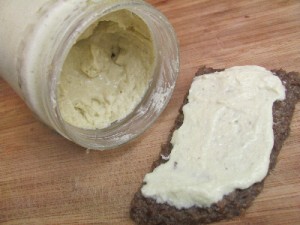 Remember that part a few lines back about olive oil getting harder when you refrigerate it? The following discovery was an accidental one, because of that that very fact. You can spread this stuff on bread like mayonnaise…except much healthier!
2) Favorite Use #2 – Wrap it up!
We're using a rice paper wrap in this photo (not raw), but you could make wraps out of nori or cabbage if you prefer.
We used on ours: 2 TBS homemade dressing, spoonful of capers (drained), 2-3 green olives (sliced), 5 leaves romaine lettuce.
3) Favorite Use #3 – Salad!! (Did you think we forgot?)
Don't forget that this salad dressing is a salad dressing, too! Of course!
What are YOUR favorite uses for this (or another) creamy homemade dressing? Did you make the nut-free version or the version with nuts? We would love to hear about your results.