Sichuan peppercorns give this dish a sort of "numb spicyness"…you kind of have to experience it to understand.  These peppercorns aren't spicy in the "hot spicy" sense and can usually be enjoyed by people who can't tolerate spicy heat, since they're a different sensation altogether.
The dish is traditionally made with beef, but our meatless version does not have that.  Flavor profile includes a mix of Chinese spices, savory garlic and ginger, and an array of carefully mixed sauces!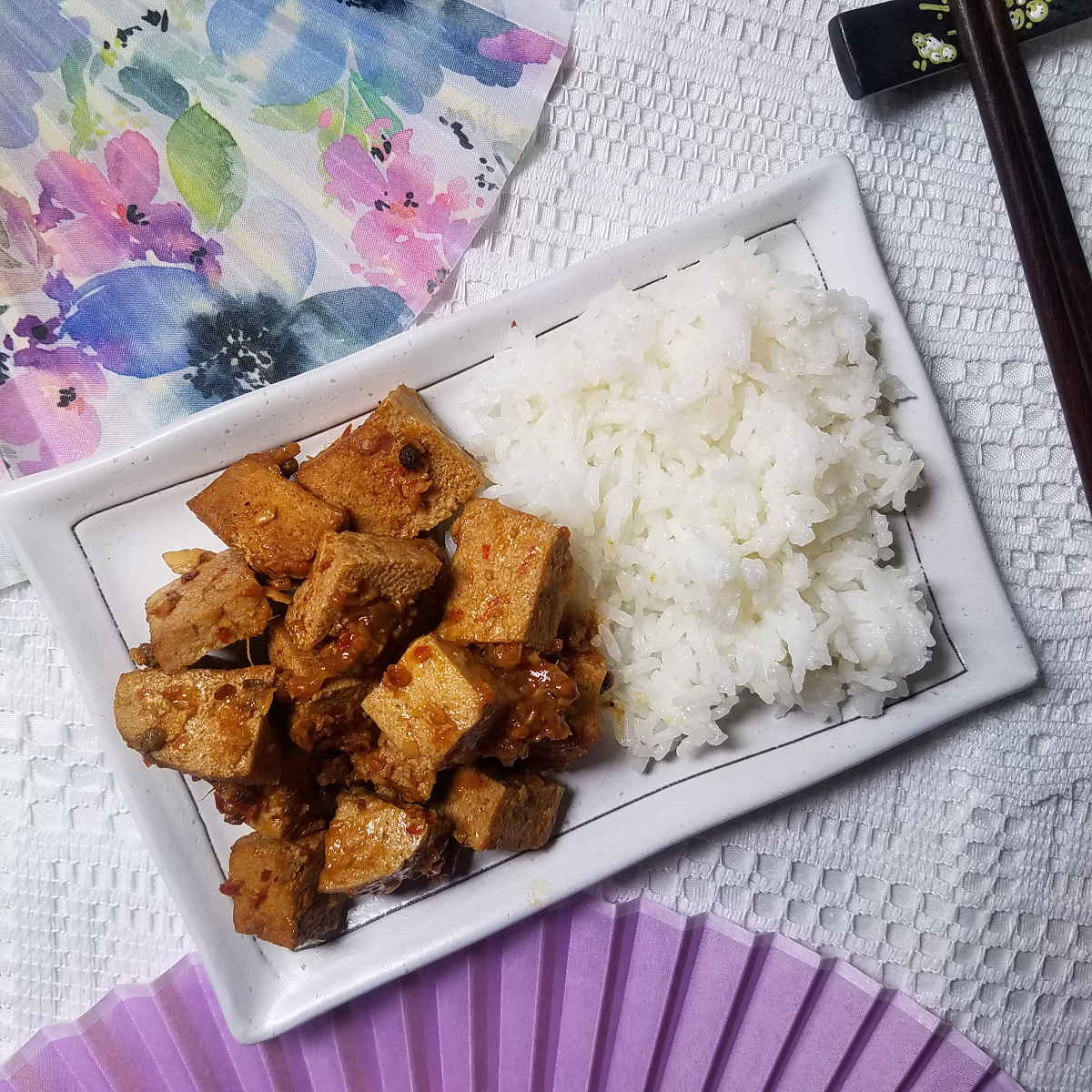 This dish is super unique–the catch is, you're probably going to have to venture down to your local Chinese grocery store to find these ingredients, as they comprise this dish's uniqueness!  That said:
About some of the ingredients:
Veggie beef crumbles, or TVP:  If you have an issue with the concept of "veggie meat", then TVP (textured vegetable protein) might be your solution.  TVP is essentially dried soy crumbles, and it adds an interesting texture to the dish.  If you opt for TVP over veggie beefless crumbleless, be sure to soak it in hot water, and the drain the hot water, first, before using it in this dish.
Hot bean sauce, aka chili bean paste, is a sort of soybean paste which contains chili peppers and a few other spices.  You might be able to find this in the Asian foods section of a traditional grocery store, or you may have to adventure down to your local Asian market.  This is a great sauce to have on hand for a variety of stir fries, though, so if you like Chinese food, it's worth tracking down for sure.
If you're eating a plant-based diet and are purchasing mushroom oyster sauce, be sure it's vegetarian (eg doesn't contain real oysters,) when you buy it.  This is one of the more common ingredients, which you may be able to find in a regular grocery store.
Black bean garlic paste is a sort of black bean sauce found in Asian markets.  If this is hard to find, the dish will work fine without it, but it does add a unique flavor.
Sichuan peppercorns are what give this dish its unique zing, so don't leave them out!  The trademark "numb spicy" comes from these.  These are almost surely found only in an Asian market!  You can grind these either in a mortar and pestel, or in a coffee grinder.  I definitely recommend the former over the latter, due to how annoying it could potentially be to clean Sichuan peppercorns out of a coffee grinder!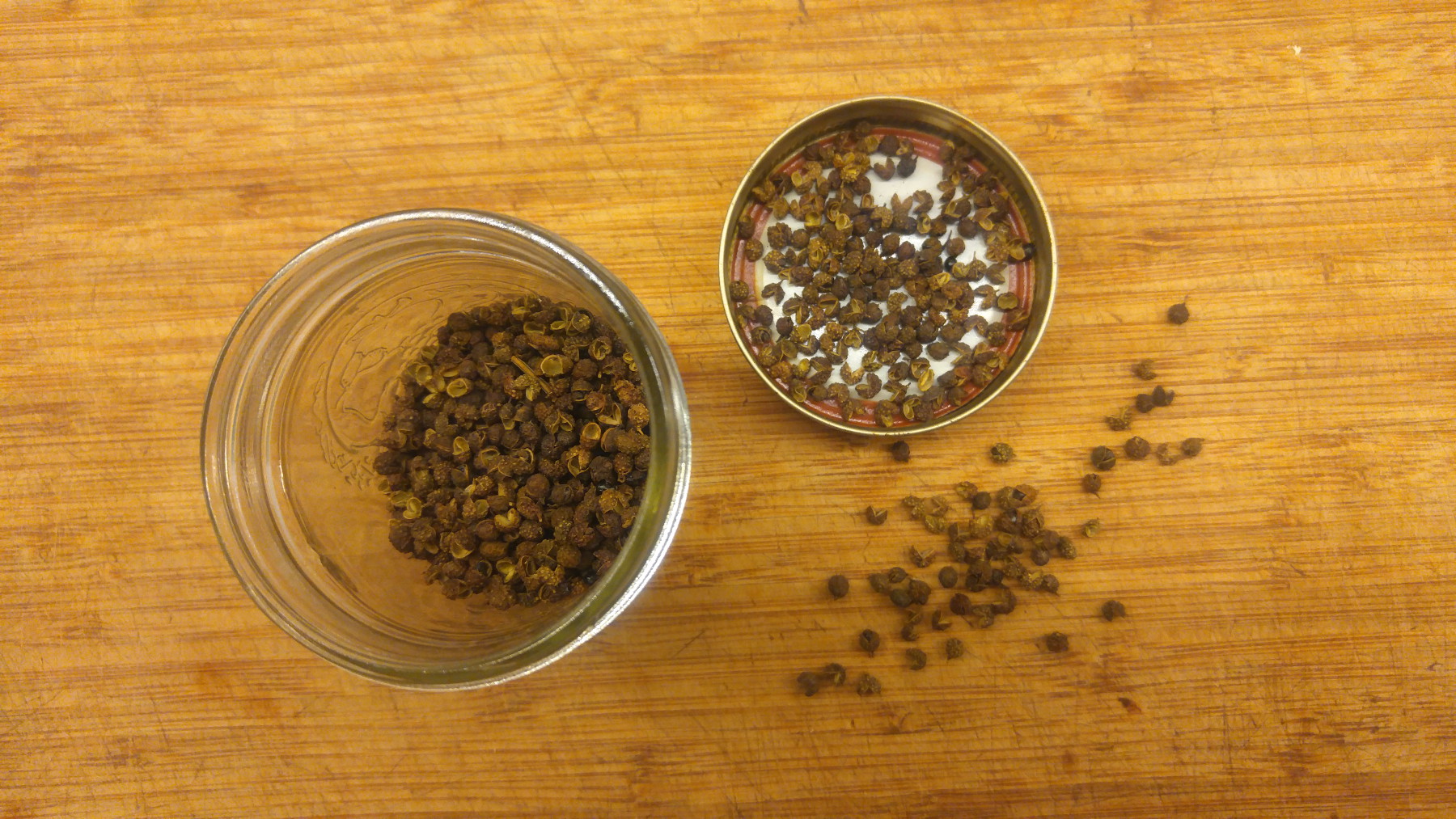 What You Need
Note: If you're unsure where to buy some of these things, check out our post on where to buy Asian ingredients
Group 1
1/4 c veggie beefless crumbles (Beyond brand tastes pretty good), or prepared TVP (see above)
1 1/2 TBS minced ginger
3 TBS minced garlic (always chop from fresh!)
1 TBS avocado oil (another high-heat neutral cooking oil will do if you don't have this)
Group 2
2 TBS gluten-free soy sauce
2 TBS hot bean sauce
1 TBS black bean garlic paste
1 tsp rice vinegar
1 TBS mushroom oyster sauce (check that it's vegetarian when you buy it)
1 block firm tofu, cubed
water to cover
Group 3
1 TBS rice flour + 2 TBS water
3 shakes salt
1 1/2 tsp Sichuan peppercorns, ground coarsely
Light drizzle of sesame oil
3 TBS green onions, chopped
What You Do
Cube the block of tofu, and set the cubes in a dish full of water with a few shakes of salt.  Set aside.
In a wok over high heat, combine all of the ingredients in group 1.
After about a minute or two, add the group 2 ingredients, including the cubed tofu (drain the water first!)
Stir briefly and gently to cover the tofu cubes in the mixture of sauces.
Add water to the wok–just enough to cover the top of the tofu.
Let this cook, uncovered, over high heat, until the water evaporates.
In a small dish, combine the rice flour and water, to make a thick liquid.  Set aside.
Once the water has cooked off of the tofu, stir a few times to prevent burning.
Remove from heat, and immediately add all group 3 ingredients.  Stir gently to incorporate.